Unlocking the full potential of your home bar relies not on amassing a vast selection of spirits, though that certainly helps, but stocking up on some choice liqueurs. No matter how many bottles of gin, bourbon, or tequila your collection boasts, you can say goodbye to most of the world's most iconic cocktails without these relevant supporting actors.
Still, the range of different styles of liqueurs runs intimidatingly long. And, if we're being honest, there is no occasion or cocktail that justifies a place for Peanut Butter Cream liqueur on your bar cart. On the other hand, pick up a bottle of, say, Luxardo Maraschino Liqueur, and a list of iconic, historical cocktails awaits.
In this roundup, we've broken down the broad style into three sub-categories: The classics, contemporary (or future) classics, and regional favorites. The first comprises the famous bottles that are essential for notable cocktails. The second includes modern variations on those liqueurs as well as brands we think will become popular in the future. And the final section highlights lesser-known bottles that are specific to individual regions.
From an easygoing intro to amaro to monk-produced medicinal elixirs, the following 24 liqueurs demand a place on your bar cart.
The Classics
Aperol
Aperol needs no introduction and, chances are, there may already be a bottle in your collection thanks to the popularity and crushability of the Aperol Spritz. Look beyond Prosecco and soda water, however, to discover this liqueur's versatility. Start with the Paper Plane then graduate on to the Naked and Famous, where it sings in equal parts along with mezcal, lime juice, and Yellow Chartreuse (more on this shortly).
Average price: $27
Campari
Aperol's burly elder sibling in many respects, Campari also no doubt already owns a place on your bar cart. Similarly, there's a strong chance you may not be getting the most out of the bittersweet red aperitivo, though. Switch the Negroni's gin for bourbon and you'll soon be sipping on a Boulevardier. Opt instead for rye and dry vermouth to acquaint yourself with the Old Pal. And for lighter options that pack more of a punch than Aperol-based drinks, look to the Milano-Torino and Americano.
Average price: $33
Chartreuse (Green and Yellow)
Made for centuries by Carthusian monks in the Chartreuse Mountains in southeastern France, this medicinal elixir arrives in two forms: Green and Yellow. The former is bolder and higher ABV, though both have complex flavors that span sweet, savory, and herbaceous. Green Chartreuse appears most notably in the Last Word and Bijou (a Negroni riff that sees it take the place of Campari), while Yellow Chartreuse shines in the Martini-inspired Alaska Cocktail, as well as the earlier mentioned Naked and Famous. As the two can't be used interchangeably, buy one 375-milliliter bottle of each.
Average price: $61
Cointreau
Beyond its close association with the standard Margarita, you'd be surprised by how many classic cocktail recipes Cointreau pops up in. From the Sidecar to the Corpse Reviver No. 2 and the Cosmopolitan, one bottle of Cointreau goes a long way. (For a list of alternatives, explore VinePairs guide of the best orange liqueurs.)
Average price: $38
Kahlúa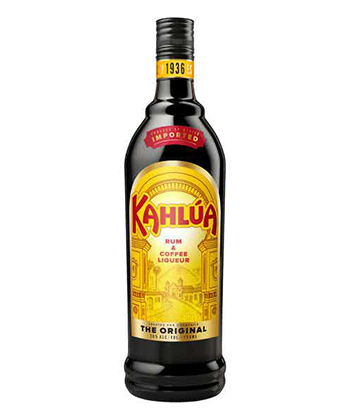 The Espresso Martini — need we say any more? Probably not, but here are a few extra reasons to reach for a bottle of Kahlúa the next time you're at the liquor store: Among a new-ish wave of coffee and cold brew flavored liqueurs, Kahlúa remains, for many, the go-to. While the White Russian and Black Russian cocktails deserve an honorable mention when it comes to uses, don't shy away from using this liqueur as a modifier. Start with a bar spoon in your next Negroni.
Average price: $23
Luxardo Maraschino Liqueur
This Marasca cherry-based Italian liqueur is instantly recognizable on back bars, and not just because of its awkward height and straw wrapping. And there's a good reason any bar worth going to will have a bottle on hand: Without it, you can say goodbye to a long list of classics including the Martinez, Hemingway Daiquiri, Last Word, and Aviation.
Average price: $39
Pernod Absinthe
While the Green Fairy won't make you hallucinate, rinsing a glass with a few splashes brings many iconic cocktails to life, including the Sazerac and Corpse Reviver No. 2. If you want the wormwood-flavored liqueur to take a more starring role, try it in Hemingway's Death in the Afternoon. As for brands, it doesn't get more classic than Pernod.
Average price: $70
St-Germain
Described as "bartenders' ketchup," this elderflower liqueur has the ability to improve countless drinks, especially those made with clear spirits. Of course, you have to try it also in its namesake cocktail, mixed with sparkling wine and soda water, and garnished with a lemon peel.
Average price: $39
Suze
The White Negroni stands among a handful of drinks that could be considered true "modern classics," and the drink owes as much to Suze as the original does to Campari. Bracingly bitter, the French gentian liqueur has a vibrant yellow-gold hue and packs a mighty punch even when used in small quantities.
Average price: $31
Contemporary (or Future) Classics
Ancho Reyes Chile Liqueur
Looking to spice up agave-based cocktails without using a flavored spirit or fresh ingredients? This smoky, spicy, slightly sweet ancho chile liqueur is the way to go. Once you're done enjoying it in Margaritas and Palomas, add a splash to whiskey-based classics like the Old Fashioned or Manhattan for a complex new take.
Average price: $37
Bonanto
If you're searching for a bottle with the sweetness of Aperol but an ABV that's closer to Campari, try Bonanto. A Spanish, wine-based bitter red aperitivo, this liqueur is fruity and light, and ideal for simple summer highballs. Perhaps you'd like to take it for a spin in a Negroni Sbagliato. In this case, we suggest keeping it consistent and opting for Cava in place of Prosecco (sorry, Emma D'Arcy).
Average price: $35
Chinola Passion Fruit Liqueur
Stateside drinkers and bartenders have yet to take to the Pornstar Martini with the same fervor as those in the U.K. and Europe, through no fault of the playful cocktail. Maybe that will change soon, especially with U.S. bartenders increasingly adopting this liqueur. Intensely aromatic, with balanced sweetness, tartness, and acidity, Chinola adeptly captures the essence of the stunning tropical fruit.
Average price: $33
Fords Sloe Gin
Despite the resurgent popularity of the Martini, gin remains another area that highlights the difference in drinking preferences on the opposite sides of the Atlantic. So you might rightly question the chances of a subcategory of that spirit (Sloe Gin) taking off on these shores. But if any brand and product can do it, it's Fords. Made by steeping sloes, plum-like fruits, in gin and sweetening, as well as proofing down to 29 percent ABV, this liqueur is complex, soulful, and bracing on the palate. Become acquainted with it via the striking Sloe Gin Fizz.
Average price: $35
Italicus Rosolio di Bergamotto
This botanical liqueur's profile centers around bergamot, the zesty citrus most notable for giving Earl Grey tea its distinctive flavor. Alluring, perfumed aromas flourish on the nose of this attractive liqueur. On the palate, it shares the bitter complexity of vermouth, while the texture is luscious without being overly sweet.
Average price: $31
Le Moné
A New-York-born, wine-based, low-ABV (16 percent) aperitif, Le Moné is a nuanced and versatile bar cart staple. The flagship Meyer lemon offering serves a bright and zesty profile, which lands somewhere between a wine or vermouth and a liqueur. Add a splash to classic cocktails such as the Martini, Margarita, or Caipirinha, and you'll never look back. You will, however, be quick to explore alternative expressions, such as the fruity Meyer Lemon and Blackberry (ideal for Brambles) or the irresistible Meyer Lemon, Almond, and Vanilla.
Average price: $35
Mr Black Cold Brew Coffee Liqueur
Much like the chicken and egg conundrum, it's hard to tell whether bartenders have turned to this Australian coffee liqueur in droves because of the popularity of the Espresso Martini, or if that very cocktail has gained a new lease of life thanks to Mr Black. Regardless, this brand is fast becoming a staple at the world's best bars, and it deserves a place in your lineup too.
Average price: $35
UME Plum Liqueur
From California, this medium-bodied, semi-sweet liqueur is crafted with fresh plums, cherries, and grapes. Fittingly, plum notes lead the nose and palate, both of which have a tart profile and fresh fruitiness. Enjoy as an aperitif or in highballs.
Average price: $35
Rockey's Botanical Liqueur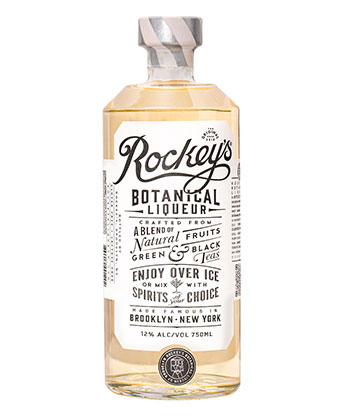 Another New York (Brooklyn) offering, Rockey's is crafted with green and black tea, citrus, apples, and pineapple. At 12 percent ABV, its fruity, complex profile lends itself to refreshing highballs that won't leave you regretting your drinking decisions the morning after. We also love it on the rocks with a lime wedge.
Average price: $23
Sorel Liqueur
For the uninitiated, Sorrel is a spiced Caribbean drink whose main flavor derives from fresh or dried hibiscus flowers. Classical preparations can, but don't always, include booze, and require a not insignificant time investment. At least that was the case until this bottled, ready-to-drink liqueur launched, bursting onto the scene with dazzling winter spices, and a profile not too distant from (a lighter) mulled wine. Pick up a bottle for festive celebrations.
Average price: $38
St. George Spirits Spiced Pear Liqueur
One of America's oldest craft distilleries, St. George Spirits recently celebrated its 40th anniversary. Over the course of those four decades, the California distillery has proven eager to experiment and counted no style of distillate (or liqueur) off-limits. Among its bounty of high-quality offerings is this spiced liqueur, which opens with attractive baking spice aromas, then lands with decadent pear notes on the palate.
Average price: $35
Regional Favorites
Amaro Nonino Quintessentia
Made in Friuli, in northeastern Italy, this grappa-based digestif offers a light and approachable intro to amari. You'll get the most mileage out of Amaro Nonino via the Paper Plane, but there are other cocktails in which it shines, often alongside bourbon. For a simpler option, enjoy over ice with a fresh orange wedge or lemon peel.
Average price: $51
Fernet Branca
It's hard to say whether Fernet Branca remains a bonafide "bartender's handshake," given its surge into the relative American mainstream in recent years (in other countries, notably Argentina, Fernet Branca has been a staple for centuries). When you're not knocking back shots of the bittersweet, medicinal-tasting amaro, consider the Toronto, a complex Canadian whisky-based spin on the Old Fashioned, or stirred with gin and sweet vermouth in the Hanky Panky.
Average price: $34
Select Aperitivo
In many ways, Select represents Venice's answer to Campari, even if it arrives at closer to the proof of Aperol. The profile is more bitter and complex than the latter, with pronounced savory and herbal notes. Enjoy as they do in the Floating City in a spritz with a few skewered green olives to garnish.
Average price: $33
Verino Mastiha Antica
Named after the famed sap of the Mastic tree, mastiha is a traditional Grecian liqueur whose piney, birch-like character somewhat resembles that of gin. Concentrated anise notes arrive on the palate of this particular offering, which is complex without being intimidating. Cocktail creators: Have at it!
Average price: $25
FAQ
What is the difference between liquor and a liqueur?
In the United States, liquor is used as a synonym for spirits, which must be bottled at a minimum of 40 percent ABV by law. Liqueurs, on the other hand, typically arrive at a much lower proof, and include various flavor-giving ingredients. Many, but not all, liqueurs deliver a sweet profile.
How do you serve liqueur?
Given the vast range of alcohols that fall under the liqueur umbrella, there are multiple different uses for this alcohol. Popular preparations include simple highballs and sipping on the rocks with a citrus garnish.
Should liqueurs be refrigerated?
Most liqueurs arrive with a lower alcohol content than spirits, meaning they are not always shelf- stable after opening. However, the heightened sugar content ensures that many will last for at least a year at room temperature after opening.
VinePair's tasting methodology
Throughout the year, VinePair conducts numerous tastings for our popular Buy This Booze column, and wine and spirits reviews. Our mission is to provide a clear, reliable source of information for drinkers, providing an overview applicable to day-to-day buying and drinking.
Tastings are not typically conducted blind. In alignment with our reviews mission, we believe in purposefully tasting all products as our readers typically would, with full knowledge of the producer, the region, and — importantly — the price.
For Buy This Booze roundups, we typically include a maximum of one expression per brand, though we do allow multiple products from the same production facility (i.e., released under different labels).
In creating this list of liqueurs, we sought to highlight the most popular and useful bottles in the category. Those that made the final list did so because of their versatility, availability, and overall balance of flavor.