Just because a wine is white doesn't mean it can't be complex, layered, and filled with personality. The fact that white wines can shine without tannin structure and all the phenolics that make red wine red is pretty amazing. Whether oaked, fermented in oak, unoaked, or raised in stainless steel, wines made from a single variety can vary widely in flavor, appearance, and mouthfeel.
Among hundreds of bottles tasted this past year at VinePair, certain whites wowed us with their individual personalities and characteristics. The following 30 bottles showcase the depth and versatility that white wines can offer.
Here are the 30 best white wines for 2023, at every price point.
Table Of Contents
Best White Wines Under $25
The Pinot Project, Pinot Grigio 'Delle Venezie DOC' 2021
The Pinot Project began making Pinot Noir in 2009 and has since expanded into different hues. This Pinot Grigio from northern Italy is a great addition to the line. It smells like tropical fruit and citrus with bracing acidity. This will please all the palates and is a great go-to case buy.
Average price: $13
Rating: 89
Tangent Pinot Gris 2021
Central coast Pinot Gris (Grigio) has its own personality. Instead of light and crisp, it's deep and concentrated. It has a good grip on the palate, and with no oak, the fruit takes center stage.
Average price: $17
Rating: 92
Good Harbor Pinot Grigio 2021
It looks like Michigan Pinot Grigio has a personality all of its own, and we are here for it. It has so much acidity it's almost fizzy, with calm mild fruit bringing just the right amount of depth. On the refreshment scale, this one goes to 11.
Average price: $17
Rating: 90
Otto's Constant Dream Sauvignon Blanc 2021
It's tough out here with Marlborough Savvy B. There are so many fun labels, but what's inside can be hit or miss. This bottle is as solid as it gets and is absolutely worth seeking out. The acidity is alive and active without being overpowering. It has a good core of fruit with all aromas in balance.
Average price: $16
Rating: 90
Dogwood and Thistle Sauvignon Blanc 2020
Mendocino has a cool climate, and it shows in this vigorous, lively Sauvignon Blanc. It's zippy with tropical fruit on the nose and a slight citrus note. The palate is playful yet focused, making for a wonderful casual wine.
Average price: $22
Rating: 89
Macari Katherine's Field Sauvignon Blanc 2020
Fermenting a grape like Sauvignon Blanc in stainless steel leaves it nowhere to hide. And with Macari, that's great news. This is the definition of crisp. It's zesty and refreshing while staying very focused and balanced.
Average price: $24
Rating: 89
Breaking Bread Orange Wine 2020
Orange wine comes in many hues (skin contact is a more on-point term here), with some tinted just slightly like this Moscat. It's floral and peppery with a creamy smooth mouthfeel and an added whiff of sweet jasmine. It's refreshing and balanced.
Average price: $24
Rating: 92
Field Recordings Skins 2020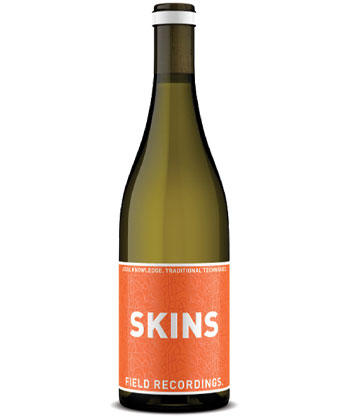 This orange wine drinks like a red. It has serious depth with a sherry-like nose. The plate has a balanced weight and a welcome aroma of Creamsicle. If this is your first experience with orange wine, it will set a high standard.
Average price: $21
Rating: 92
Mary Taylor 'Pascal Biotteau' Anjou Blanc 2020
Mary Taylor's eponymous white-label wine line offers consistent quality and value from multiple regions across the globe. This Loire Valley Chenin Blanc smells like honey and fresh dough, while the palate displays the depth the variety can offer when grown in world-class settings.
Average price: $16
Rating: 91
Decibel Crownthorpe Vineyard Sauvignon Blanc 2020
The majority of the New Zealand Sauvignon Blanc that hits the U.S. market hails from Marlborough, on the northern tip of the nation's southern island. This vibrant, expressive wine instead arrives from Hawke's Bay, on the east coast of the North Island. With a wonderful balance between fruit and acidity, and at just 12 percent ABV, this is a great wine to kick off the night with.
Average price: $18
Rating: 90
Feudi di San Gregorio Falanghina del Sannio 2019
An underrated variety, Falanaghina grows in southern Italy, most notably in Campania. This bargain bottle showcases the variety's ability to produce crisp, refreshing whites with mineral complexity — all of which make it an ideal match for seafood dishes.
Average price: $19
Rating: 91
Pieropan Soave Classico 2019
Made from the Garganega grape in the Veneto region, Soave remains one of Italy's great, affordable white wines. From one of the pioneering producers in the region, this bottle sings with stone and orchard fruit notes and delivers light-bodied, mouthwatering sips.
Average price: $19
Rating: 92
Gundlach-Bundschu Estate Vineyard Gewürztraminer 2020
Vinified completely dry, this Sonoma Coast Gewürztraminer is fermented in a mix of stainless steel (90 percent) and large neutral oak vats (10 percent). A small portion of the grapes is also frozen for 48 hours and then thawed before pressing, adding richness to the palate. Its nose screams of minerals, honey, and pear, while the palate serves piercing acidity.
Average price: $21
Rating: 93
Standing Stone Vineyards Timeline Dry Riesling 2019
From the eastern slopes of Seneca Lake, this Riesling is grown on 47-year-old vines and fermented using indigenous yeasts. Its profile is distinctly dry (as the name suggests), with notes of wet stone, citrus, and ripe pear arriving in harmony on the zesty, slightly effervescent palate.
Average price: $24
Rating: 89
Best White Wines Under $50
Patrick Piuze Chablis Terroir de Chablis 2021
It's right there on the label: terroir. With no oak, we get the full sense of place. Crisp notes of apples and fresh pears on the nose are met with a dose of minerality. It's dry around the edges with a nice grip framing the fruit.
Average price: $32
Rating: 94
Nathan K. Dry Riesling 2019
The Finger Lakes region in New York makes many great wines from a short list of cold-climate varieties, but Riesling is burning bright with quality and balance right now. This standard-setting example has a welcome waxy nose with notes of ripe green apples and earthiness. It has a nice savory vibe punching through the fruit with lively natural acidity.
Average price: $25
Rating: 94
Ladoucette Comte Lafond Sancerre Blanc 2020
It may not be the birthplace of Sauvignon Blanc, but Sancerre is where the variety's purest expression lies. See for yourself with this excellent example. Drying minerality carries from nose to palate, with concentrated fruit that is angled by bursting acidity.
Average price: $42
Rating: 90
Kabaj Rebula 2017
Not all orange wine is orange. Case in point: this "orange" wine with more of a golden hue and a nose of bruised apples. It has an amazing dry texture to contrast the fruit. Break out the cheese plate — you found a perfect pairing.
Average price: $30
Rating: 92
Moreau-Naudet Premier Cru Forets 2020
Wines from Chablis are often clean and angular. This breaks that norm in the best way. It's deep and wide, with notes of lemon curd and a hint of mint. The palate has weight, with excellent acidity keeping the wine in balance.
Average price: $49
Rating: 94
The Calling Dutton Ranch Chardonnay 2019
This is a wonderful example of how elegant a buttery California Chardonnay can be. Soft and creamy with some welcome minerality, this wine gives off that old-school feel. But with plentiful acidity, the oak is kept in check.
Average price: $33
Rating: 94
Bouchaine Estate Pinot Gris 2019
Coming from the coolest region of Napa, this is still a heady, complex Pinot Gris. The acidity keeps things lifted with a nice herbal note on the nose and slight fist bump of heat from the alcohol. It all culminates in a white with great structure.
Average price: $36
Rating: 93
Pollak Vineyards Pinot Grigio 2021
Coming in fast and crisp, this bottle ushers in a new style of Pinot Grigio unique to Virginia, with muddled berries and waxy citrus on the nose. The palate is a lesson in refreshment with a soft peck of sweetness. All of this is balanced and in the right place.
Average price: $25
Rating: 92
Cantina Terlano Pinot Grigio 2021
Here is a Pinot Grigio with earthy depth and a concentration of fruit. It sees some time on the lees, bringing a headier feel to the nose and palate in a good way. It's a wine for a cheese or charcuterie plate, being on the deeper side of this grape.
Average price: $26
Rating: 92
Ehlers Estate Sauvignon Blanc 2021
Winemaker Laura Diaz Munoz is really showing off her skill in balance with this wine. It's a pleasure to drink, with an aromatic nose matching the river rock minerality. It has a casual grip on the palate and would please a dinner party.
Average price: $33
Rating: 92
Bravium Anderson Valley Chardonnay 2019
Up in the cool air of Mendocino, oaked Chardonnay can make for a nice, balanced sip. The oak in this offering is subtle, allowing the notes of pear fruit and river rock minerality to show true depth.
Average price: $30
Rating: 89
Early Mountain Quaker Run Vineyard Chardonnay 2019
Virginia makes wine. Virginia makes great wine. And not only that, but the state is showing its own style with well-known varieties; it's exciting. This Chardonnay is soft and rich with great minerality keeping the wine balanced. The focused acidity is bright, lifting the wine on the palate.
Average price: $39
Rating: 94
Etude Grace Benoist Ranch Carneros Estate Grown Chardonnay 2019
In a way, Chardonnay made Carneros famous — and for good reason. This wine has depth and textured weight with aromas of citrus fruit. Yet with all that heft comes bracing acidity, allowing your palate to enjoy its subtleties.
Average price: $28
Rating: 91
Best White Wines Over $50
Palmeri Monte Rosso Vineyard Old Vine Sémillon 2020
Made from the second-oldest vineyard of Sémillon in the world, this California white wine is an American gem. Calm citrus and minerality on the nose give way to a mild hint of marzipan. But this wine is all about the texture, with an expert grippy frame and thirst-quenching palate.
Average price: $54
Rating: 97
Chateau Montelena Napa Valley Chardonnay 2019
It's nice when a winery with such a prominent position in American wine history can not only maintain a legacy, but continue to evolve. This Chardonnay is a study in elegance and balance. It has soft fruit on the nose with a subtle weight on the palate and is filled with natural acidity and depth.
Average price: $59
Rating: 97
Maggy Hawk Skycrest Vineyard Chardonnay 2019
This is a great cool-climate Chardonnay. Stone fruit and white pepper hints waft into the senses. It's fruit-forward and creamy, with a refreshing palate that's kept in check with good acidity.
Average price: $60
Rating: 90