Dust off the decanter, make some room in the fridge, get out your corkscrew and stemware (or even your juice glasses), and get ready to pop some corks. In the world of wine, red is the most commanding, with a perceived dominance over all other hues. There's more organic material, tannins, and other phenolics in reds than in other categories, making it exciting, varied, and a bit dizzying.
Speaking of dizzying, here at VinePair we taste mountains of red wine every year and encounter so many different styles from region to region — even in wines of the same variety. The following reds represent the cream of the crop — the bottles that stood out more than all others during the last year of tastings.
From case-buys to luxe purchases from regions near and far, here are the 30 best red wines for 2023.
Table Of Contents
Best Red Wines Under $25
Claus Preisinger Puszta Libre! 2021
As Monty Python says, "And now for something completely different": a super easy-drinking Blaufränkisch from Austria full of blackberry and cherry jam aromas, coming in a vessel that looks not unlike a vintage Coke bottle. It is a great everyday, chillable red.
Average price: $20
Rating: 92
Cerro Añon Reserva 2018
This Rioja has some age on it and showcases how well these wines can mature in-bottle. It's soft and supple with great natural acidity and a slight tannic frame. Although it's a few years old, it can stay in the cellar for a few more.
Average price: $22
Rating: 92
Lievland Vineyards Cabernet Sauvignon 2019
South Africa is making some wonderful wines from Cabernet Sauvignon, and it's always a pleasure to taste the different styles the region produces. This Cab speaks softly but carries a big stick, with good lean energy and mild fruit that is balanced by solid natural acidity.
Average price: $19
Rating: 90
Ace Kicker 'Big Bet' Blend 2017
I mean, wow — right? How many red blend options are there? SO MANY! It's one of our newest wine categories in the States. We are even seeing examples imported onto our market, so here's a good intro. This Spanish blend of Cabernet Franc, Graciano, Grenache, Petit Verdot, and Syrah is a little lean but has all the juicy goodness, with a smooth mouthfeel and balanced fruit.
Average price: $13
Rating: 89
Kind of Wild 2020
Kind of Wild is a project that focuses on seeking out 100 percent organic and sustainable wines from around the world. This is its Argentina entry, and it's a hit. Soft and supple, the wine has a slightly herbaceous nose and a savory note on the palate that's balanced with good acidity.
Average price: $24
Rating: 89
Foradori Teroldego 2020
Please welcome the northern Italian grape Teroldego to your palate and senses. And if this is your entry to the category, there's nowhere better to start than Foradori. The nose is bright and savory, with soft and deep cherry aromas. It has a very inviting medium body that brings a rustic elegance.
Average price: $24
Rating: 93
Best Red Wines Under $50
Tablas Creek Vineyard Mourvèdre 2020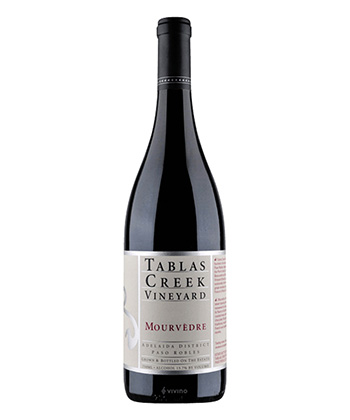 Mourvèdre in the U.S. isn't really a thing; it's finicky and likes warm weather. Tablas Creek is changing that, showing with this wine how great the grape can be here in the States. Wonderfully balanced, this wine features raspberries and chocolate ganache on the nose and offers a nice push and pull of depth and brightness.
Average price: $45
Rating: 96
Bindi Sergardi 'Calidonia' Riserva 2018
With so many Chiantis on the shelves, it's nice to have a few go-tos — and this is definitely one of them. It's earthy with a tight fruit core. The acidity is spot on, making it very approachable and dinner party-friendly.
Average price: $40
Rating: 89
Gagliole Chianti Classico Riserva DOCG 2019
This is the bright and vibrant side of Chianti. It is floral, perfumed, and slightly tannic yet still has a nice depth, showing delicious quenching fruit. It's always nice to have a balanced, casual Chianti like this on hand for weeknight dinners and happy hours.
Average price: $31
Rating: 94
Isole e Olena Chianti Classico DOCG 2019
This Chianti will get inside your head. Every sip is thoughtful. It's so inviting and earthy, with dense red fruit and a good use of oak. It's the coziest of Chiantis.
Average price: $27
Rating: 94
Division Winemaking Company Malbec 'Côt' 2018
Malbec from Oregon? YEP! This bottle from Division smells like cinnamon and cola and is all kinds of earthy. The palate is soft and plush, with a subtle comfy cedar box aroma for good measure.
Average price: $30
Rating: 94
Louis M. Martini Napa Cabernet Sauvignon 2018
The Martini family is part of the fabric of Napa history and has a wide range of wines on offer. This is a great bottle to start with. Classic blackberry with that hint of pepper welcomes the nose. The palate is jammy, with well-integrated tannins showing nice depth and structure.
Average price: $45
Rating: 90
Intrinsic Red Blend 2019
This wine is the life of the party. It's juicy with all the berry flavors and a flitting pepper note. It has a plush, casual palate with uplifting acidity and is ready to hang at a party, game night, or casual dinner.
Average price: $25
Rating: 89
Tarpon Cellars Cambaro Red 2021
Sunshine in a bottle! Slightly herbaceous with punchy fruit and a lot of acidity, this wine chilled down for a cool 30 minutes will truly make your day, evening, or afternoon.
Average price: $28
Rating: 92
Beronia Gran Reserva 2013
Old-vine Tempranillo with some age on it for the win. It's soft, with a nice plush vibe for how old it is. There are still some lazy tannins, and with a little bit of Graciano in there, it is nice and lifted on the palate.
Average price: $30
Rating: 88
Cedric Malbec 2020
Cedric has the right idea! Make a Malbec soft and easy with some fun blueberry notes and subtle citrus. Add some supple earthy vibes and put a bunch of it in a box that can last up to three months and can even be chilled, and you have yourself a winner. Bravo, Ced!
Average price: $40
Rating: 89
Leeuwin Estate Prelude Vineyards Cabernet Sauvignon 2018
Australian wine is not just Shiraz and Riesling. The Cabs coming out of this continent are wide and varied in style. Instead of being big and bold, this wine is somewhat floral and mineral-driven. It has a punchy fruity with all the berries on the nose.
Average price: $32
Rating: 93
Kokomo Winery Gopher Hill Peters Vineyard Pinot Noir 2019
This vineyard-specific Pinot is bright and balanced with a sweet kiss of oak. It smells like cinnamon cherry cola and has a lovely textured palate. The depth is checked by a great natural acidity keeping things light.
Average price: $46
Rating: 92
Best Red Wines Under $100
Component Petit Verdot 2019
Napa is known for Cab, but there is so much more happening in this valley. Petit Verdot has been in Cali for a long time as a blending partner, but this bottle shows that it can shine on its own. Impeccably balanced with blackberries and a kiss of sweetness that complements the soulful depth of fruit, Component's Petit Verdot is deliciously splurge-worthy.
Average price: $95
Rating: 94
Sullivan Rutherford Estate Merlot 2019
This sophisticated style of Merlot is so welcome in a category full of huge dollops of oak and high alcohol. It is very welcoming with balanced aromas of herbs and berries. It has an elegance that is undeniable but still shows depth.
Average price: $85
Rating: 92
Cuvaison Merlot Arcilla 2019
Get ready to fall in love … with Merlot. This is such an expressive wine, and when it comes to texture, it's a study in smoothness. Expect chewy fruit with subtle tannins and loads of elegance and depth in every sip.
Average price: $70
Rating: 96
Benziger Estate Malbec 2019
How about some biodynamic Malbec from Sonoma County? The region is a very diverse place, and it's so fun to look beyond the norm. This wine is deep and big with a unique licorice aroma punching through a waft of cherries. It's soft yet powerful and goes fast when it's available, so keep an eye out.
Average price: $55
Rating: 89
Addendum Napa Valley Cabernet Sauvignon 2017
This wine is all about the details. It's soft and soulful with berry whispers and flickerings of pepper flitting around the senses. Deep on the palate, this Cab has a smooth, powerful mouthfeel.
Average price: $90
Rating: 91
Hamacher Pinot Noir 2017
When a Pinot Noir hits, it just hits. This wine is on that level. It's so soft and juicy with just a quiet hint of oak. Lively acidity breaks things up a bit, providing a crushed velvet mouthfeel.
Average price: $60
Rating: 95
Cattleya 'Alma de Cattleya' Pinot Noir 2019
Pinot Noir elegance in Sonoma is a vibe. This lithe, perfumed Pinot is soft and delicate. It has a slight tannic edge kept in check by excellent acidity — an elegant bottling ideal for any dinner party or wine night.
Average price: $93
Rating: 93
Best Red Wines Over $100
Gagnon-Kennedy Vineyards Beckstoffer Vineyard Georges III Cabernet Sauvignon 2019
Looking for a standard bearer when it comes to Napa Valley Cab? Let this be your guiding light. Deep and powerful with undeniable aromas of blackberry with a hint of mint, the weight of this wine borders on perfection with a comfy tannic grip.
Average price: $150
Rating: 96
Roy Estate Cabernet Sauvignon 2018
This wine from Roy Estate has all the classic Cab aromas of pepper and blackberries, but it's when the wine meets your palate that things really get interesting. Tannins are present but woven into the deep dark depth of fruit at its core. This is a wine to lay down and watch evolve.
Average price: $265
Rating: 96
Mt. Brave Cabernet Sauvignon 2018
There is a reason Cab from Mt. Veeder is nationally recognized. And that reason is in this bottle. Very deep and dark fruit is slightly uplifted by excellent natural mountain fruit acidity. The structure is firm, and the core is sound. It begs for a steak pairing.
Average price: $100
Rating: 90
Hirsch Vineyards Block 8 Pinot Noir 2019
Let's get right to it: Block 8 is soft and ethereal, with a slight herbal tinge and dollops of cherries. Minimal oak with subtle texture and floral and rosemary aromas on the palate make this an American Pinot standard.
Average price: $105
Rating: 96
Chimney Rock 'Elevage' Red 2019
In the red blend category, this bottle is a real standout. It has some heat but not too much. It's soft and fleshy with a dense core of fruit. Its tannins frame the wine but don't interfere with its depth — a truly balanced blend.
Average price: $110
Rating: 95
FAQ
What is the smoothest red wine?
The smoothest red wines are red blends, an unofficial category of wine that delivers bold fruit flavors and smooth tannin structures.
What is the most popular red wine?
Cabernet Sauvignon is the most popular red wine grape in the world.
What's the best red wine for beginners?
The best red wines for beginners include bright, fruit-forward options like Pinot Noir or Gamay, as well as sparkling red wines like Lambrusco.
VinePair's Tasting Methodology
Throughout the year, VinePair conducts numerous tastings for our popular Buy This Booze column, and wine and spirits reviews. Our mission is to provide a clear, reliable source of information for drinkers, providing an overview applicable to day-to-day buying and drinking.
Tastings are not typically conducted blind. In alignment with our reviews mission, we believe in purposefully tasting all products as our readers typically would, with full knowledge of the producer, the region, and the price.
For Buy This Booze roundups, we typically include a maximum of one expression per brand, though we do allow multiple products from the same production facility (i.e., released under different labels).
In creating this list of the best red wines, we took into account various criteria before making our final decisions. Our goal was to showcase a diverse range of wines in different styles and from different regions, at a range of different prices, to best suit every possible occasion.