If you like Pinot Noir, you should certainly give Gamay a try. Gamay is a red grape of French origin that has been vinified since the 1300s. Many wine drinkers may not be familiar with the name because, like most wine from France, it's labelled by the region in which it's produced. In this case, that region is Beaujolais.
Gamay In 60 Seconds:
Gamay is native to the Burgundy region of France.
DNA analysis shows that Gamay is a cross between Pinot Noir and Gouais Blanc.
Similar to Pinot Noir, Gamay produces a light-bodied wine with lively acidity and low levels of tannins.
Gamay can be easily identifiable in a blind tasting due to a distinct banana note, which is the result of carbonic maceration.
What Gamay Tastes Like
Gamay is an easy-drinking wine with abundant red fruit flavors of cherry and raspberry. It expresses aromatic notes of violets and black tea, along with earthy characteristics such as potting soil. Gamay wines from warmer climates have more concentrated black fruit flavors of juicy plum and boysenberry.
Gamay from France
Beaujolais and Beaujolais Nouveau
While often overshadowed by its northern neighbor (Burgundy), Beaujolais offers exceptional value and quality when it comes to light-bodied red wines. There are ten crus within Beaujolais, each with distinct characteristics. It's not uncommon to find stellar bottles for less than $30. Beaujolais-Villages (of which there are 38) encompass the areas surrounding the 10 crus. Bottles labeled simply as Beaujolais are general appellation wines and are the most common to find in stores.
The widely popular Beaujolais Nouveau is a separate category outside of the regional classification system. Beaujolais Nouveau is released to the public every year on the third Thursday of November, just a few weeks after Gamay grapes are harvested. It's not a wine to be cellared or saved and is instead best enjoyed while its vibrant red fruit character and high acidity are fresh.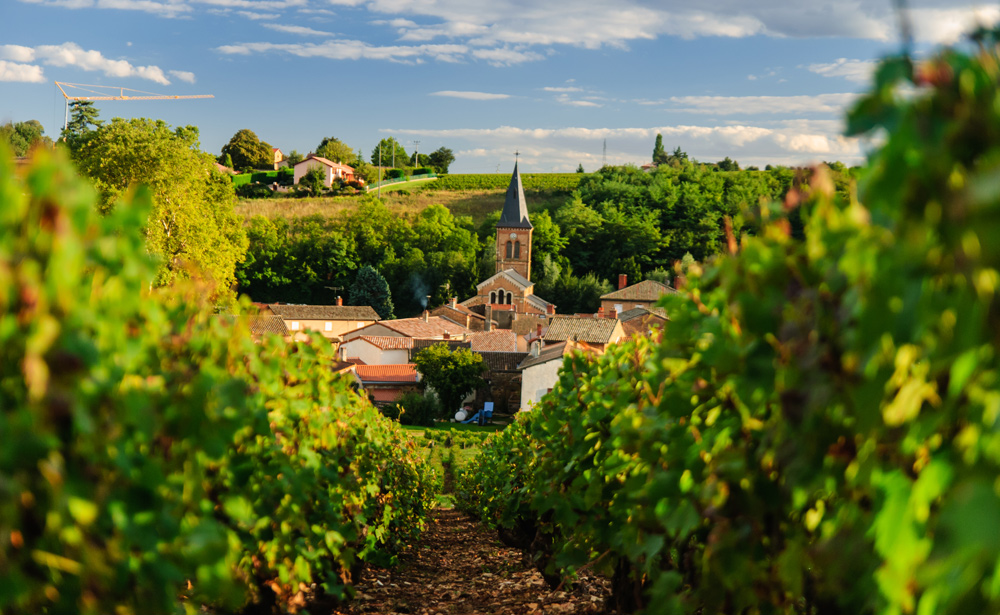 Gamay from the Loire Valley
The Loire Valley in central France is another notable location for Gamay wines, with varietal expressions produced in the Touraine region. Here, the area's cool temperatures and granite soils offer terroir that is similar to Beaujolais. Gamay from Touraine is light and fruity and meant for early consumption. While less common, some fuller styles, which can be aged for a year or two, are also produced.  In Anjou and Saumur, located just west of Touraine, Gamay is also used to make dry rosé wines.
Gamay from Canada
Gamay is gaining popularity in Canada, particularly in Ontario's Niagara Peninsula and British Columbia's Okanagan Valley. Most versions are light to medium-bodied with sour cherry and raspberry flavors along with cinnamon, pepper spice, and soft tannins. Varietal and blended rosé expressions are also common.
What Is Carbonic Maceration?
Carbonic maceration is a winemaking practice that extracts color from grapes but little tannin, resulting in a fresh and fruity wine with a silky texture. There are two types of maceration: semi-carbonic and carbonic.
Most Gamay, or most Beaujolais in particular, undergoes carbonic maceration. In this process, whole grapes are sealed in a vat and covered with Carbon Dioxide (CO2). Fermentation begins inside the grapes while they are still intact. Once the fermenting juice inside the grapes reaches 2 percent ABV, the berries burst. The weight of the grapes at the top of the vat also begins a natural gentle pressing, releasing more juice into the vessel. Yeast is then added to complete the fermentation process.
Semi-carbonic maceration is similar in that the weight of whole clusters starts the gentle pressing. However, CO2 is never added. Instead, ambient yeasts mix with the small amount of juice in the vat to begin the fermentation process. This creates CO2, which promotes carbonic maceration among the remaining intact berries.
Wines made using carbonic and semi-carbonic maceration have distinctive notes of banana, candied strawberry, and even bubble-gum.
Food to Pair with Gamay
The fresh and fruity character of Gamay, along with its high acidity and low tannins, make it a great pairing for many cuisines. The wine's light body lends itself to being served slightly chilled alongside a charcuterie or cheese platter. Similar to other red wines with expressive fruit flavors, Gamay is best paired with herb or spice-focused meat dishes, allowing its fruity character to shine. Try herbed roasted chicken with dill potatoes or chimichurri steak with cinnamon-dusted squash. For seafood lovers, try with spicy seared tuna or plank salmon.