Check out the best rosés from previous years here!
VinePair's annual ranking of the best rosé wines is back and, yes, it's bigger than ever before. The unstoppable growth of the rosé category means there is more pink juice to love and we simply couldn't contain ourselves to just 25 bottles this year.
Rosé's rise in the U.S. has coincided with an increase in diversity, and an expanding range of bottles with different hues, grapes, and regions to choose from. While the original Provence profile has maintained a dominating presence on shelves and wine lists across the country, we were swept away by off-the-beaten-path wines this year. So, while you will still find stand-out examples of pale salmon wines from the lavender-filled fields of southern France on this list, now is definitely the time to try something unexpected. Think: Blaufränkisch blends from Burgenland, terroir-driven expressions from Santa Barbara, and stunningly fragrant examples from Sicily.
This year's meeting of VinePair's rosé tasting panel also unearthed great value case-buys, rosés perfect for pairing with backyard cookouts, impressive dinner party picks, and an appreciation for the classics alongside fervent enthusiasm for some left-field picks. Our takeaway from tasting close to 200 bottles is that rosé should not be kept in a box. There are endless iterations that can all impress in their own way, and we urge drinkers to channel a similar spirit of adventure on the next visit to a wine shop or bar.
Here are VinePair's best 30 rosés of 2023.
30. Côté Mas Rosé Aurore 2022
This wine embodies the concept of a great value rosé for all day sipping. The liter bottle, widely available for around $10, is the perfect crowd-pleaser for summer get-togethers. From the Côteaux du Languedoc region in the south of France, it offers a classic profile that evokes the feeling of a day on the Mediterranean with notes of fuzzy peaches, honeysuckle, and herbs.
Average Price: $9
Rating: 88
29. Wölffer Estate Vineyard Estate Rosé 2022
Nothing says summer like this iconic bottle from the Hamptons. Wölffer's Estate Rosé is part of the winery's Gold Label series, which consists of wines crafted with proprietary grapes to showcase Long Island's maritime terroir. A blend dominated by Merlot and Cabernet Franc, this fruit-forward rosé has delightful notes of strawberries, peaches, and cream. Its juiciness is balanced by nice acidity and a slight mineral kick that will transport you to the beaches of the Hamptons.
Average Price: $19
Rating: 88
28. Alexander Valley Vineyards Dry Rosé of Sangiovese 2022
The Alexander Valley AVA lies just north of Healdsburg in Sonoma County. While the warm-climate area is primarily known for high-quality Cabernet Sauvignon production, this rosé is instead made from the Italian variety Sangiovese. The unique combination of this high-acid grape with the California sunshine creates a distinct flavor profile of stone fruit, watermelon, and tart red berries. Like the red wines of this variety, this rosé is incredibly food-friendly.
Average Price: $22
Rating: 88
27. Flora Springs Rosé 2022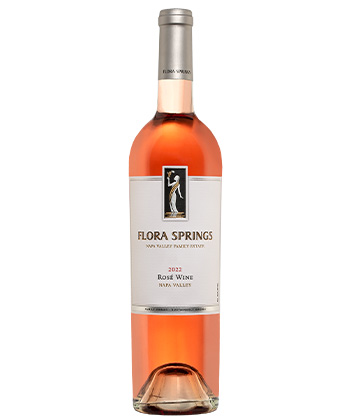 This rosé instantly captivates with its deep color. The wine's dark magenta hue is a result of both its constituent grapes, including Cabernet Sauvignon, Malbec, Merlot, and Vermentino, and the use of the saignée method of rosé production. Saignée involves bleeding off a portion of the juice being used to make red wines, creating a bold rosé. The wine has some extra depth from seven months spent aging on the lees (dead yeast cells), lending a creamy texture and notes of vanilla. Another great rosé to pair with food, this would be perfect with burgers at a backyard cookout.
Average Price: $32
Rating: 88
26. Fleur de Mer Rosé 2022
This rosé from the Côtes de Provence truly captures the spirit of the region, from its alluring lavender label to its classic Provençal style, which brims with aromas of grapefruit, white peaches, and herbs. The region's idyllic oceans and sun-soaked, floral hillsides are captured in its elegant citrus notes and mineral-driven palate. This is a quintessential Provençal porch pounder.
Average Price: $20
Rating: 88
25. Knapp Winery Dry Rosé NV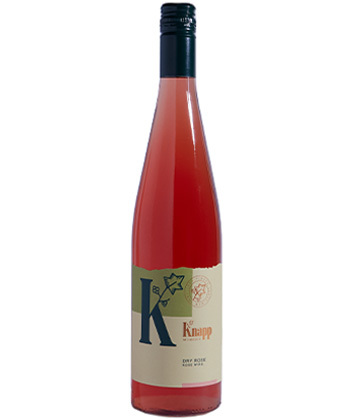 A pioneering producer in the Finger Lakes, Knapp Winery was established in 1984 by Doug and Susan Knapp. The innovative winery was not only one of the first estates to plant vitis vinifera grapes on Cayuga Lake, but the first winery to plant and vinify Cabernet Franc in the Finger Lakes — an increasingly popular variety in the region. In 2021, the winery took new ownership under Cole and Karen Wilson, who have continued the brand's tradition of trailblazing and crafting distinctive wines. This rosé is a shining example, made with a unique blend of Sangiovese, Cayuga White, Vignoles, Riesling, and Baco Noir. The palate has a great depth of fruit with intense crushed red berry and tart cranberry notes. Seek this out to try something new!
Average Price: $19
Rating: 89
24. Domaine Eric Louis Rosé 'Sophie Bertin' 2021
Winemaker Eric Louis is based in Sancerre where his family has been producing wine for four generations. This crisp rosé is a blend of 80 percent Pinot Noir and 20 percent Malbec, grown on the Loire Valley's clay-limestone soils. The wine offers elegant aromas of gardenias and white pepper, with flavors of underripe strawberries and an intense minerality. Save this one for a scorching hot day — it's incredibly refreshing.
Average Price: $14
Rating: 89
23. Bieler Père & Fils Bandol Rosé 2022
Ah, Bandol! The smallest and most esteemed region in Provence is known for its brooding, Mourvèdre-dominant rosés. This example is composed of 62 percent Mourvèdre, 34 percent Grenache, and 4 percent Cinsault grown on the deep limestone soils and sandy marls in the village of Le Castellet. While this wine does offer the power associated with Bandol, with some great weight on the palate, that doesn't mean it lacks elegance and finesse. There are also punchy notes of citrus, white cherry, and tropical fruit lifted up by vibrant acidity.
Average Price: $28
Rating: 89
22. Château du Seuil Coteaux d'Aix en Provence Rosé 'Chapelle du Seuil' 2022
Located on the Puyricard Plateau, which lies at an altitude between 350 and 450 meters above sea level, Château du Seuil is situated on the highest site in Aix-en-Provence. The historic estate is littered with French monuments that date back to the 13th century and sits on an ancient fault line — leading to a complex soil composition. This wine is a unique blend of Grenache, Cabernet Sauvignon, Syrah, and Rolle, the latter of which is another name used for Vermentino in the South of France. This rosé is crisp and fresh, but with a rounded creamy texture that adds complexity. The intricate terroir of the site comes through in the wine's captivating chalky minerality.
Average Price: $21
Rating: 89
21. Stolpman Vineyards 'Love You Bunches' Rosé 2022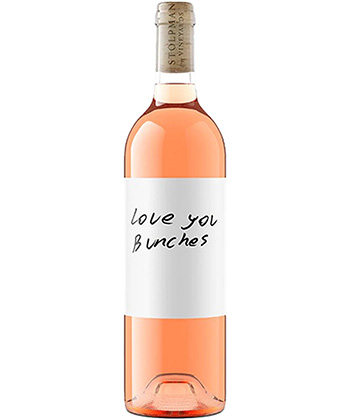 Based in the Ballard Canyon AVA of the larger Santa Barbara County wine region, Stolpman Vineyards produces complex yet approachable wines. This inviting rosé is made with 80 percent Grenache, 10 percent Mourvèdre, and 10 percent Syrah. The grapes are fermented for 12 to 24 hours using carbonic maceration, allowing the wine to absorb some pigment and texture before being pressed into a bright-pink-hued rosé. The technique also leads to some seriously fun flavors of watermelon candies, mixed berry yogurt, and juicy raspberries. While the name "Love You Bunches" references the care required when handling each grape cluster during harvest, it also makes for a fun label to share with someone you love.
Average Price: $20
Rating: 89
20. William Chris Vineyards Mourvèdre Rosé Lahey Vineyards 2022
The meaty, savory rosés of Bandol are famous for their use of the Mourvèdre grape, but don't overlook the variety when planted in the similarly sunkissed vineyards of Texas. This powerful rosé is certainly reminiscent of Bandol, with a fragrant nose, intense minerality, and medium-bodied weight on the palate, while notes of ripe red berries, watermelon, and orange blossoms waft up from the glass. Texas, you have our attention.
Average Price: $28
Rating: 89
19. Château Trinquevedel Tavel Rosé 2022
The small appellation of Tavel in France's Southern Rhône is known for its robust rosés that draw you in with their stunningly dark-pink hue. Tavel's rosés feature a blend of local grapes; this one includes Grenache, Cinsault, Clairette, Syrah, and Mourvèdre. The region's hot Mediterranean climate, stony and sandy soils, and tradition of employing extended skin contact during fermentation all contribute to Tavel's iconic intensity of flavor, color, and texture. This bottle is no exception: Its complex profile offers flavors of white cherry, raspberry, and herbs. Bring this wine to your next dinner party to showcase rosé's serious side.
Average Price: $25
Rating: 90
18. Buttonwood Grove Rosé 2022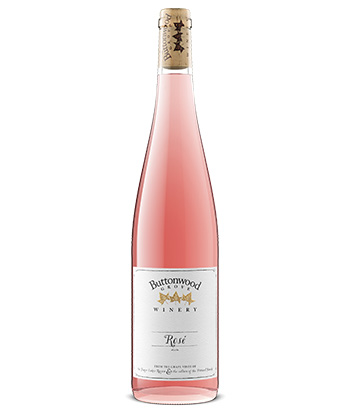 David and Melissa Pittard both grew up in upstate New York, around 35 minutes from the Buttonwood Grove winery. A passion for wine and agriculture drew them back to the area and, in 2014, the couple purchased the Buttonwood Grove property. The duo now work with their children to continue to improve the winery with new facilities, fun events, and delicious wines. The family's passion for wine is evident in this vibrant blend of Cabernet Franc, Cabernet Sauvignon, and Merlot. This rosé serves a juicy, fruit-forward palate of watermelon, candied orange peel, and tart strawberries, while its bright, zingy acidity makes it ideal for lakeside summer picnics.
Average Price: $20
Rating: 90
17. Benanti Etna Rosato 2022
With a rich history in the region, there's a reason Benanti is considered an icon of Sicily's Mount Etna. The Benanti family produces wines using only grapes native to the region and is the only winery with vineyards on every slope of the Etna DOC. This rosato showcases the local Nerello Mascalese grape, which is known for its elegance, bright red berry flavors, and ability to translate the region's distinctive volcanic terroir. A brooding rosé, it delivers savory notes of earth, minerals, and funky cheese (in the best way), alongside more classic flavors of sour cherries and tart blackberries. Pair with a cheese and charcuterie board during your next outdoor aperitivo.
Average Price: $26
Rating: 90
16. Ingrid Groiss Ried Hasenhaide Angel's Kiss Rosé 2022
Ingrid Groiss is the latest winemaker in an Austrian family whose winemaking history goes back centuries. After studying winemaking at the Universität für Bodenkultur in Vienna, Ingrid took over the operations at her family's vineyards in the Weinviertel subregion of Austria's largest wine-growing region, Niederösterreich. At the helm of the winery, Ingrid converted her family's vineyards to organic agriculture and strives to produce elegant, terroir-driven wines. This zippy and slightly effervescent rosé dances across the palate, while its light and fizzy nature makes it the ideal al fresco dining wine for warm evenings.
Average Price: $30
Rating: 90
15. Pedroncelli Winery Bushnell Vineyard Rosé 2022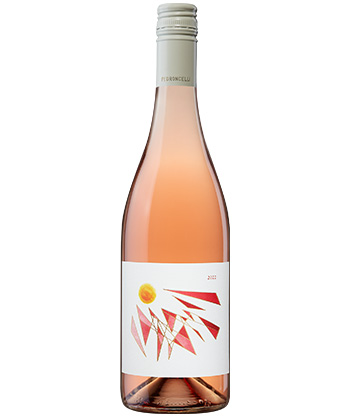 While notoriously sweet wines have led people to swear off the White Zinfandel category, this delicious dry rosé made from the variety would persuade even the harshest critics to reconsider. The grapes for this wine are sourced from the acclaimed Bushnell Vineyard that the family has been working with since 1940. The resulting wine is delightfully expressive with aromas of raspberries and flowers followed by a juicy palate with notes of overripe strawberries and black raspberry ice cream. Accomplished balance between refreshing acidity and a round creaminess on the finish draws you in for a second sip.
Average Price: $22
Rating: 90
14. Domaine de la Mordorée 'La Reine des Bois' Tavel Rosé 2022
The Domaine de la Mordorée family estate was founded in 1986 in France's Southern Rhône. The winery has long valued sustainability and biodiversity, becoming certified organic in 2013 and certified biodynamic in 2020. The care for the land comes across in the complexity of this rosé, which features fragrant notes of white flowers, herbs, and red berries. The palate offers racy acidity and a fuller body at 14 percent alcohol, providing a great structure that even stands up to heavier red-meat-based pairings. Save this rosé for a special-occasion dinner when you are looking to impress.
Average Price: $55
Rating: 91
13. Kelby James Russell Wines Dry Rosé 2022
While working as the winemaker at the Finger Lakes' Red Newt Cellars, the winery's owner David Whiting suggested that Kelby James Russell start his own label as a creative outlet. "Given my long love affair with rosé, there was never any doubt what the first wine would be," Russell states on his website in reference to his wine label's inaugural Cabernet Franc rosé release. Russell now crafts his distinctive bottlings from several specially selected vineyards across the Finger Lakes. This vintage showcases the elegant varietal characteristics of Cabernet Franc with notes of watermelon rind, white cherries, raspberries, and pine forest.
Average Price: $18
Rating: 91
12. Poggio Anima 'Raphael' Rosato 2022
There are several ways to make rosé, and while it seems instinctive, mixing wines from red and white grapes is not very common. This rare Sicilian blend is a notable exception, made with 80 percent Zibibbo and 20 percent Syrah, and produced by combining the unfermented musts from the different varieties after they are pressed. Zibibbo is Sicily's local name for the grape more widely known as Muscat of Alexandria in the extremely aromatic Muscat family of grapes. The fragrant nature of Zibibbo makes this a beautifully perfumed rosé with aromas of rose petals, basil, lemon zest, and honeysuckle. On the palate, the wine hits you with juicy citrus, peaches, and melon. The fresh fruit and herb notes conjure images of sipping rosé in an Italian grandmother's backyard garden — and who wouldn't want that?
Average Price: $15
Rating: 92
11. Slate Theory Winery Nebbiolo Rosé 2022
From Mourvèdre to Sangiovese and Tempranillo, Texas is experimenting with a lot of different varieties and styles right now with great success. Somehow, this rosé of Nebbiolo from the Texas High Plains still took us by surprise. Its aromas are undeniably Nebbiolo, with notes of rose petals, wild strawberries, and raspberries. On the palate, the wine provides a juicy profile with watermelon, rose water, and a slightly candied flavor of cherry jolly rancher. If you're still not convinced on Texas wines, this is definitely one worth seeking out.
Average Price: $32
Rating: 92
10. Tenuta delle Terre Nere Etna Rosato 2022
For a Sicilian summer vacation in a bottle à la White Lotus — well, the good parts — look no further. The volcanic terroir of Mount Etna shines through in this elegant and savory rosé made from the native Nerello Mascalese grape. The grapes for this wine are organically farmed on the northern slope of Mount Etna, about 600 to 900 meters above sea level, giving the wine great freshness and minerality. Intriguing notes of cayenne, sumac, lemon zest, and juicy peaches are lifted by great acidity.
Average Price: $31
Rating: 92
9. Le Clos Peyrassol Rosé 2022
While you might recognize Peyrassol as a currently trending rosé, the historic estate has been in the wine business for almost 800 years. This iconic winery makes a range of high-quality wines that showcase the region's terroir and remind you that this is indeed the home of rosé. The producer offers several more affordable expressions but today we applaud Le Clos Peyrassol Rosé, the most prestigious cuvée of the domain that's only produced in the best years. The 2022 vintage features a blend of 40 percent Cinsault, 35 percent Grenache, 20 percent Tibouren, 10 percent Syrah, and 5 percent Vermentino, all organically grown on limestone-rich soils. The aromatic nose is bursting with white flowers, fuzzy peaches, and strawberries, and the palate delivers the beloved crisp, mineral-driven Provence profile.
Average Price: $75
Rating: 93
8. Kolfok Intra! the Wild Rosé 2021
The name "Kolfok" comes from a local dialect that describes an unconventional thinker, or a person who questions common thoughts. True to form, this is certainly not your typical rosé. Winemaker Stefan Wellanschitz chose this name when he decided to launch his own winery, deviating from his family's more traditional estate. Kolfok's wines showcase the region's terroir and local grapes but with an experimental twist. The "Intra!" series is a great example, and all are made with varying degrees of carbonic maceration. This lively rosé is made with organically farmed Blaufränkisch grapes that undergo whole cluster fermentation in a semi-closed container, then age in large Austrian barrels for several months. While the nose on this wine is deceptively calm, the palate delivers an incredible punch of flavor, with notes of berry bramble and freshly cracked pepper. Bring this captivating wine next time you're looking to wow your friends with something unique.
Average Price: $24
Rating: 93
7. Balletto Vineyards Rosé of Pinot Noir 2022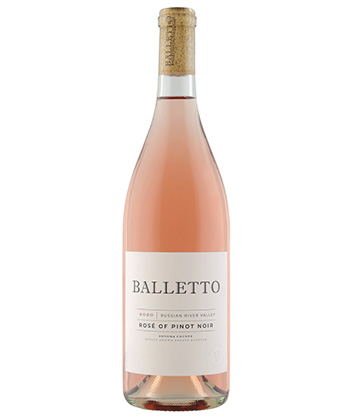 We find ourselves returning to this classic Sonoma rosé of Pinot Noir year after year for its reliably balanced structure and flavor profile. John Balletto started the business as a vegetable farm in the 1970s, but after a devastating storm in 1998 the Balletto family converted their land to vineyards and have been committed to producing high-quality wines ever since. While many producers make rosé as an afterthought, using grapes that don't quite reach the standards for their more prestigious reds, Balletto sources the fruit for its rosé from vineyard blocks specifically farmed for the style due to their brightness and soft tannin profile. An enticing freshness pulls you in with aromas of white flowers, peaches, and citrus, while partial malolactic fermentation imparts a delicate creamy texture to round out juicy fruit flavors and minerality.
Average Price: $25
Rating: 93
6. Lieu Dit Santa Barbara County Rosé 2022
Longtime friends Eric Railsback and Justin Willett started Lieu Dit in 2011, focusing on indigenous Loire Valley varieties grown in Santa Barbara County, Calif. It turns out that the region's marine-based soils and microclimates with ocean influence lend themselves well to these grapes, including Sauvignon Blanc, Chenin Blanc, Melon de Bourgogne, and Cabernet Franc. Aromas of raspberries, freshly cut green peppers, and herbs emerge from this elegant rosé of Cabernet Franc. The familiar flavors of berries and cream are perfectly balanced by savory notes, as well as refreshing acidity.
Average Price: $25
Rating: 93
5. La Chapelle Gordonne Tête de Cuvée Rosé 2022
Sure, there's a lot of pale rosé from Provence out there to choose from but this one stands out in the crowd. While it showcases a classic style, the depth of fruit gives this wine a more distinct character than many of the one-note rosés you might find. The juicy flavors of grapefruit, strawberries, and white cherries fill the palate before crisp acid and herbaceousness wash over the tongue and leave a lovely lingering finish. Have this crowd-pleaser on hand all summer.
Average Price: $29
Rating: 93
4. Corey Creek Vineyards Malbec Rosé 2022
Bedell Cellars has long been a pioneer in Long Island winemaking, but when assistant winemaker Marin Brennan started crafting small-batch wines under the Corey Creek label, the level of experimentation took a radical turn. From uncommon varieties and blends to unconventional aging techniques, these wines push the boundaries of expectation from the North Fork of Long Island. This rosé of Malbec captures that philosophy, filling the palate with flavors of juicy raspberries and watermelon, and delivering a rounded yet focused mouthfeel. Brennan aims to convey the North Fork's unique ocean-influenced terroir, and the stony, saline minerality truly comes through in this wine.
Average Price: $20
Rating: 94
3. Domaine Pierre Martin Sancerre Chavignol Rosé 2022
While Provence reigns supreme in French rosé — and rosé at large — the Loire Valley crafts some stellar wines that give them a run for their money. Yes, the Chavignol appellation is revered for its production of the world's finest goat cheese, but it's also one of the top villages for Sancerre. Pierre Martin organically farms the grapes for this rosé on a high-altitude parcel of land from 30-year-old vines. The wine is fermented and aged in stainless steel to maintain freshness, but is aged on its lees, developing a rounded texture. Incredibly perfumed with notes of strawberry water, lemon, and herbs, the ample fruit is matched by the laser-like acidity, making for a perfectly balanced rosé.
Average Price: $27
Rating: 94
2. Umathum Rosa Rosé 2021
This is a case buy if ever we've seen one. From one of Austria's highest-regarded producers comes a serious yet super-quaffable rosé that we just couldn't put down. Josef Umathum champions native varieties in the Lake Neusiedl area of Burgenland, with about 85 percent of his vineyards dedicated to Austrian grapes. This rosé is a blend of biodynamically farmed Blaufränkisch, St. Laurent, and Zweigelt. The use of the saignée method provides great intensity of color and flavor, while juicy raspberries and pomegranate notes burst out of the glass. But there's also a savory side to this wine, with aromas of rosemary and white pepper. An incredible value at around $23 a bottle, this complex wine is a great reminder that Austria is a big player on the rosé scene. Seriously, buy a case and drink this wine all year round.
Average Price: $23
Rating: 94
1. A Tribute to Grace Rosé of Grenache Santa Barbara Highlands Vineyard 2022
Winemaker Angela Osborne discovered her love for Grenache when she left her native New Zealand to work a California wine harvest in 2006. The grape's elegance and ability to translate terroir captivated her, and Osborne has since devoted her career to crafting authentic expressions of Grenache. As such, all the wines from A Tribute to Grace are made from the variety, sourced from specialty vineyard sites across California. This level of dedication to Grenache is apparent in this impeccably balanced rosé, whose grapes were harvested from vineyards in the Santa Barbara Highlands and experienced a brief 24 hours of skin contact to impart a delicate color. Aged for 13 weeks on lees in stainless steel tanks, this wine has a seamless texture and a creamy, almost marshmallow-like flavor that rounds out the light citrus fruit on the palate. Notes of yellow flowers, grapefruit, juicy peaches, and rhubarb, as well as the great acidity, give the wine a lifted, ethereal presence. This is a special rosé you can sip slowly to appreciate its complexity or enjoy casually on a hot summer day.
Average Price: $28
Rating: 94