Spring has officially sprung, and with the summer months just around the corner, there's never been a more perfect time to experiment with new seasonal ingredients. Lavender, which can be seen in full bloom from June to September, not only looks and smells stunning but also serves as a wonderful complement to a number of delightful libations.
Carrying slightly sweet floral notes with hints of rosemary and a slightly bitter aftertaste, lavender makes a wonderful partner for spirits like Cognac and gin, though the earthy essence of tequila can also highlight the flower's herbal flavor profile. If you're looking for new ways to tinker with the ingredient or if you're looking for fun ways to spruce up some of your favorite classics, here are seven of the best lavender cocktails to try.
The Lavender Sidecar
Don't Miss A Drop
Get the latest in beer, wine, and cocktail culture sent straight to your inbox.
A variation of the 1920s classic, the Lavender Sidecar swaps out triple sec for lavender syrup and adds an additional two dashes of lavender bitters. The purple flower's distinctive flavor profile perfectly combines with that of the V.S. Cognac used as the cocktail's base, which carries notes of caramel, spice, and flowers. One ounce of lemon juice brightens the cocktail's profile, transforming the drink into a refreshing sipper perfect for spring and summer afternoons.
The Lavender Margarita
The beauty of the Margarita is due, in part, to its ability to be endlessly altered to create entirely new concoctions. In the Lavender Margarita, the powerful flavor of lavender blends with earthy, vegetal notes of agave and green pepper for a marvelous summer sipper that tastes like it came straight from the garden. This variation also swaps out the classic lime juice with lemon juice, which invigorates the cocktail and beautifully complements the flower's sweeter notes.
The Indigo Thrill
For a lavender cocktail that looks like, well, lavender, the Indigo Thrill is the cocktail for you. Made with the vibrant, violet-hued Empress 1908 Gin, the libation is a variation of the Negroni, and combines the floral spirit with Cocchi Americano Blanc Vermouth, Salers Aperitif, and two dashes of lavender bitters. When all ingredients are shaken together, the drink takes on a bitter profile and a deep purple appearance.
The Healthy Habit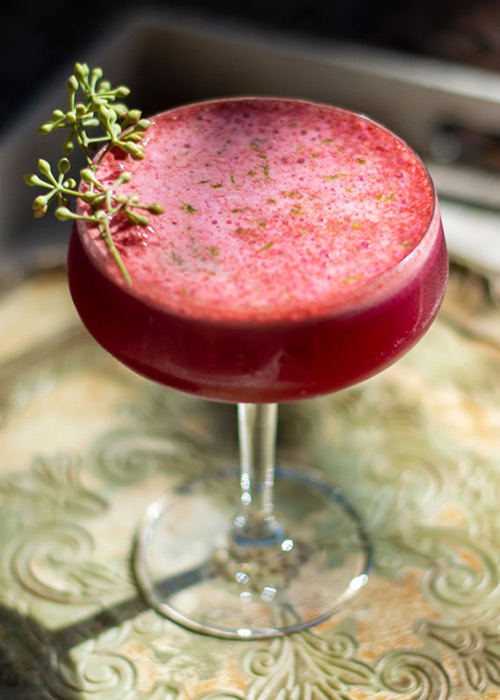 Deriving its name from the somewhat nutritious ingredients included in its build — beet juice, cayenne pepper, and kombucha — the Healthy Habit was created at Charleston's Zero Restaurant + Bar. Gin serves as the base spirit for this sipper, while beet juice bears some earthiness and lavender syrup brings a floral twist. Lime juice also adds a refreshing zip, and kombucha and an egg white provide the cocktail with a luscious, foamy head.
The Square Root of Saint John
Developed by Jon Linstead of the Voodoo Rooms in Edinburgh, the Square Root of Saint John is certainly not for the faint of heart: Its boozy base consists of Scotch, Cognac, sweet vermouth, and The Bitter Truth's Pimento Dram. The Scotch and Cognac blend together wonderfully, bringing forward rich, smoky earth notes complemented by the vermouth and dram's sweetness. Two dashes of both Angostura and lavender bitters add dimension to the cocktail, melding spiced notes with the libation's base spirits.
Lavender Gin Sour
Lavender's herbaceousness lends itself perfectly to the classic sour composition of spirit, citrus, and sweetener In this variation of the Gin Sour, lavender simple syrup balances out the fresh lemon juice that brings an acidic twang to each sip. When made with an egg white, the harsh edges of the spirit and citrus are softened, giving the cocktail a creamy mouthfeel. For an extra floral kick, try using a lavender-forward gin like Waterloo No. 9 or Condesa.
Ingredients
2 ounces gin
1 ounce lemon juice
½ ounce lavender simple syrup
1 egg white
Garnish: dried lavender
Directions
Combine all ingredients in a cocktail shaker and dry shake for about 30 seconds.
Add ice and continue to shake for one minute.
Strain into a chilled coupe glass.
Garnish with dried lavender.
Eau de Lavender
Herbal, floral, and refreshing, the Eau de Lavender looks — and tastes — like a ray of sunshine, making it the perfect cocktail for afternoons outdoors. Tequila, lemon juice, and honey syrup combine to provide the perfect balance of vegetal earth notes and bright, refreshing acidity. A singular dash of Scrappy's Lavender Bitters brings nuance to the cocktail, adding layers of subtle spice and, of course, lavender.
Ingredients
1 ½ ounces tequila
¾ ounce lemon juice
¾ ounce honey syrup
1 egg white
1 dash Scrappy's Lavender Bitters
Garnish: lavender sprig
Directions
Combine all ingredients in a shaker and dry shake vigorously for 30 seconds.
Add ice to the shaker and shake again to emulsify.
Strain into a chilled coupe and garnish with a lavender sprig.