Whiskey holds a world of flavor in just a drop of amber liquid. It comes in many styles, be it rye, bourbon, or Scotch — and a range of tastes, from oaky or smoky, to spicy or sweet. While it may have a reputation for being a heavier, stronger spirit, there's an array of whiskey-based cocktails that will satisfy any palate, whether you prefer something light and tangy, or something dark and peaty.
There's a reason everyone loves whiskey, from Japan to Ireland. Firewater's universal. And no matter the place or time, there's a whiskey cocktail that's perfect for the occasion — you can cool your summers with a Bourbon Peach Punch, or weather your winters with a fireside Hot Toddy. Here are 14 of the best and most essential whiskey cocktails that are both timeless and seasonless.
Sazerac

The first Sazerac was made in New Orleans in the early 19th century by Haitian pharmacist Antonine Amédée Peychaud. The original drink was intended to be a medicinal concoction, and was made using brandy. More modern versions use rye as a base, but we're still convinced it has healing properties — if you're in desperate need of a rich libation and a light buzz, that is. Just add some rye, Demerara syrup, Peychaud's bitters, and your desired amount of absinthe into a mixing glass and stir. Garnish with a lemon rind and toast to NOLA.
Don't Miss A Drop
Get the latest in beer, wine, and cocktail culture sent straight to your inbox.
Whiskey Sour
The Whiskey Sour is a stellar example of "less is more." The American classic needs only a few basic ingredients in order to hit the spot: whiskey (typically bourbon), simple syrup, and any kind of citrus juice. Adding some egg whites to the mix can give it a silkier texture, but it isn't required for taste — sours are easy to knock back, regardless.
Hot Toddy
Drinks aren't always served best cold. Case in point: the Hot Toddy. You can make one using ingredients you probably already have on hand — honey and lemon. The best part of it all? We've gathered some evidence that a good Hot Toddy may help drinkers battle a cold or flu, so you can sip in peace, knowing it's for your health. This is a home remedy we can get behind.
Manhattan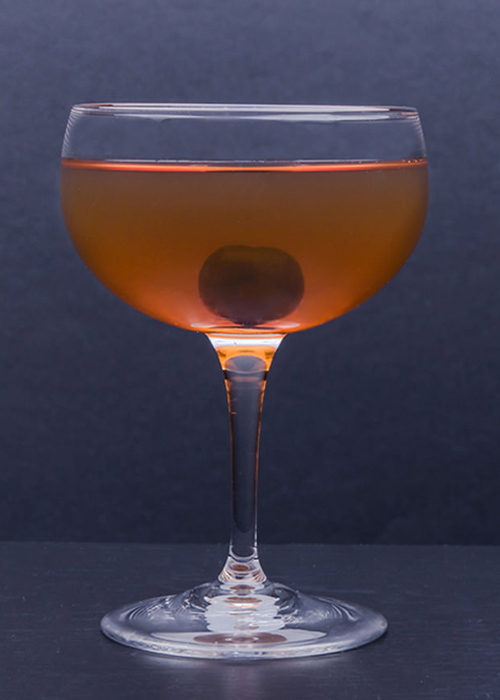 Want to look sophisticated? Go to your local drinkery and order a Manhattan. Legend has it the classic cocktail has been around since the 1870s, and originated in New York City, mixed together in honor of the hometown presidential candidate Samuel J. Tilden. One can be made with bourbon or rye, though some more modern versions opt for bourbon. Just mix together the whiskey of your choice, sweet vermouth, some bitters, and garnish with a Maraschino cherry or an orange peel. (Or make it a Perfect Manhattan by splitting the sweet vermouth with dry vermouth.)
Old Fashioned
The Old Fashioned is — well, it's in the name. It's one of the oldest cocktails in history, and there's no doubt that its quality has led to its longevity. All it takes to make is a healthy helping of bourbon or rye, a bit of simple syrup (or a sugar cube), and some Angostura bitters. You can top it with an orange or lemon peel and sip on it thoughtfully like "Mad Men's" Don Draper.
Bourbon Peach Punch
While bourbon's commonly used in a number of fruity tea punches given its Southern roots, we figured the peach is one of its better pairings. It's definitely one that speaks to its origins. This recipe uses frozen peach slices in place of ice cubes, so there's no need to worry about a diluted drink if you're imbibing during the afternoon of a summer scorcher. It also calls for pineapple and lemon juice, and a dash of black pepper to enhance the natural spiciness of the bourbon while complementing the sweetness of the fruit.
Blood and Sand
Raise your glasses, movie buffs. The Blood and Sand was invented in 1930, following the 1922 silver screen debut of Rudolph Valentino's bullfighter movie "Blood and Sand." It's one of the few classic cocktails made with Scotch. You'll also need some cherry Heering, sweet vermouth, and orange juice before you can start sipping.
Boulevardier
The Boulevardier has its roots in the Prohibition era, and it's easy to see why — the bourbon-based riff of the Negroni (which is made with gin) is so delicious we'd go in the slammer for it. Served with some Campari and sweet vermouth on the rocks, it has a refined European feel with an American twist. In fact, the drink was invented by an Erskine Gwynne, an American living in Paris in the 1920s.
Mint Julep
The Mint Julep was invented in the late 1700s and was originally intended to be a digestive aid. While we can't exactly speak to its medicinal merit, we can vouch that it is the best beverage to indulge in during the Kentucky Derby. It's made with Kentucky's homegrown spirit — bourbon — some simple syrup, and mint. If you want to go the traditional route, serve it in a pewter or silver cup for a touch of prestige.
Rob Roy
The Rob Roy is yet another drink crafted in the halls of a 19th-century hangout for New York's upper echelon — some believe that it was originally made at the Waldorf Astoria in NYC (which was then called the Waldorf Hotel.) Unsurprisingly, it's not so different from its coevals, the Manhattan and the Old Fashioned. The Rob Roy is also made with Angostura bitters and sweet vermouth, but its base is Scotch instead.
Vieux Carré
A bit over a century after the Sazerac, the Vieux Carré was born in New Orleans' French Quarter. The cocktail is made with rye, Cognac, sweet vermouth, a spoonful of Benedictine, and both Angostura and Peychaud's bitters. It was invented in 1938 at the Hotel Monteleone's famous Carousel Bar, which is fitting, because this is a recipe we'd like to take for spin again and again. But hold your horsies, because the Vieux Carré is bitter, sweet, and very potent.
John Collins
While perhaps slightly lesser-known than its sibling the Tom Collins, the John Collins is no less delicious. Swapping out gin for whiskey, the classic highball features bright citrus from freshly squeezed lemon juice, balanced by simple syrup and topped off with a few ounces of bubbly club soda.
Rusty Nail
A recipe that's as easy to make as it is to remember, the Rusty Nail features just two ingredients for a no-frills imbibe. To try your own, add Scotch and honeyed Drambuie liqueur to a mixing glass with ice. Stir, and strain into a chilled rocks glass over fresh ice to serve.
Whiskey Smash
Though its exact origins are unclear, it is known that the Whiskey Smash has been enjoyed for hundreds of years. Though it fell out of fashion in the 20th century, it has been making a comeback in recent decades thanks to the bourbon boom sweeping the nation. To try one for yourself, muddle lemon in a cocktail shaker before adding bourbon, simple syrup, and ice. Shake until the tin has frosted over, pour into a rocks glass, and garnish with mint.