Although today intimately associated with the Kentucky Derby, the Mint Julep's exact origins are lost to the 18th century.
Table Of Contents
Mint Julep Ingredients
2 ½ oz Bourbon

¾ oz Simple Syrup

1 ea Mint
Mint Julep Directions
Muddle mint into glass.

Combine remain ingredients the glass.

Add crushed ice.

Garnish with mint and enjoy.
Rate This Recipe:
Yield: 1 Cocktail
Calories: 161
Updated: 2023-02-14
Listen To Our Cocktail College Mint Julep Podcast
Mint Julep Recipe Video
Mint Julep FAQ
What type of whiskey is used in a Mint Julep?
Bourbon is used in a Mint Julep.
What is the difference between a Mojito and a Mint Julep?
While a Mojito and Mint Julep both feature the refreshing flavors of mint, that's about as far as their similarities go. While a Mint Julep uses bourbon as its base, a Mojito instead incorporates white rum. Further, a Mojito is going to bring forward citrus notes that are not present in a Mint Julep thanks to the addition of freshly-squeezed lime juice. While the cocktails may be different in their composition, there is no denying either's ability to cool you down and refresh you when temperatures start to climb.
Is a Mint Julep made with peppermint or spearmint?
Traditionally, a Mint Julep is made with spearmint.
The History of the Official Kentucky Derby Mint Julep
Bourbon, sugar, water, and mint: It doesn't get much simpler than that. The Mint Julep has become synonymous with the South, specifically, that first big Saturday of the month of May. In fact, the Julep has been the official drink of the Kentucky Derby for nearly 100 years. So where and how did this classic cocktail come about? And why is it the official drink of Derby Day?
The history of the Julep is pretty shaky, as PBS reports. Many believe that the drink's name derives from the Persian word gulab (julab, in Arabic), meaning rosewater. But Julep was also the term used to describe thick concoctions consumed with medicine. In fact, the Julep eventually became prescribed for certain ailments! Most historians agree that the cocktail was created "within Virginia High Society," according to PBS, around the early 19th century.
While created with various spirits in the past, this official Derby Day cocktail is generally made with bourbon nowadays, thanks to the race's Kentucky location. True Mint Juleps are served in silver cups that form a thin layer of frost on the outside, keeping the drink optimally chilled. While the actual reasoning as to why the the Julep became the official drink of Churchill Downs in 1938 isn't entirely clear, it's pretty understandable considering the state's renown for bourbon production. And really, you're going to need a thirst-quenching, refreshing beverage under that sunny racetrack.
Best Practices: Mint Juleps Are Engineered to Beat the Heat
Long before we had frosé, Mint Juleps were the quintessential warm-weather drink. A simple concoction of bourbon, simple syrup, and mint, Juleps originated in the 18th century. In recent millennia, of course, many Americans associate them with the Kentucky Derby.
The first Saturday in May, more than 100,000 fans attend the annual horse race in Churchill Downs. Nearly 120,000 Mint Juleps are served during Derby weekend, sources say.
Whether you are making Juleps for Derby Day, or just looking to use up spare mint sprigs, here are five tips for making quality Mint Juleps at home.
What to do when making a Mint Julep
Go big with bourbon.
Rye, whiskey, and brandy all work in a Mint Julep, but William Elliott, bar director of Maison Premiere in Brooklyn, prefers to use an overproof bourbon. An overproof spirit ensures "the cocktail has a longer life," Elliott says. His favorite bottles are Johnny Drum or Russell's Reserve.
Use syrup, not sugar.
Sugar crystals are tough to incorporate into cold liquid and can impart an unpleasant, grainy texture to your drink. Instead, bartenders opt for simple syrup made from Demerara sugar.
Tim Wiggins, co-owner and bar manager of Retreat Gastropub and Yellowbelly in St. Louis, Mo., likes to take things a step further with mint-infused syrups for Mint Juleps. "Blanching and blending a mint syrup is a great way to create consistent and intense mint flavor," he says.
Pebble ice is key.
Yes, you can serve this drink over chunky cubes and no one will get hurt. But crunchy pebble ice is a big part of Mint Juleps' appeal.
In an interview with VinePair, Polite Provisions' Erick Castro mentions that Sonic, the fast-food drive-through, has Scotsman ice machines that make top-notch pebble ice. Many locations will sell you a bag for a few dollars.
The colder the better.
"After you assemble the Julep, but before you garnish, put the cocktail in the freezer for a few minutes," Elliott says. "It will frost up the outside of the tin nicely." After all, if you've taken the time to get pebble ice and source a proper Julep mug, why not go the extra mile and chill the glass?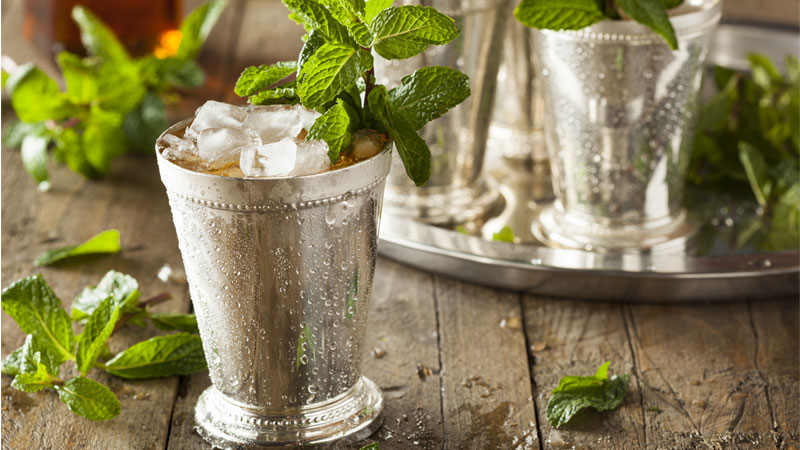 What not to do when making a Mint Julep
Don't muddle your mint.
"The mint flavor should be super fresh," Wiggins says, and advises home bartenders to handle their sprigs with care. "Too much muddling creates bitter and bruised mint that tastes old and stale. You want to gently release the mint oils but not punish the mint."
Elliott prefers not to muddle at all. "Just give the mint a simple smack against the hand and brush the interior of the glass. This will extract just enough mint oil to line the tin."
This is not a sipper.
Pebble ice melts quickly, so bartenders advise against slow sipping. "This drink is meant for hot summer days while watching horses race," Wiggins says. "It should be consumed in no more than three sips!"
Of course, gulping overproof bourbon is not always advisable. Julep or no Julep, it's important to know your limits.
Mint Julep Variations To Try:
The Sparkling Rose Julep - This cocktail uses Four Roses bourbon and sparkling Cava to create a festive riff on the Kentucky Derby favorite.
The Italian Julep - The classic Mint Julep gets an Italian accent in this low-proof cocktail featuring Cynar, an amaro with a distinctly vegetal flavor.