Step aside, Bordeaux and Burgundy — there's another bold "B" on the block that's just as big and bad as you are. We're saying au revoir to our French bottles and benvenuto to the Wine of Kings, Barolo. Equally noteworthy and just as delicious, Barolo is considered the cream of the crop when it comes to Italian reds – and though you may not be familiar with it, fear not! We're here to break down the biggest, baddest red of Piedmont for you with this simple Barolo 101 guide:
What Is It?
Barolo is a red wine produced in the Piedmont region of Italy. The wines are made from Nebbiolo, a small, thin skinned red grape varietal generally high in acid and tannins. In Piedmont, Nebbiolo is one of the first varietals to undergo budbreak and last to be picked, with harvest generally taking place in late October. Barolo wines must be solely composed of Nebbiolo, no exceptions.
Fontanafredda winemaker Danilo Drocco compares Barolo to "a lovely person who needs to be discovered little by little. Every time you open a bottle of Barolo, it gives off unique emotions and sensations."
The wines are rich and full-bodied, with a strong presence of acidity and tannins. Barolos are often compared to the great Pinot Noirs of Burgundy, due to their light brick-garnet pigments and bright acidity – plus the region it's made has a lot that is aesthetically common to Burgundy too, but we'll get to that later. Rose flower, tar, and dried herbs are aromas frequently associated with Barolo wines. According to DOCG regulations, the wines must be aged for at least two years in oak and one year in bottle, with five years of age (three in oak) required for Riserva labeling, both with a minimum 13 percent alcohol content.
One of the most historic Barolo producers is Fontanafredda, and their winemaker, Danilo Drocco, compares Barolo to "a lovely person who needs to be discovered little by little. Every time you open a bottle of Barolo, it gives off unique emotions and sensations."
Where Is It?
Barolo is located in the northwestern portion of Piedmont called Langhe, about seven miles southwest of Alba. There are 11 communes that make up the wine producing region of Barolo, including the five most prominent ones: Barolo, La Morra, Castiglione Falletto, Serralunga d'Alba, and Monforte d'Alba.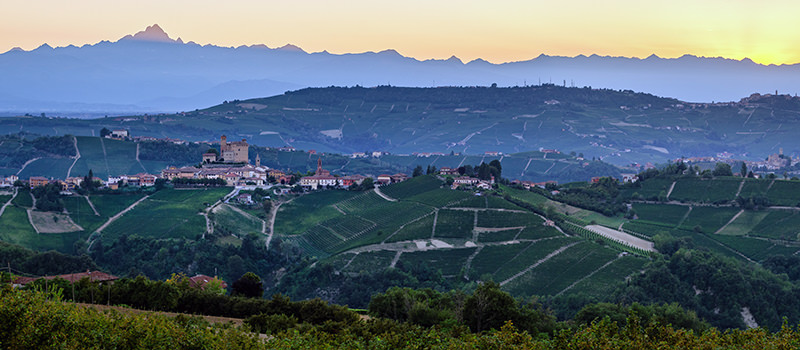 Vineyards in Serralunga d'Alba at dawn
To break it down, Langhe can be divided into two areas, the Serralunga Valley where the Fontanafredda estate is located, which encompasses the eastern communes of Castiglione Falletto, Monforte d'Alba, and Serralunga d'Alba, and the Central Valley, which covers Barolo and La Morra. The greatest difference between these two divisions is the soil; while the Serralunga Valley has soils high in sand and limestone, the latter tends to be higher in clay. The sandy soils of Serralunga produce more intense wines that demand a longer ageing period than the Central Valley Barolos, which are known for softer, fruitier expressions of the region. The commune of La Morra produces the most wine of the five communes.
How's It Made?
The Barolo DOCG (Denominazione di Origine Controllata e Garantita) is the highest classification for Italian wines and denotes specific production methods and a quality guarantee. Wines from the Barolo DOCG must be 100% Nebbiolo and aged at least 38 months, 18 of those in wood barrels. The term "Riserva" can be used on the label when the wine has been cellared for at least five years.
Barolo wine must be aged least 38 months, 18 of those in wood barrels like these at Fontanafredda.
When Should I Drink It?
Despite its grandiose title as the King of Wine, Barolo doesn't have be set aside for special occasions – though it is one of the most age-worthy wines available. It's one of the only wines around that given its price is both collectible and drinkable daily. The firm, luscious reds of Barolo are perfect for spring and summer barbecues, mushroom risottos in the fall, or hearty steak dinners in the winter. Their versatile flavor profiles, with considerably concentrated flavors of tar and rose, are perfect with dried meats and hard cheeses (hello, charcuterie platter!) and especially with truffles.
"Don't be intimidated by Barolo's prestige, you don't need a special occasion to enjoy it," says Drocco. "You can share it with your family or friends at home or during a party. Don't let somebody else drink your Barolo!"
Why Should I Drink It?
The wines of Barolo are structured and firm, refined and classy, elegant and elite- though not always necessarily a bank breaker. While some of the higher end riservas and prestige cuvees can cost a pretty penny, wines from Barolo can actually be quite affordable. Discovering all that Barolo has to offer is not only a change-up from your ordinary weeknight red, but a headfirst dive into the culture of Piedmont, a journey into the terroir of the foggy northwest. Rather than your usual picks from La Belle France, consider a sultry Barolo for your next housewarming gift, special occasion, holiday dinner, or casual wine and cheese night.
This article is brought to you by Barolo Week, sponsored by Fontanafredda, an iconic Barolo producer founded by the first king of Italy.