How To Make A Vesper
James Bond might be forever associated with the Martini (shaken, of course), but true cocktail pros and Bond lovers alike also know about the Vesper, which Ian Fleming created in the 1953 novel Casino Royale.
Vesper Ingredients
2 oz Gin

1 oz Vodka

1/2 oz Lillet
Vesper Directions
Combine all ingredients in mixing glass with ice.

Stir.

Strain into chilled cocktail glass

Garnish with a thin lemon and orange and enjoy.
Rate This Recipe:
Yield: 1 Cocktail
Calories: 221
Updated: 2022-08-01
Listen To Our Cocktail College Vesper Podcast
Vesper FAQ
What does a Vesper taste like?
A Vesper is a very strong cocktail, carrying herbaceous notes from gin that are tamed by the grain notes of vodka. The addition of Lillet brings forward slightly sweet flavors with botanicals of its own that nicely complement those in the gin.
Is the Vesper a Martini?
Yes, the Vesper is a Martini, its full name being the Vesper Martini.
Who created the Vesper?
Created by Ian Fleming in his 1953 novel "Casino Royale," the Vesper gained popularity as the favorite drink of James Bond. The cocktail was created by Fleming as a variation on the dry Martini, who decided to name the cocktail after Bond love interest Vesper Lynd.
---
Related Reads & Recipes
Learn About Gin
· Gin 101
· Our always updated list of the best Gin to buy right now!
More Gin Recipes To Explore
The Winter Citrus Spritz:
Put lemons, blood oranges, clementines, and other winter citrus to work in this bright, refreshing spritz. Get the recipe here.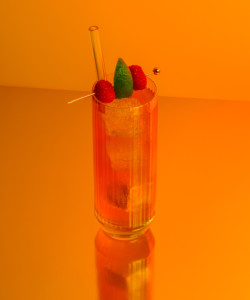 The Floradora Recipe:
This pretty-in-pink covers all the bases of the perfect refresher: tart, summery, a little spicy, and sessionable.
The Long Dryland Iced Tea:
Congratulations, you made it through dry January! Treat yourself to the biggest, baddest cocktail of them all-- the Long Dryland Iced Tea.
Pomegranate Lemonade Martini Recipe:
If April is the cruelest month as T.S. Eliot once said, then surely May is the most jubilant one. Therefore drink a Pomegranate Lemonade Martini