The Story Behind The Penicillin
There are no antibiotics in this drink, but it's a pretty fail-safe remedy for the winter blues. An incredibly flavorful, Scotch-based cocktail, the Penicillin manages to be both boozy and refreshing. Fresh lemon and ginger provide pleasing bite, while honey adds smoothness.
In addition to the blended Scotch base, a float of Islay Scotch finishes things off.
Ingredients
2 ounces blended Scotch, such as Monkey Shoulder or Famous Grouse

¾ ounce fresh lemon juice

¾ ounce honey simple syrup

4 nickel-sized slices of ginger

¼ ounce smoky Islay Scotch
Directions
Put ginger slices and honey syrup in the base of a shaker and gently muddle.

Combine other ingredients (except Islay Scotch) and shake with ice.

Double-strain into an ice-filled rocks glass.

Float the Islay Scotch over the top of the drink by pouring it over a bar spoon for even distribution.

Garnish with candied ginger on a cocktail pick.
Rate This Recipe:
Yield: 1
Calories: 203
Updated: 2022-05-31
Penicillin Variations To Try:
R&D's Hot Oaxacan Penicillin - This Hot Oaxacan Penicillin contains classic components of both the Hot Toddy and the Penicillin, with ginger, honey, lemon, and hot water.
Grapefruit Penicillin - The grapefruit brings some seasonal flavor to this cocktail, adding a winter element. This is a great cocktail for a pre-dinner cocktail hour to get your appetite going.
The Smoky Tea Penicillin - For this twist on a Penicillin, cocktail columnist Natalie Migliarini uses smoky black tea from China.
---
Related Reads & Recipes
Learn About Scotch
· Our always updated list of the best Scotch to buy right now!
More Scotch Recipes To Explore
The Scottish Seaside Recipe:
This spin on an Old Fashioned uses Scotch and liqueur to pack a lot of flavor into a very balanced drink. Learn how to make it with this recipe.
Johnnie Walker Harvest Highball:
Discover your go-to Harvest Highball with Johnnie Walker. This classic highball offers a great way to savor whisky during the Fall.
Candied Apple Manhattan:
In the Candied Apple Manhattan, Johnnie Walker Black Label's flavors of smoke and spice star in this variation on the storied cocktail.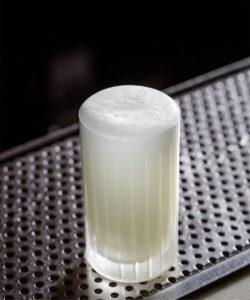 The Dawn Patrol Recipe:
The Dawn Patrol, created by Death & Co New York's head bartender, Shannon Tebay, is a take on the classic Morning Glory Fizz.
Caledonian Spritzer Recipe:
I like to think that during the medieval times, somewhere there was a knight sipping cocktails in a classy tavern. It's the stuff of fantasy, of course.
Grapefruit Penicillin Recipe:
The Penicillin Cocktail was created in 2005, named as a joke on its cure-all properties. After all, we can't drink Hot Toddies every night of winter