How To Make A Coffee Cocktail
While there are a lot of caffeinated cocktails out there, the classic Coffee Cocktail actually doesn't pack that kind of buzz.
Coffee Cocktail Ingredients
1 ½ oz Brandy

2 ½ oz Port

1 Egg, whole

Nutmeg
Coffee Cocktail Directions
Combine all ingredients in shaker tin.

Add a few chips of ice.

Shake until ice chips are dissolved.

Fill tin with ice.

Shake vigorously, until tin is frosted over.

Strain into chilled glass

Garnish with nutmeg and enjoy.
Rate This Recipe:
Yield: 1
Calories: 234
Updated: 2023-03-07
---
Related Reads & Recipes
Learn About Brandy
More Brandy Recipes To Explore
The Fast Car Recipe:
A riff on such classics as the Sidecar and Between the Sheets, this cocktail combines armagnac, rhum agricole, lemon, and citrus liqueur.
The Tropical Toddy Recipe:
From San Antonio's historic Esquire Tavern comes this versatile hot toddy recipe. Learn how to make a hot toddy with bourbon, brandy, or rum here.
Sidecar:
Get our recipe for a great Sidecar. Learn everything you need to know to make a perfect Sidecar.
Hennessy Sangria Recipe:
The perfect summer drink, the classic Sangria gets an upgrade with a splash, or glug, of Hennessy. Get our Hennessy Sangria recipe now!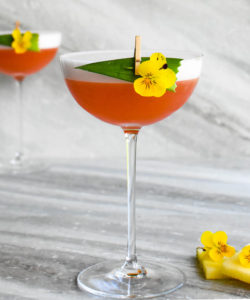 Le Toucan Recipe:
A playful spin on the Jungle Bird cocktail, this colorful drink replaces rum and Campari with Armagnac and Suze, an herbaceous French aperitif.
Vieux Carré:
Get our recipe for a great Vieux Carré. Learn everything you need to know to make a perfect Vieux Carré.