With more than 150 officially recognized beer styles, the global domination of Big Beer's macro lagers, and the tidal wave of hard seltzer, the IPA's domination over American craft beer drinkers' palates is truly iconic. Once an obscure and quirky push from small brewers onto curious beer drinkers bored with American light lager, IPA — and its many sub-styles, such as the now-ubiquitous New England-style IPA or hazy IPA — is craft beer's success story.
The level of success for each of these beers is constantly in flux. What we considered the best one year will undoubtedly change the next. Similarly, so too will the cultural significance and economic impact of each IPA on this list. In some cases, even the beer's recipe, packaging, hop charging technique or grist will make a subtle shift that changes its trajectory for the better — or worse.  The following beers have all impacted the beer industry, community, and us in some significant way in the past year and potentially those preceding it. More importantly, these are the IPAs we expect to affect craft beer's future.
These are the 25 Most Important IPAs right now, ranked by the VinePair staff.
Don't Miss A Drop
Get the latest in beer, wine, and cocktail culture sent straight to your inbox.
25. Pipeworks Ninja Vs. Unicorn
Chicago
ABV: 8%
In 2015, Ninja Vs. Unicorn became the first Pipeworks beer packaged in cans — straight to 16-ounce tallboys with electrifying artwork — with a launch party to go with it. It remains the brewery's most popular beer. This year, we found ourselves falling in love with it all over again. Perfect for crisp winter days and lazy summer afternoons alike, this boozy-but-balanced double IPA is a stellar example of the style now as much as then. By the way, ninja always wins.
24. Deschutes Fresh Squeezed
Bend, Ore.
ABV: 6.4%
Fresh Squeezed IPA debuted as an experimental brew in 2013, and became a year-round IPA the following year. At the time, it was a hot take on hops, showcasing the "juicy," citrusy character of Citra, Mosaic, and Nugget, as well as dialing back the malty side with pale malts. Today, it's a symbol of resilience, and a damn tasty one at that.
23. Cerebral Brewing
Denver
ABV: 6.4%
It's hard to pin down our favorite Cerebral beer each year. Although we handed it to foeder lagers this year, that top 50 spot could easily have gone to this double-dry-hopped version of its popular Rare Trait IPA (itself a "modern classic," according to a fellow Denver brewer). DDH Rare Trait is the one we've been craving since we first tasted it several months ago, which we also very much hope will not be the last.
22. Athletic Brewing Co. Free Way 'DIPA'
Stratford, Ct.
ABV: <0.5
We know it seems crazy to include a non-alcoholic double IPA as one of the most important IPAs right now — and in truth, as recently as five years ago, we didn't think we'd be here, either. But Athletic Brewing has proven that the NA category can exist, and that it can offer astonishing quality compared to NA beers of previous years. Free Way, also one of our 50 Best Beers of 2020, stocked our fridge this year as we made our way through the indistinguishable weekdays and nights, and even weekends. Perfect for those occasions when we wanted to kick back with a beer but were really craving the ritual more than anything else — before moving on to a "real" alcoholic beer, of course — Athletic was ever-present.
21. Hudson Valley Incandenza Sour IPA
Beacon, N.Y.
ABV: 6%
Sour IPA? It's possible. Citra and Mosaic hops and lactic acid give this tart little gem a lemony, fruit-forward tang, while oats, wheat, and milk sugar contribute creaminess without going full smoothie or milkshake. While availability is sparse, rest assured if you are ever looking for a sour IPA, Hudson Valley is the place to find the standard — and the bar is set higher with every batch.
20. Triple Crossing Falcon Smash
Richmond, Va.
ABV: 7%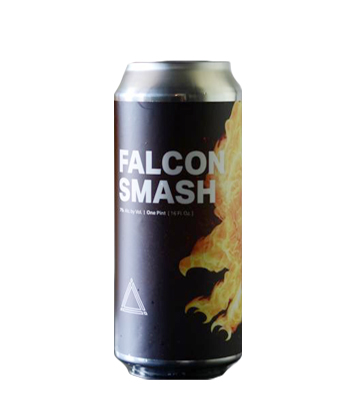 Falcon Smash is a flagship IPA that reinvents itself — that's because reinvention is built into the brand. The Virginia-brewed NEIPA is an ode to Falconer's Flight, a proprietary hop blend (Hopunion) that includes Cascade, Centennial, Chinook, Citra, Cluster, Columbus, and Crystal hops — a.k.a. "C Hops" — along with rotating varieties from Hopunion's experimental toolshed. Triple Crossing's reputation for hop-driven experimentation gets stronger every year.
Cigar City Brewing launched in 2009, and sold to the CANarchy Craft Brewers Collective in 2016. By 2018, Cigar City Jai Alai IPA was the top-selling 6-pack of canned craft beers at major grocery stores in the U.S., solidifying the tropical IPA as one of our 50 best Beers of the Year, and Cigar City as one of the most important breweries of the decade. Years before it reached newsworthy accolades such as these, Jai Alai amassed fans around the world, including resident beer lovers at VinePair. Now squarely situated in a new decade on the cusp of 2021, Jai Alai shows promising signs of growth: Dollar sales of Jai Alai increased more than 40 percent in 2019. Beyond that, it remains the Florida-made IPA we daydream about drinking by the pitcher under an umbrella in the sand. Riffs on the classic include White Oak Jai Alai and Spanish Cedar Jai Alai.
18. Dogfish Head 60 Minute
Milton, Del.
ABV: 6%
It's indisputable that 2020 has been an "off-centered" year but one thing that consistently kept us centered was 60 Minute. With its continually hopped balance of citrus and herbal flavors, strong malt backbone, and relatively sessionable 6 percent ABV, 60 Minute is still impressing us. Call it Covid-induced grocery store stocking up, tastebuds getting nostalgic, or the fact that our mom keeps a sixer of it in the fridge all summer, but we definitely drank a lot of 60 Minute this year. Also be on the lookout for Hazy O! – exclamation point theirs, not ours – an oat-packed addition to the DFH lineup set to launch in January 2021.
17. Firestone Walker Double Jack
Paso Robles, Calif.
ABV: 9.5%
The power of social media shone through many beer-filled glasses this year, but as one VinePair staffer aptly noted, "people are freaking out that Double Jack is back." Indeed, "bring back Double Jack" became a rallying cry on the brewery's social media accounts since this beer was discontinued in 2016. The imperial version of the original Union Jack, itself widely known as one of the first definitively West Coast IPAs, was that beloved. After a brief reintroduction last fall, it's back in the year-round lineup, and better than ever. (FWIW, it should probably be called "Triple Jack," but anyway, who's counting?)
16. Russian River Pliny the Elder
Santa Rosa, Calif.
ABV: 8%
Respecting your elders is easy when it's Pliny: No matter how much time passes (almost 21 years, as of this writing) or how many IPA styles fly in and out of fashion (remember brut IPA?), reverent beer drinkers can't seem to get enough of this West Coast legend. Our only problem with Pliny is how infrequently we get to drink it in NYC. DM us for our mailing address.
15. Bell's Brewery Two Hearted Ale
Comstock, Mich.
ABV: 7%
Bell's Brewery has released its fair share of IPAS since its founding in 1985. This includes the Official Haze, its year-round, wheat-based take on the hazy IPA; and Light Hearted Ale, its January 2020 answer to low-alc, low-cal beer-seekers. And yet, try as they might to win over new palates with fresh takes on trends, Two Hearted Ale consistently commands a national following. The grapefruit-and-pine-flavored ale — not even branded as an IPA when it was released in 1997 — is made with only Centennial hops, making it an all-around American classic.
14. WeldWerks Brewing Co. Juicy Bits
Greeley, Colo.
ABV: 6.7%
Often imitated, and occasionally recreated by WeldWerks, Juicy Bits is the New England IPA of the Southwest. It's the orange juice with pulp of IPAs, packing Mosaic, Citra, and El Dorado hops into its feather-soft, smoothie-like mouthfeel. It's also available in stores like Whole Foods on the West Coast, which to us East Coasters is basically like saying the tooth fairy is real.
13. Hop Butcher for the World Neon Green Relish
Darien, Ill.
ABV: 7.5%
Neon Green Relish evolves with every sip, sniff, and sampling session. Zesty and herbal like a G&T with bergamot or lime, then dank as a wheel of brie before going back to fruity berry notes, it's somewhere between a pickle and a danish. It's exactly this bewildering, and beguiling, character that has hop-obsessed beer drinkers hooked on Hop Butcher. The Illinois brewery's constantly changing range of thick, juicy hazies is for those who like their flavors extreme.
12. Alchemist Brewing Company Heady Topper
Stowe, Vt.
ABV: 8%
Heady Topper is a legend, albeit a relatively young one — achieving cult status soon after its 2003 (!) release. Nearly two decades later, it's still turning heads — with even some of our own team trying the beer for the first time this year (and loving the results). To their defense, they went all the way to Vermont to try it, even though they didn't have to. Once only available at the brewpub in Stowe, Heady Topper and other Alchemist beers such as the similarly flavored and beloved Focal Banger are now available in retail stores in various states.
This story is a part of VP Pro, our free platform and newsletter for drinks industry professionals, covering wine, beer, liquor, and beyond. Sign up for VP Pro now!