Gin finds a home in an array of iconic cocktails, many of which likely first featured Old Tom and have since been tweaked to accommodate the more ubiquitous London Dry style. As the gin landscape continues to evolve, those same drinks now enjoy limitless opportunities for experimentation.
By definition, all gin must afford juniper the starring role in its botanical bill — the herbs, spices, fruits, and roots that give the spirit its character. Now more than ever, distillers are placing an almost equal focus on the supporting cast, creating spirits with a sense of place or offering a more approachable entry to the category for those who find juniper's piney character to be challenging.
On this list, you'll discover gins that represent the pinnacle of London Dry alongside bottles made with hand-picked, wild ingredients. The selection represents the best of more than 100 bottles tasted, and inclusion in the ranking depended upon factors such as quality, value, availability, and — most important of all — remaining true to the juniper-laced soul of gin.
Stick those Martini glasses in the freezer and make sure the ice trays are filled: Here are the 30 best gins to drink in 2023.
Table Of Contents
Under $25
Beefeater London Dry Gin
Beefeater sold in the U.S. dropped from 47 percent to 44 percent ABV in recent years, irking many industry professionals in the process. Still, this iconic London Dry remains juniper-charged in profile and a brilliant budget pick. Expect exceptional balance between citrus, spice, and juniper, and a soft palate that finishes with a peppery prickle.
Average price: $20
Rating: 90
Askur Yggdrasil 45
Named after the "Tree of Life" in Nordic mythology, Askur Yggdrasil gets top marks for the sheer amount of information included on its label. There, you will learn the provenance of ingredients and production process, which includes column-distilled French wheat distillate and botanicals such as Balkan juniper, Spanish citrus peel, and Icelandic water for proofing. Those seeking the CliffsNotes need only know that this is a dazzling expression of London Dry style gin that over-delivers for its price.
Average price: $22
Rating: 92
Under $50
Aviation Gin
What's not to love about Aviation Gin? It's priced for the people, the marketing is spot-on, and it's the best celebrity-owned gin on the market by a mile. But that's not why you're drinking it. You crack open a bottle of Aviation for its citrus and pepper-spiced aromas, and its velvety smooth palate that serves orange peel and a gentle kiss of juniper. Martini, Aviation, Corpse Reviver #2 — take your pick, this gin will deliver.
Average price: $25
Rating: 91
Fords Gin
Created by Simon Ford and master distiller Charles Maxwell, Fords benefits from the former's many years of bartending experience. Subtle details, such as measurements etched onto its ergonomic bottle, prove this gin was devised with the service industry in mind. The character is bold yet classic in essence, ensuring that it won't get lost in whichever cocktail it's being deployed. This should be your go-to house gin.
Average price: $26
Rating: 95
Bluecoat American Dry Gin
From Philadelphia Distilling arrives this pioneering American gin. It begins with sweet and fruity citrus aromas, then transitions to spicy and complex character on the palate. The juniper is consistent throughout but never exceeds a quiet whisper, making this great gin for those looking to explore the category for the first time.
Average price: $30
Rating: 93
Junipero Gin
The Spanish translation of juniper, Junipero is a celebration of gin's defining botanical. From the first sniff, it's clear only the highest-quality berries were included in the copper-pot distillation runs, for their impression on the final spirit is piercing and pure. Lemon peel, cardamom, and black pepper notes bring depth and balance to a clean, crisp palate.
Average price: $30
Rating: 94
Roku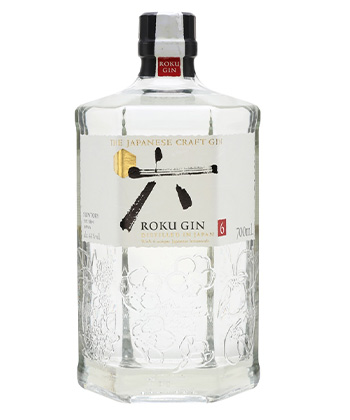 Produced by Beam-Suntory, and translating to "six" in Japanese, Roku is a delicate, citrus-forward, new-age gin. Its name reflects the native ingredients included in its botanical bill (sakura flower, sakura leaf, yuzu peel, sencha tea, gyokuro tea, and sanshō pepper), and inspires its sleek, hexagonal bottle. We love it in a stirred dry Martini served with a simple lemon twist.
Average price: $30
Rating: 93
Bayab African Grown Classic Dry Gin
Among a handful of African gins making their way onto the American market, Bayab is distilled at South Africa's Midlands distillery and includes seven botanicals from five different nations on the continent. Most notable is the sweet and citrusy baobab fruit, a vitamin-C-rich superfood. This gin is dry and well balanced, with a hint of citrus and peppery undertones. Try it in shaken classics, such as the Last Word.
Average price: $33
Rating: 92
Sipsmith London Dry Gin
This side of the Atlantic, Sipsmith has yet to fully build the reputation it enjoys in the U.K., where it stands as a pioneer of craft distilling. That's quite perplexing given the quality of this London Dry, which oozes fresh and pure botanical character. Balanced, bright, and bold, this is the quintessential gin for refreshing G&Ts — garnished with a lemon wedge, in true British fashion.
Average price: $33
Rating: 94
St. George Spirits Terroir Gin
Using gin as a vehicle to showcase terroir is a common concept nowadays, but California's St. George Spirits has been invested in that pursuit for over a decade. With this bottling, the distillery transports drinkers to the Golden State via botanicals like Douglas fir and California bay laurel. The profile is understandably and enjoyably piney, providing an expressive and distinctive Martini when married with dry vermouth.
Average price: $33
Rating: 93
Tanqueray No. Ten
Billed as "the ultimate cocktail gin," Tanqueray No. Ten has earned a reputation as a bartender favorite over the past two decades. Its profile is more delicate and nuanced than standard Tanqueray (which is also great), yet it still manages to imprint its identity on drinks like the G&T, Martini, or Last Word. While a clear upgrade on entry-level gins, the price point remains relatively affordable.
Average price: $33
Rating: 95
Bombay Sapphire Premier Cru Murcian Lemon
The original Bombay Sapphire helped usher in this new era of lighter, citrus- and floral-forward gins, and this new release from the brand is doubling down on that approach. Produced using lemon, mandarin, and sweet orange from Murcia, Spain, citrus fruits spring from the nose and land on the palate with a bright, subtle sweetness. Juniper and black pepper arrive on the finish to serve a gentle reminder that this is, indeed, a gin.
Average price: $35
Rating: 92
Citadelle 'Vive le Cornichon'
Part of Citadelle's "Les Excentriques" limited-edition collection, this French gin is distilled in traditional Charentais pot stills and infused with 20 botanicals as well as French-grown, hand-picked cornichons. While pickle notes jump out on the nose, the palate is more balanced and delivers robust juniper notes. This gin is perfect for making a high-quality Dirty Martini, stirred with dry vermouth and a splash of cornichon brine, and garnished with olives and pickles.
Average price: $35
Rating: 92
Manly Spirits Australian Dry Gin
If your reaction to this gin's name is "Why are we gendering spirits?" worry not: Manly is the name of a north Sydney suburb known for a famous beach of the same name. This gin honors its coastal origins with the botanical inclusions of sea lettuce and anise myrtle. Its nose is slightly sweet, offering citrus-forward and juniper aromas, complemented by a slight anise note. The palate is complex, with cedar and woody notes, followed by a hint of lemon.
Average price: $35
Rating: 93
Hendrick's
When it made its debut in its distinctive apothecary-style bottle back in 1999, Hendrick's caused a stir in the gin industry. By incorporating rose and cucumber in its mash bill, it paid tribute to the quintessential British garden and broke away from the traditional London Dry gin style, offering a more floral and refreshing flavor profile for gin enthusiasts. Each interaction with this bottle is a delightful reminder of its easygoing character and exceptional quality.
Average price: $35
Rating: 93
Drumshanbo Gunpowder Irish Gin
Falling somewhere between a New Western style and classic London Dry, Gunpowder blends juniper, zesty bergamot, and a spray of saline notes on the nose. The palate is vibrant, with a seasoning of green, grassy notes. This gin is subtle but versatile, and pours a wonderful Gimlet.
Average price: $37
Rating: 91
The Botanist Islay Dry Gin
Made at the Bruichladdich Distillery on the Scottish Isle of Islay, The Botanist includes 22 hand-picked ingredients in its botanical bill, all of which grow wild on the island. Taking the terroir and gin conversation to an entirely new level, this is surely the world's only gin that contains creeping thistle, sweet cicely, and tansy — to name but three of its left-field ingredients — and what a combination it proves to be.
Average price: $37
Rating: 93
Xoriguer Mahón Gin
Made on the Spanish island of Menorca, this gin is distilled from grapes in wood-fired alembic stills that range from 70–270 years old. The juniper berries that provide its character are aged for up to four years in open crates at the distillery, providing plenty of contact with salt-rich sea air. All of these factors contribute to a gin that brims with citrusy, peppery, salty character. Mix in a 50/50 Martini with sherry, and garnish with a twist and olive.
Average price: $37
Rating: 95
Sông Cái Việt Nam Floral Gin
Beyond the juniper, which is sourced from Macedonia, all of the botanicals for this contemporary Vietnamese gin are locally sourced. Five native flowers included in the recipe provide a delicate and subtle nose, with notes of wintergreen mint most prominent. On the palate, the gin is light and refreshing, with a profile that perfectly matches its floral aromas. This gin is perfect for a summer afternoon gin and soda or a fruity Clover Club.
Average price: $39
Rating: 94
Future Gin
Los Angeles's Future Gin aims to capture the flavors of SoCal using Meyer lemon, honeysuckle, and grape leaf, along with more common botanicals. The resulting spirit is lithe and clean on the nose, while bursts of citrus pop on the palate. Gin with a modern twist, this example shines in a dry Martini garnished — fittingly — with a lemon peel.
Average price: $39
Rating: 94
Tulchan London Dry Gin
Named after a particular type of fishing rod used in Scotland, this Speyside gin is copper pot distilled and includes elderflower, sloe berries, and blackberry leaves. While those ingredients are uncommon in gin, this expression remains true to the London Dry style, with vibrant notes of fresh lemon peel and peppery juniper. Bottled at 45 percent ABV, it confidently holds its own in cocktails.
Average price: $40
Rating: 93
Greenhook Ginsmiths American Dry Gin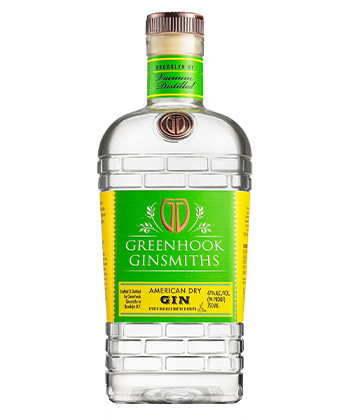 Distinctive cardamom and coriander aromas lend an earthy spice to the nose of this American gin. Galangal and citrus are also included in its botanical bill and make a more prominent appearance on the bright and lively palate. This is a wonderful new-wave expression that doesn't stray too far from the classic gin profile.
Average price: $40
Rating: 92
GINRAW
This "gastronomic" gin from Barcelona marks the combined efforts of a chef, sommelier, mixologist, and master parfumeur. Its production features many of the fancy techniques and equipment that have gained the city a world-class culinary reputation in recent years. Among those are the use of rotary valves for a third distillation run, which allows the process to take place at just 75 degrees Fahrenheit. The result: among the zestiest, citrus-scented gins available, with attractive prickly spice on the palate. This is ideal Negroni gin.
Average price: $43
Rating: 93
Nikka Coffey Gin
Four native Japanese citrus fruits combine in Nikka Coffey's base recipe, where they're joined by sansho peppers and other botanicals. Each sniff and sip reveals something new: Occasionally, the profile leans floral and fruity; other times, there's fiery spice mixed with piney juniper.
Average price: $46
Rating: 94
Matsui Shuzo 'The Hakuto' Premium Gin
Thirteen locally sourced Japanese botanicals — including Nashi pear, cherry blossom, sansho peppercorn, and cherry blossom — give this modern gin a distinctive, delicate profile. The ingredients macerate in its base neutral spirit before distillation, and each of their profiles remains vibrant and fresh on nose and palate. Juniper is present, if something of an afterthought, making this an ideal bottle for those looking for something a little different.
Average price: $49
Rating: 94
Under $100
Hans Reisetbauer Blue Gin
There's a temptation to think of this as the fun side project of Hans Reisetbauer, an Austrian distillery better known for making some of the world's best eaux de vie. Yet that would detract from the serious quality showcased in this gin, which ranks among the cleanest, most concentrated, crisp expressions on the market. This calls for an extremely dry Martini with a tiny expression of lemon (discard the peel after).
Average price: $53
Rating: 94
Monkey 47 Schwarzwald Dry
One of the best-regarded gins on the planet, Monkey 47 delivers a journey on the nose that hops around from dried berries (cranberry, lingonberry, and raspberry) to spice to herbs and back to fruit again. The palate is an exhibition of balance, showcasing notes of raspberry, orange blossom, grapefruit peel, coriander seeds, and cardamom, to name a few. Just when you're wondering when the juniper is going to appear, it jumps out and coats the palate, as if to say, "Hello! I'm gin, remember?!" And what wonderful gin it is.
Average price: $66
Rating: 95
Kyoto Distillery Ki No Bi Kyoto Dry Gin
Among the cream of the Japanese gin crop, the Kyoto Distillery leads the way with this attractively floral, citrus-forward gin. The nose is somewhat shy, though not lacking in character. But it's the palate that really stands out, with vibrant helpings of yuzu, fresh berries, pink petals, and sharp juniper. Worth the splurge? Absolutely.
Average price: $74
Rating: 94
Abrojo Gin Dry Gin Ancestral
If, like this writer, you've ever sought to make a Martini using mezcal but found the spirit's smoky character too assertive for the cocktail, this is the gin for you. It's made using spent agave fiber, which is refermented using wild yeast and spring water, and retains much of the character of mezcal. But juniper also enjoys a prominent presence on the palate, as do a range of vibrant, fresh botanicals including hoja santa, lemongrass, and lemon verbena.
Average price: $84
Rating: 94
Jung One Gin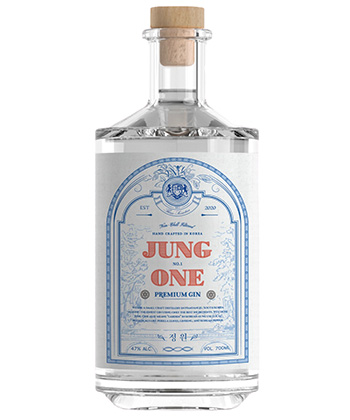 Jung One may or may not be the world's first gin produced with a 100 percent malted barley base, but it's the first we've encountered using the "single malt gin" terminology. It's also the first Korean gin we've sampled at the VinePair HQ, and it left an overwhelmingly positive impression. Jung One, which means "garden" in Korean, joins multiple other bottles on this list in its aim to showcase locally grown botanicals — in this case Korean sansho pepper, baby ginseng, pine needle, and perilla leaves. The malt character of the base distillate lends slightly earthy and savory notes to the nose, and provides a rich texture on the palate. The flavor profile is perfectly balanced, matching traditional notes of juniper, coriander, and citrus with unique Korean counterparts.
Average price: $96
Rating: 94
FAQ
What's the best-selling gin in the world?
Philippines-based Ginebra San Miguel is, by far, the best-selling gin brand in the world.
What is the best affordable gin?
At just $21, Askur Yggdrasil 45 is one of the best affordable gins on the market — receiving a score of 92 from our tasting panel.
VinePair's Tasting Methodology: How We Rate
Throughout the year, VinePair conducts numerous tastings for our popular Buy This Booze column and wine and spirits reviews. Our mission is to offer a clear, reliable source of information for drinkers, providing an overview applicable to day-to-day buying and drinking.
In alignment with our reviews mission, we believe in purposefully tasting all products as our readers typically would, with full knowledge of the producer, the region, and — importantly — the price. Tastings are therefore not typically conducted blind.
For Buy This Booze roundups, we usually include a maximum of one expression per brand, though we do allow multiple products from the same production facility (i.e., released under different labels).
For this gin roundup, we considered a number of different factors before finalizing the list. Our overall aim was to provide a complete overview of the myriad styles of the spirit — from traditional London Dry to botanical-forward international expressions that highlight a sense of place. Price points span from entry-level, "approachable" bottles to ultra-premium releases. We are confident that every bottle that made this final ranking delivers on flavor, balance, depth, and complexity for each of their respective price points.