Drinking like a star needn't cost an arm and a leg. Celebrity-backed spirits brands pack the shelves of liquor stores like Golden Globes in Meryl Streep's trophy cabinet. But while some celeb bottles deliver award-worthy drinking experiences, others fall flatter than a straight-to-TV movie release.
To help sort the 24-karat from the fool's gold, VinePair tasted through dozens of star-studded spirits. We encountered aged whiskeys, innovative vodkas, and no shortage of tequilas, and, after some tough decisions, whittled the list to down this dazzling dozen. Inclusions were limited to one bottle per brand and we've listed average prices as found online.
Acceptance speeches at the ready: Here are the 12 best celebrity spirits brands, tasted and ranked.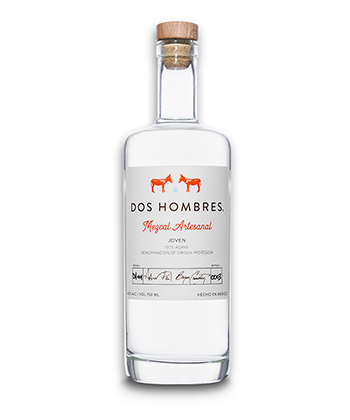 Fans of AMC's "Breaking Bad" will know that Bryan Cranston and Aaron Paul (a.k.a. Walter White and Jesse Pinkman) are a formidable duo. Six years after the curtains came down on the hit small-screen drama, the pair launched Dos Hombres: A joven mezcal made from Espadín agave. Even as mezcal goes, this is a full-on smoke bomb. While fruit and spice aromas also emanate from the glass, smoke dominates the palate. This mezcal is best enjoyed paired with a blanco tequila in a split base Margarita (1 ounce each mezcal and tequila, versus 2 ounces tequila). Average price: $61.
Actor Channing Tatum teamed up with Idaho's Grand Teton Distillery to launch his Born and Bred vodka in 2017. Perhaps it's the fact this vodka is distilled 25 times, or maybe it's because it's made using a potato rather than grain base; but whatever the reason, this vodka shows none of the rubbing alcohol or grainy notes typically associated with the spirit. A sweet vanilla note and spritz of lemon lead the nose. The palate is exceptionally fresh and finishes without a hint of alcohol burn. Average price: $22.

Chris Noth, a.k.a. "Mr. Big" from "Sex and the City," bought a controlling share of Ambhar Tequila in 2018. "I tasted it once and I knew I wanted to be involved," he recently told VinePair. Ambhar's blanco expression is fruit-forward and shows spicy, vegetal character. Each sip provides intense flavors and a well-rounded profile. A smoky mesquite note lingers on the finish, suggesting barbacoa tacos as the perfect pairing. Average price: $36.

Singer Nick Jonas and menswear designer John Varvatos launched their Villa One tequila brand in 2019. The añejo is the pick of the brand's lineup, showcasing the charred pineapple notes that stand out in the blanco, with added complexity and sweetness from a year spent aging in American oak. At just over 50 bucks, it's really well priced for an añejo tequila. Average price: $56.

Hip-hop-artist-turned-business-magnate Sean "Diddy" Combs takes the lead on all brand activities relating to Diageo's Ciroc Vodka. Launched in the early 2000s, this certainly feels like a throwback to the days of premium bottle service at exclusive nightclubs. The vodka has a fruity profile (it is made with grapes) and rich, full-bodied texture — perfect for sipping freezing cold or over an obnoxiously large rock of ice. Average price: $31.

Bob Dylan's Heaven's Door Tennessee Bourbon is infinitely smoother and sweeter than the singer's now gravelly tones. Seven years aging in American oak has imparted the Tennessee whiskey with layers of stone fruit, caramelized pecan, and spicy notes. The palate shows wonderful depth, and surprising complexity and length given its relatively low-proof (46 percent ABV). Average price: $50.

Dan Aykroyd's Crystal Head vodka has long been a favorite among VinePair tasters, so we were excited to learn of the brand's latest release. A curious entry to the vodka category, Onyx is distilled from Blue Weber agave. Indeed, it's a spirit that seems to have a foot each in both the vodka and tequila worlds. Vegetal grassy notes hint at tequila but don't scream "pour me in a Margarita." Instead, we're betting that it'll make a fine dirty vodka Martini. Average price: $55.

First announced last year, Dwayne "The Rock" Johnson's Teremana tequila brand debuted in the U.S. this March. The lineup includes blanco and reposado expressions, both of which offer a bold and intense drinking experience. The blanco eventually came out on top owing to its attractive mix of fruit, pepper, and spice notes. At this price, this bottle should be your go-to Margarita tequila. Average price: $31.

In August 2020, Diageo acquired Aviation Gin from Ryan Reynolds and his partners at Davos Brands in a deal that could potentially rise to $600 million. Despite the sale, the "Deadpool" actor continues to be the face of the brand. But this gin boasts more than multimillion dollar deals and celebrity status. It has a lithe, clean profile that makes it perfect for cocktails or even sipping over ice. Pick up a bottle and try it in a Martini, Corpse Reviver #2, and — of course — Aviation. Average price: $29.

Where The Rock's tequila succeeds by way of its bold character, Michael Jordan's Cincoro — which he launched with a roster of NBA names in 2019 — delights with subtle charm. The brand's añejo delivers the same delicate character as its blanco, but builds upon the profile with sweet vanilla and agave syrup notes. The palate is beautifully rounded and this tequila deserves to be sipped for the rocks. But if for a baller cocktail, the tequila's spicy finish offers the perfect matchup for the Angostura bitters of an Old Fashioned. Average price: $126.

When Wild Turkey announced it was bringing on Matthew McConaughey as creative director in 2016, it felt like the perfect fit. The actor then spent two years working with master distiller Eddie Russell to develop Longbranch, a Kentucky bourbon with a Texan drawl. The whiskey picks up smoky BBQ notes during a refinement process that uses Texas mesquite charcoal. The smoke is well integrated and doesn't overpower the whiskey's fruity, honeyed profile. Average price: $39.

American country singer George Strait may not be on everyone's radar, but all should become acquainted with his Código tequilas. Such is their quality, it feels harsh to select just one bottle from the lineup — like picking one song from your favorite band's greatest hits album. But we're opting for the reposado because it stands head and shoulders above almost any other we've tasted. Where other reposados taste preposterously sweet for the time they've spent in barrel, this tequila has all the mineral, savory character of Código's blanco, with added subtle oak influence. This bottle offers a snapshot of the journey from blanco to añejo, and makes a compelling argument for stopping along the way. Average price: $68.