As the days grow shorter and a chill creeps into the air, there's perhaps nothing more satisfying than sipping on a warming whiskey drink. When it comes to mixing up classics like the Old Fashioned, Boulevardier, or modern favorites like the Gold Rush, choosing the perfect bottle of whiskey (or whisky) can make or break a cocktail.
To find out what the experts turn to when shaking or stirring, we reached out for their hard-earned advice. From bourbon and rye to Scotch and Japanese whiskies, their answers span the globe. Keep reading for their suggestions, including a recent release from a beloved brand and an inviting spin on a Manhattan sure to tempt any whiskey lover.
The Best Whiskeys for Mixing Cocktails, According to Bartenders
Old Grand-Dad Bonded Bourbon Whiskey
FEW Bourbon
Barrell Seagrass
Evan Williams Bottled-in-Bond
Wild Turkey Rare Breed Barrel Proof Bourbon
Johnnie Walker Black Label
Buffalo Trace
Woodford Reserve
Kamet Single Malt Whisky
Wilderness Trail Sour Mash Bourbon
Elijah Craig Small Batch Bourbon
Fort Hamilton Double Rye
Colter's Run Small Batch Bourbon Whiskey
Michter's
Laphroaig
Suntory Toki
George Dickel Rye
Leopold Brothers American Small Batch Whiskey
Monkey Shoulder
Jack Daniel's Bonded
Maker's Mark
W.L. Weller Antique 107
Old Forester 100 proof (bourbon or rye)
Rittenhouse Rye
Table Of Contents
The Best Bourbon for Mixing Cocktails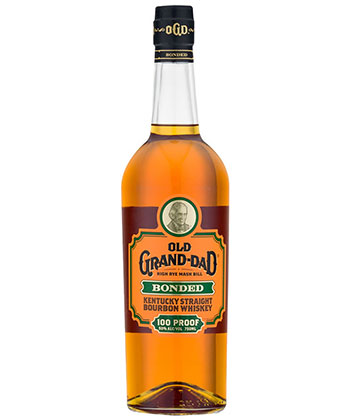 Don't Miss A Drop
Get the latest in beer, wine, and cocktail culture sent straight to your inbox.
"My favorite whiskey for mixing cocktails is Old Grand-Dad Bonded Bourbon Whiskey. It is a bottled-in-bond spirit, meaning it was distilled at a single distillery during a single season and clocks in at precisely 100 proof. While the alcohol content is high, it drinks very smooth and goes down without any burn, thanks to its high-quality distillation. Having more of a boozy backbone makes it ideal for any bourbon cocktail, especially an Old Fashioned, and it is eminently affordable, to boot." —Johnny Swet, master mixologist and founding partner, JIMMY at Modernhaus SoHo, NYC
"When it comes to the cross-section of affordable, tasty, readily available American whiskey, it's hard to beat Old Grand-Dad 100. Bottled-in-bond and retailing for around $20 a bottle, this heritage bottling by Beam Suntory is high enough proof to stand up in a highball, with a lovely high-rye spice that makes it a perfect fit in classic cocktails." —Laura Unterberg, head bartender, The Fox Bar & Cocktail Club, Nashville
"FEW Bourbon: Love this product — it's local, it's storied, and it has a ton of shoulder for any cocktail needs I have or as a weighted sipper on a nice large cube. It's bold, rounded nicely, and wants to pair with so many great secondary spirit options. Currently, I've been using this as my go-to spirit for a twist on a Perfect Manhattan: FEW Bourbon replaces rye, a touch of Berto Sweet Vermouth split with St. George Spiced Pear, and Scrappy's Chocolate Bitters. Give it a gentle stir and a nicely skewered Luxardo cherry for a great post-dinner cocktail that has all the boldness of a classic with a touch of seasonal flair. I'm fond of the touch of spice on this bourbon and the ABV level. Its warm and inviting profile makes it one of my go-tos for any on-the-spot concoction, as well as a final pour to end one's night." —Adam Pomajzl, head bartender, Swift & Sons, Chicago
"The best whiskey for mixing is the Barrell Seagrass. Finished in Martinique rhum, Madeira, and apricot brandy barrels, this gives a mixed cocktail the subtle expression of stone fruit and sweetness but doesn't overpower the whiskey cocktail that you are preparing." —Cosimo Bruno, Daxton Hotel, Birmingham, Mich.
"Evan Williams Bottled-in-Bond: Because of its bonded nature, it stands up great to being diluted and shaken with other ingredients while maintaining its true whiskey flavor." —Julian Flores Torres, bar manager, Palenque Kitchen, Orange County, Calif.
"Evan Williams Bottled-In-Bond if we're talking about bourbon. Due to the rigorous standards governing what can be called bourbon in the U.S., you really don't have to spend a lot of money to find an excellent mixing bourbon, especially if it's bottled-in-bond. I have nothing negative to say about this whiskey, and in fact, I enjoy it on its own. To anybody who says this bourbon doesn't have nuance, look harder. And in cocktails, don't get me started. The 100 proof, 4-year-old whiskey opens up beautifully in an Old Fashioned as it dilutes, cuts through egg white in a sour, and speaks just as loudly in an equal-parts cocktail like a Paper Plane." —Harrison Snow, co-owner and beverage director, Lullaby, NYC
"Overproof, B.I.B, cask-strength, and barrel-proof: These words are whispered in my ear when a guest is looking for a recommendation for their whiskey cocktail of choice. Whether you're going to be improving, complementing, or accentuating the flavor of your whiskey, there are some really complex barrel-strength expressions that pack more than just a higher alcoholic content. One that is complex and deceivingly smooth is Wild Turkey Rare Breed Barrel Proof Bourbon. With layers of sweet honey, spicy black peppercorns, and dry almond, Rare Breed shows well in many whiskey classic cocktails." —Liz Dabecco, head bartender, Evening Bar at the Shinola Hotel, Detroit
 "Buffalo Trace: A classic bourbon with notes of turbinado sugar, vanilla, and slight baking spices. Best for stirred cocktails, but also stands up nicely when shaken." —Adrian Juarez, bartender, Magari, Los Angeles
"Woodford Reserve whiskey is great for Manhattans, Old Fashioneds, and other great mixes. This whiskey is very bold and smooth with a great balance of earthy finish." —Joy Daniel, beverage director, Favela Cubana, Calle Dao, Mareluna, and Erbaluce, NYC
"Wilderness Trail Sour Mash Bourbon: This may be a higher price for mixing, but the oak, vanilla, and baking spices shine through. It also has a lovely astringency and still allows its base flavors to shine through in both shaken classics and spirit-forward stirred cocktails." —Gregory Huston, general manager, Apothecary, Dallas
"More often than not, I find myself reaching for Elijah Craig bourbon when making a cocktail. This bourbon is distilled by Heaven Hill just west of Louisville in Kentucky. It is rich on the palate without being overly oaky as some higher-proof whiskeys can be, but it has just enough character at 94 proof to hold up to anything from sours to Old Fashioned-style cocktails without getting lost in the mix." —Mat Resler, bartender, Bar Goto and Bar Goto Niban, NYC
"I love using Elijah Craig Small Batch Bourbon for sours and Buffalo Trace Bourbon for stirred cocktails. Elijah Craig is a balanced bourbon with a touch of acidity, which lends itself well to cocktails that have citrus in them. Buffalo Trace is spicy and lends itself well to stirred, classic cocktails such as a Manhattan and or an Old Fashioned." —Jason Asher, vice president of beverage, Grey Hen Rx, UnderTow, and Platform 18, Phoenix
"Aged at an elevation of over 6,000 feet, this high-corn mash bill whiskey is made as a tribute to scout and hunter John Colter, who was part of the Lewis and Clark expedition. Colter's Run is an 80 proof whiskey that has vanilla and orange aroma on the nose with baking spices on the finish. This whiskey would be a great option to sip on the rocks with an orange peel or in a traditional Whiskey Sour. Many of the locals also prefer it in a Mule with ginger beer." —Jim Waldrop, general manager, The Million Dollar Cowboy Bar, Jackson, Wyo.
"No doubt, I will always go with Maker's Mark. It offers you a wide range of aromas and flavors — caramel, clove, cinnamon, roasted oak, and nuts — and the subtle sweet aftertaste makes it really versatile when mixed in a cocktail." —Alex Serena, bar manager, Teleferic Barcelona, Palo Alto, Calif.
"I prefer to use a wheated bourbon for cocktail development. It's smooth and allows the other elements to come through to see what they contribute. From there, I can determine whether to use a rye whiskey, another type of mash bill bourbon, or keep to the original wheated bourbon. I find Weller Antique 107 makes a great base to use in this way." —Kai Wilson, beverage manager, Mercat a la Planxa, Chicago
"Old Forester 100 proof bourbon or rye. Both are spectacular spirits that do a great job of carrying the cocktails without overpowering." —Caleb Olson, bartender, Society Cafe in Walker Hotel Greenwich Village, NYC
The Best Rye Whiskey for Mixing Cocktails
"I love the Fort Hamilton Double Rye for cocktails. It is extremely zippy and really comes through when making an Old Fashioned or Whiskey Sour." —Ivy Mix, co-founder of Speed Rack, co-owner of Leyenda and FIASCO! Wine and Spirits, Brooklyn
"I really enjoy using Michter's as a base for any cocktails that call for bourbon or rye. They're versatile and great to use for any mixed cocktail. Either is equally as delicious shaken up and served as a Whiskey Sour or stirred down and made into an Old Fashioned. I find Laphroaig a nice, approachable Scotch to use for mixing — it is not overtly peated, but the presence of smoke is still transferable to the drink. And if we're delving into the greater world of whisky, I am a really big fan of Suntory Toki. I find this and other styles of Japanese whisky the perfect companion for a nice, refreshing highball." —Liana Oster, bar director, NoMad London, London
"George Dickel's rye whiskey is the only one the famed Tennessee distiller doesn't make in its home state (this is outsourced to Lawrenceburg, Ind.), but the different locale doesn't make it any less delicious in a cocktail. The mash bill clocks in at 95 percent rye grain with a dash of malted barley, giving it a lovely spiciness rounded out by nutty and vanilla notes. Its alcohol content of 45 percent ABV is the ideal potency for cocktails — strong enough to shine through, but still wonderfully smooth. That's likely owing to Dickel's signature touch of chilling their whiskies before filtering them with sugar maple charcoal." —Noah Manskar, beverage director, Colonia Verde, Brooklyn
"I love using Rittenhouse for whiskey cocktails, whether shaken or stirred. At 100 proof, it has the depth to serve as a brilliant backbone to an Old Fashioned or Boulevardier while also integrating beautifully into a Final Ward or Gold Rush." —Ryan Williams, bar leader and supervisor, Poka Lola Social Club and Kachina Cantina, Denver
The Best American Whiskey for Mixing Cocktails
"Leopold Brothers American Small Batch Whiskey: It's an incredible value for something that drinks like a much higher-end whiskey than it is. It has some great tart, green apple notes (the result of wild yeast fermentation), and works just as well in a Whiskey Sour as it does in a more spirit-driven cocktail like a Manhattan." —Lex Madden, bar manager, Point Easy, Denver
"Jack Daniel's Bonded is a new whiskey to the market that I've loved mixing with. At a higher ABV with more intense yet nuanced flavors than the original Jack Daniel's, I find it really comes through great in cocktails, particularly in a Whiskey Sour." —Will Krepop, beverage director, Wiggle Room, NYC
The Best Scotch for Mixing Cocktails
"I usually go very classic with whiskey. I always loved and appreciated the quality, the flavor, and the price of Johnnie Walker Black Label, which is a fantastic whisky to mix or simply drink on its own. The richness of the creamy toffee and sweet fruit are complemented by the great smoky finish." —Federico Doldi, beverage director, Gansevoort Meatpacking, NYC
"Monkey Shoulder is by far my favorite whisky to have at home and use in my home bar. Not just the name is special (paying homage to the malting staff drying out the barley [by hand] and getting a stiff shoulder), but a not-too-well-known fact is that Monkey Shoulder is a whisky blended from three single malt whiskies (The Balvenie, Glenfiddich, and Kininvie), rather than using other grain whiskies. This gives the juice a really special balance that works in many facets of diverse drinks. And the price point is outstanding as well. This whisky does not disappoint!" —Jan Brown, bar manager, Faccia a Faccia, Boston
The Best Indian Whisky for Mixing Cocktails
"I would like to mention a brand that I recently came across: Kamet. This is an Indian single malt whiskey that is amazingly smooth and easygoing, which makes it great for cocktail making. I love it in a Penicillin. It has a fruity profile with oak spice-forward notes, complemented with vanilla, caramel, and raisins. Nutty and sweet dark chocolate notes make it an amazing option to twist and mix with many fresh fruits and herbs." —Chetan Gangan Maverick, head mixologist, Indienne, Chicago