One of the finest qualities of a well-organized cheese plate is the versatility. The spread can be curated with multiple textures and types of cheese, prepared with cured meats, sprinkled with nuts and berries, and served before or after dinner. But a great cheese plate is one that can also be accompanied by a carefully selected libation.
Wine and cheese pairing is a popular option, and often takes the spotlight. More recently, beer and cheese pairings have found their way onto some restaurant menus and our dining room tables (not to mention our Instagram feeds). But perhaps the best way to enjoy a cheese plate that most haven't tried yet is by pouring a couple fingers of bourbon to sip alongside it.
While we lauded cheese for its before- or after-dinner potential, a bourbon and cheese pairing might be better served for dessert (lest we risk missing dinner altogether). It's also a high-risk, high-reward pursuit, so we asked our cheese expert friends to tell us their recommendations for bourbon and cheese pairings.
Don't Miss A Drop
Get the latest in beer, wine, and cocktail culture sent straight to your inbox.
The Best Bourbons to Pair With Cheese Recommended by Cheese Pros:
Keep reading for all the bourbon recommendations!
---
"Our favorite time for cheese is at the end of a convivial meal. We often reach for a bourbon to accompany these special occasions. Four Roses Single Barrel mirrors the singularity of our milk sourcing, while offering balanced and complex aromas that actually complement aged cheese better than many wines — particularly the sweet tobacco, warm spice, and earthy rye aromas." —Zoe Brickley, Director of Communications and Lead Educator, Jasper Hill, Greensboro Bend, Vt.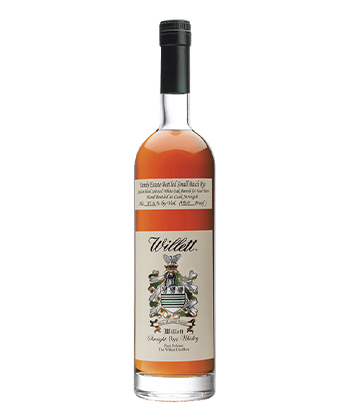 "A creamy Brie from Green Hill by Sweet Grass Dairy with Willett Rye. Talk about a match made in heaven! The Brie is fatty and mellow, while the rye brings a bit of spice. This pairing reminds me of Thanksgiving pie — each tasting note is pure heaven." —Courtney LaCorte, Owner, Cheese Gal, Nashville
"With lighter cheeses I lean towards sweeter [bourbons] like 1792 Sweet Wheat. These styles tend to not overpower the cheese, but rather complement it. The vanilla from the oak aging will show up more, and lend to intensifying the flavor of the cheese. I would also lean towards bourbons that are less than 90 proof, so the higher alcohol does not simply crush the flavor of the cheese." —Steve Marko, Senior Director of R&D, Tillamook, Tillamook, Ore.
"Not a bourbon, but Campfire by High West Whiskey [a blend of Scotch, bourbon and rye] has a distinct smoky note due to the Scotch included in the blend. By matching it with an aged cheddar that has been cold smoked for eight hours over hickory wood, the smoky notes balance each other out and allow the other flavors (bright, fruity, roasted nuts, baking spices) of the cheese and the whiskey to shine through." —Rebekah Baker, ACS Certified Cheese Professional, Tillamook, Ore.
"I love Woodford Reserve with cheese. Its notes of toffee, honey, and white pepper are balanced, elegant, and play nicely with my favorite cheeses. Bourbon in general tends to be great with aged Goudas and what cheese people call 'Alpine styles' (for instance, Comté and Gruyere), which Woodford Reserve definitely is, but I find that it also goes well with styles that other bourbons can overpower — think fresh goat cheese, washed rinds, and even a snacky grocery store cheddar." —Christine Clark, Freelance Writer and Cheese Educator, Your Cheese Friend, Burlington, Vt.
"My go-to is a Buffalo Trace Old Fashioned and an Alpine-style cheese, like Pleasant Ridge Reserve from Wisconsin. Neat, I'll pair Buffalo Trace with an aged Gouda or clothbound cheddar. I think Buffalo Trace has a good balance of earthiness and sweetness to pair with aged cheeses, especially cheeses with a little sweetness and earthiness to them." —Tenaya Darlington, Cheese Educator, "Madame Fromage" and Cheese Director, Tria, Philadelphia
"If I had to choose one bourbon to pair with cheese, I would have to go with Maker's Mark. My favorite cheese can be salty, intense, funky, or just flat-out rich. Maker's Mark is smooth and sweet with hints of vanilla, cherry, and almond that I find really flattering and complementary towards most types of cheeses — from Loire Valley goat cheeses such as Chabichou du Poitou or Mothais sur Feuille, to Alpine classics like Beaufort or Comtè." —Marc Hernandez, Head Cheese Buyer, Formaggio, Cambridge, Mass.
"I led a cheese tasting for Basil Hayden's bourbon not long ago and it rocked my world. The synergy between bourbon and cheeses with nutty or caramel scents was off the charts. My favorites: Ombra, Challerhocker, Cabot Clothbound, Vella Dry Jack Special Select, L'Amuse Gouda and Point Reyes Bay Blue." —Janet Fletcher, Author, "Cheese & Wine" and "Cheese & Beer," Napa Valley, Calif.