If you know anything about craft beer, you know India Pale Ales, or IPAs, are wildly popular. The Brewers Association's chief economist Bart Watson estimates that the style accounts for about 35 to 40 percent of craft beer sales in the United States. "No matter how you slice it, it's the largest style and is growing share faster than any other craft style," he says. But what if you're still largely unacquainted with this beloved bunch of hoppy beers, and the myriad reasons for the style's staying power?
For a long time, IPA served as craft brewing's counter to the insipid light lagers that dominated the drinking mainstream. To offer an alternative, these inspired indie beer makers created ales with increasingly aggressive hop-driven flavors and aromas, and, in the process, pushed alcohol and bitterness levels higher and higher. Because many popular examples of IPAs during those days proudly showcased such extreme characteristics, some drinkers eschewed the segment entirely — a preference that can be difficult to reverse. (We all know someone who refuses to try any IPA because "they're all too bitter.")
But that's not today's IPA. In recent years, the style's ascension has been fueled by continued innovation and the rise of new and interesting subcategories that appeal to a broader audience. Specifically, the surge of lower-ABV and hazy IPA substyles — both known for their easy drinkability — have found footing in taprooms, and more recently, online. "We've seen a ton of people out there entering into the IPA category specifically through our hazy and sessionable offerings," Paige Guzman, CMO of Lagunitas, told online alcohol retailer Drizly's BevAlc Insights earlier this year. This new approachability has enticed beer enthusiasts to reach for IPA more often — and welcomed newcomers to explore the style.
Don't Miss A Drop
Get the latest in beer, wine, and cocktail culture sent straight to your inbox.
Now, there are IPAs for practically every kind of drinker to enjoy, even the ones who don't want any alcohol at all. With more options than ever before, it's understandable that the uninitiated feel overwhelmed. To help these neophytes navigate the imaginative and ever-changing world of IPAs, we've enlisted the expertise of 14 brewers — some of whose hop-forward work is widely considered outstanding — to share their recommendations on the best beginner IPAs.
The Best IPAs for Beginners Recommended by Brewers:
Lawson's Super Session #8
Fat Head Head Hunter
Flyway Early Bird
Russian River Pliny the Elder
Bell's Two Hearted Ale
Old Nation M-43
Zero Gravity Conehead
Sierra Nevada Hazy Little Thing
Fourscore Brekkie Bowl
Industrial Arts Wrench
Sierra Nevada Pale Ale
Troegs Perpetual IPA
Societe The Coachman
Keep reading for details about all of the recommended beers!
---

"Lawson's Finest Liquids has a series called Super Session; different brews in the series highlight a single hop variety. Part of the mastery of this series is that the hops are clearly and distinctly presented in a session IPA that tends to not have any of the West Coast-type hop bite that many hop-averse individuals shy away from. Beginner IPA or not, any one of these beers is incredible. Super Session #8 with Mosaic is fabulously fruity." —Richie Saunders, Head Brewer and Director of Product Strategy and Innovation, EBBS Brewing Co. and Fountain Beverage Company, Brooklyn
"As an Ohioan, there are few beers that have influenced me more than Fat Head's Head Hunter IPA. As I started my journey into craft beer, Head Hunter really opened my mind and my palate to new flavors in beer. The aromas of pine and citrus meld perfectly with the punch of pineapple and grapefruit on the palate, giving it a classic IPA profile. This 7.5 percent ABV West Coast IPA incredibly displays the delicate balance of hops and malt required for a great beer. With Fat Head's having a treasure trove of awards from both national and international competitions, you can bet that this truly world-class IPA is the perfect introduction to the style. While Head Hunter may not carry quite the same reverence as it did in the days before hazy IPAs, it is still guaranteed not to disappoint. Grab some fresh Head Hunter and prepare to have your mind blown." —Joshua Wilson, Head Brewer, Fifty West Brewing Company, Cincinnati
"I think a lot of people tend to avoid IPAs because they say they don't like bitter or hoppy beers, when in reality what they don't like is unbalanced beers. I'm the same way. When I go for an IPA, I want something a little more approachable that won't decimate my palate and exhibits a fair degree of balance between the malt and hops. For me that beer is Early Bird IPA from Flyway Brewing in Little Rock, Ark. Far from being simply a hop delivery vehicle, Early Bird has a solid malt character and features classic hop flavors and aromas from a robust use of traditional American varieties. Partner Jess McMullen and head brewer Tim Berkley spent a lot of time working on this recipe, focusing on the details, and it shows. It's great to have at the end of a long day and, in my opinion, is an excellent IPA for those wanting to venture out and try something new." —Greg Berbusse, Head Brewer, Bay 13 Brewery and Kitchen, Coral Gables, Fla.
"When thinking about the best IPA for people new to the style, Bell's Two Hearted is the first to come to mind. Since this beer was first introduced, the style has evolved so much, but for a true beginner it's important to know the history, and this beer is a classic. It's brewed with 100 percent Pacific Northwest Centennial hops, and has the pine and grapefruit notes as well as the malt backbone that defines the early American IPAs of the late 1990s. This beer stands up to the test of time and is still one of my favorites!" —Dan Kleban, Founder, Maine Beer Company, Freeport, Me.
"If you're in the Midwest, there's only one answer to this question, and it is Bell's Two Hearted. Since my earliest days of drinking, I remember turning to this beer to quench my thirst. It's a classic representation of the IPA style, coming in at 7 percent ABV, and well balanced between the malt and the classic West Coast staple of Centennial hops. While the IPA style has evolved over time to a juicy and hazy beer, Two Hearted has stood the test of time. This beer is perfect for beginners because it is crisp, with the right amount of bitterness to get you to go back for another drink. If you have access to Two Hearted, be sure to grab some, go for a bike ride, float in a body of water, or enjoy a nice fire with friends. It's the best IPA for these activities, and basically any other activity." —Colt Carpenter, Head Brewer, Pax Verum Brewing, Lapel, Ind.
"Russian River's Pliny the Elder is a complex and simple beer at the same time. It seems like a big beer at 8 percent ABV, but it is balanced nicely between the malts and hops. Amarillo, Centennial and CTZ are some of my favorite classic hop varieties and they are used well in this example." —Ian Fuller, Director of Brewery Operations, Melvin Brewing, Alpine, Wyo.
"For those new to craft beer and looking for something that is an IPA, start with a hazy, New England-style IPA. These normally don't have that bitter hop aftertaste compared to a normal IPA. They've essentially taken over the game in popularity, so whether you go to your local brewery or bottle shop you should be able to find one. As someone from Michigan, my suggestion is to look for Old Nation's M-43, which is a great representation of the style and can be found in states outside of Michigan." —Brandon Townsley, Owner and Brewer, Niles Brewing Company, Niles, Mich.
"When I think of a 'beginner' IPA, I try to think about what beer might convince a non-IPA drinker to step into the wonderful world of hops. What are the obstacles we often hear? 'It's too bitter,' or 'It's too strong.' So, you need a beer that is on the lower range of IBU and ABV for the style. It also needs to create aroma and flavor associations that a non-IPA drinker is familiar with (and likes). A great beer that comes to mind is Zero Gravity's Conehead IPA. Conehead is 5.7 percent ABV and 49 IBUs, and is consistently a solid and drinkable IPA. There is enough bready malt and wheat to deliver a soft mouthfeel with a great creamy head. The citrus bursting from the Citra hops reveals a familiar taste of orange and grapefruit that can be enjoyed by a hophead or a beginner IPA drinker. It's not overly bitter or astringent, allowing you to enjoy more than one. It has quickly become my father's favorite IPA and he took many years to come around to the world of hops." —Ken Hermann, Head Brewer, Isle Brewers Guild, Pawtucket, R.I.
"Sierra Nevada's Hazy Little Thing is a great introduction to IPAs, showing that not all hoppy beers are bitter. The most common complaints I hear about IPAs are that they are too bitter and all taste the same. Hazy [Little Thing], however, allows memorable notes of pineapple, apricots, and other tropical fruits to dominate the flavor without any harsh bitterness. Having a year-round, shelf-stable, and delicious IPA allows for newcomers to not feel overwhelmed. Plus it can open people up to trying other hoppy beers, and help find something they truly love." —Sean McCamish, Head Brewer, The RAM, Medford, Ore.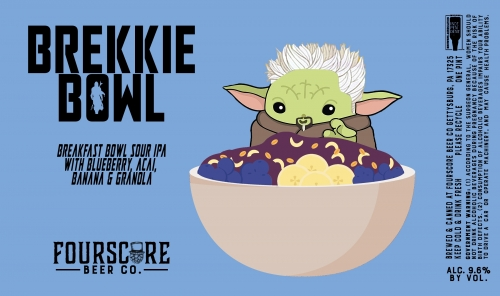 "My wife had never considered herself a beer drinker, but since I joined the industry she has been an absolute trooper, trying a wide variety of beers. One style she's hesitated to try is an IPA — that is, until she tasted Fourscore's Brekkie Bowl. Brekkie Bowl is Fourscore's sour IPA showcasing different fruits. Conditioned on different fruit purees, the beers in this series burst with sweet flavors. Rather than giving the taste of a bitter, piney IPA, these beers are reminiscent of the popular smoothie bowls. Fourscore Beer Co. opened in 2019 in Gettysburg, Penn., and brewer Ben Little has helped vault it into popular acclaim with his experimental beers that push the limits on traditional styles." —Kevin Keller, Co-founder, Prototype Brewery & Meadery, Harrisburg, Penn.
"Finding a beer hopped with Citra and Mosaic doesn't require much effort on the part of the consumer; most, if not every brewery does one. However, finding one that's well balanced and consistent across the board is not always easy. Wrench from Industrial Arts is both. Aromas of pithy grapefruit and zesty orange support a malt-forward body, but are ultimately rounded by subtle, bitter, grassy tones. Though it may be rare to see me reaching for an IPA these days, I simply cannot resist the nostalgia of this hop pairing. Industrial Arts never seems to disappoint when it comes to any hop-forward takes." —Chris Dougherty, Partner and Head Brewer, Darling Brewing Co., Patchogue, N.Y.
"Although this is technically not an IPA, Sierra Nevada Pale Ale offers the same desired flavor compounds as one. It's approachable at 5.6 percent ABV, citrusy, and well balanced, with a light-medium body, and it uses Cascade for flavor hops, which many of the smaller craft breweries have come to love as a versatile variety. I think this a great first 'IPA' because it's widely available across the country in grocery stores and bottle shops, and it gives you a good starting point as to what to expect in a hoppy beer. Even to this day, if I'm out shopping and I feel like something hoppy, it's very likely I will choose Sierra Nevada Pale Ale. I know exactly what to expect from it, and I will not be disappointed. Not to mention, Sierra Nevada is still an independent company, and it spends a vast amount of time and money focusing on lab research and development to further the quality and efficiency of the ingredients that we brewers use worldwide, and to better the brewing community as a whole." —Nicole Stufflebeme, Owner, Lupinus Artisan Ales, Austin, Texas
"Troegs' Perpetual IPA is one of my go-tos at the grocery store. Troegs always just gets everything right and consistent in their beers. Some breweries have IPAs that kind of fall into the pale ale category, or they jump into double IPA or double-dry-hopped double IPA range. Perpetual lands a bit higher in ABV, but still remains an approachable IPA. Light resiny bitterness, but still citrusy and drinkable. Perfect for a mealtime drink or a refreshment after a hard day's work." —James Hanley, Head Brewer, Old House Vineyards, Culpeper, Va.
"The Coachman by Societe is my go-to IPA, a sessionable everyday beer, and a great introduction to the style of IPA. It's West Coast — no, San Diego — in perfect balance, which, to be clear, means perfectly out of balance. Malt is present, but it's like an ugly family secret whose silent existence under the stairs has a tangible weight and depth — palpable, but just under the surface, upon which everything was built, but of which we shall not speak, for it does not define this beer. It's all about the hop aroma, flavor, and bitterness. The aroma is classic, full citrus and pine, followed by subtle stone fruit. The flavor matches the aroma and hints at the family secret. But the star of this beer, the thing that catapults this beer beyond the average, is the way the almost offensive and palate-wrecking bitterness ties this nouveau classic together. It isn't crazily bitter, but for its 4.9 percent ABV, and its body, it's edging. And that bitter bite that lingers on the back of the tongue and the side of the cheek as the pine and the citrus fade, the almost too-much-but-not-quite bite, that is ecstasy." —Jeff Wiederkehr, Co-founder and Head Brewer, Burning Beard Brewing Company, El Cajon, Calif.