Until recently, no American whiskeys were considered "important." They were, instead, mostly mass-produced bourbons and ryes that sat on middle and bottom shelves at retailers, sold for under 20 bucks, and were meant to be drunk on ice or with Coca-Cola — certainly not neat in a Glencairn glass. But everything has changed in the last 20 or so years as whiskey and, especially bourbon, has become the most important spirit in America, the industry now worth a reported $9 billion.
That's not to say the only important whiskeys in the world are American-made. Far from it. The Macallan still seduces single malt ballers, Yamazaki has made Japanese whiskey de rigueur, and newcomers like Starward and Milk & Honey have shown that serious drinkers need look toward up-and-coming regions like Australia and Israel. Perhaps we'll rank their importance in another article.
The following list, presented in ascending order, includes bourbons, ryes, single malt, grain-to-glass bottlings, sourced products, finished whiskeys, and even flavored whiskeys.
Some are singular bottles, others are brand lines, and a few are more of a brand vibe. But whiskey drinking, whiskey buying, and certainly whiskey "importance," is not exactly a rational thing any more.
Don't Miss A Drop
Get the latest in beer, wine, and cocktail culture sent straight to your inbox.
So, without further ado, here are the 25 most important American whiskeys right now.
25. Amburana Anything
If "finished" whiskey has become a cheat code for seducing the taters, amburana is surely its apotheosis. The Brazilian hardwood — more traditionally used for cachaça — has such an overwhelming flavor of what many describe as "Cinnamon Toast Crunch," it can make just about any whiskey palatable, if not turn them cloying and sweet. Today, every brand seems to have an amburana-finished release — despite the species' endangered status — even if, only a year or two into its reign, many drinkers are already sick of it and it's become a bit of a joke.
Long disdained by the cognoscenti for its light flavor profile and low ABV (always 80 proof), those same attributes make it a great gateway into bourbon for neophytes. The fact the brand's parent company, conglomerate Beam Suntory, continues pouring money into releasing new SKUs — Toast, Red Wine Finish, and Malted Rye, to name a few — seems to be proof that the strategy is working as the category continues to swell.
23. Old Overholt
While being America's oldest continuously maintained whiskey brand certainly makes Old Overholt noteworthy, it wouldn't be important today if it wasn't still making its mark on the off-neglected category of rye. If "OO" was once a classic style of rye made in Pennsylvania, since the 1980s the brand has been owned by the company that is now Beam Suntory, and produced in Kentucky. Long seen as a dive bar well pour, in the last few years the brand has taken to elevating its profile and trying to return Old Overholt to its deserved glory. There were higher-proof and age-stated bottlings released in 2020 that were instant collectibles. And a return to the Pennsylvania-style rye of yore is rumored to be slated for later this year.
22. Lost Lantern
If independent bottling — that is, non-distillers sourcing barrels and bottling them — is a longstanding tradition in Europe, it hadn't really become prominent in America until recently. Started by former whiskey writer Adam Polonski and his wife, Nora Ganley-Roper, a former spirits retailer and startups guru, the pair used their expert knowledge of the industry to hunt down and bottle barrels from distilleries they felt whiskey nerds weren't yet aware of. They've quickly gained a cult following while shining light on smaller brands like McCarthy's Oregon Single Malt and Corbin Cash.
21. Cedar Ridge Iowa Bourbon
In 49 states a major distillery produces the No. 1 best-selling bourbon in the state, whether Jim Beam, Maker's Mark, Evan Williams, or, usually, Jack Daniel's (yes, it's a bourbon). But not in Iowa, where this craft bourbon first released in 2010 dominates, outselling its nearest major distillery competitors by some 35 percent. Perhaps that's only fitting in America's No. 1 corn-producing state.
20. Triple Eight The Notch
The oldest, and perhaps best American single malt is virtually unknown, rarely seen, exceedingly pricy, and has been tasted by very few — yet it has a cult following like few other whiskeys in this country. Randy Hudson, a once-dreadlocked bread maker, launched this small distillery on Nantucket Island as an offshoot of Cisco Brewers, which is now owned by none other than AB InBev. Hudson began distilling back in 1997 — did the term "craft whiskey" even exist then?! — and The Notch (i.e., Nantucket Scotch) was first released on 8/8/2008 at the price of $888. Today a 12 Year Old and 15 Year Old go for $350 and $500, respectively, at the brewery gift shop, one of the only places in the world where The Notch can be found.
19. High Wire Jimmy Red Bottled in Bond
By the 21st century, drinkers and distillers had long since stopped thinking about the quality of the corn used for bourbon. That's when Charleston's High Wire distillery started working with researchers and farmers to revive Jimmy Red corn, a magenta-hued landrace grain grown for decades on nearby James Island, but one that was facing extinction. (Husband and wife distillers Scott Blackwell and Ann Marshall believe it's the most flavorful whiskey corn there is.) This year, Jimmy Red celebrated its 10th anniversary release, now a part of a bourbon world way more interested in the quality of ingredients thanks to this iconoclastic release.
18. Bardstown Bourbon Company Collaborative Series
Craft whiskey, but hardly mom 'n' pop, this distillery sprung up in 2019 with a 37,000-square-foot facility aspiring to be a Napa Valley-style destination for drinkers. From the get-go, Bardstown has combined innovative production with clever sourcing of liquid from other producers. That's especially true in the brand's Collaborative Series line, which has seen it age whiskey in barrels once used by Foursquare Rum, Château de Laubade Armagnac, and Goose Island's Bourbon County Brand Stout.
17. Uncle Nearest
Named after the world's first-known African American master distiller — who is believed to have taught Jack Daniel his craft — this brand was only launched by entrepreneur Fawn Weaver in 2017 but has quickly become a serious player in the industry. It opened a 432-acre "Malt Disney World" in Tennessee in 2022, has cleaned up at award shows, crossed $100 million in sales, and proven that the archetypal American whiskey distiller need not be an old white man. (Uncle Nearest's Victoria Eady Butler was named VinePair's inaugural Next Wave Awards Master Blender of the Year in 2021.)
16. Fireball and Skrewball
Say what you will, but the first whiskey (or "whiskey") many fledging drinkers try is that of the flavored variety. Though it might seem like Fireball Cinnamon Whisky is past its prime, and Skrewball Peanut Butter Whiskey never quite reached the same virality, they currently rank No. 2 and No. 14 among best-selling whiskeys in the country.
15. Frey Ranch
Nevada might not be a location that most folks think of for fertile farmland, yet Frey Ranch is one of the few whiskey distilleries in the world to grow 100 percent of its grains on site. That includes corn, winter cereal rye, winter wheat, and two-row barley, all of which go into this distillery's "grain to glass" bourbon and rye, first released in 2020 and quickly fêted by those in the know. It's all the more that Frey Ranch has ascended to such a lofty status in the eyes of whiskey drinkers — nerds and taters alike — without any sorts of gimmicks.
14. Wilderness Trail
What Frey Ranch is to grains, Wilderness Trail is to fermentation. The brand was started in 2013 by fermentation experts Dr. Pat Heist and Shane Baker, who, since 2006, had run FermSolutions, which supplies yeast strains to breweries, distilleries, and other alcohol producers. By the time Wilderness Trail's first products hit shelves in 2018 — two bourbons (one with a "wheated" mash bill) as well as a rye whiskey, all bottled in bond — they were an instant hit and had ushered in a new era of craft distilling. As the distillery approaches its 10th anniversary — and, hopefully, a 10-year-old release — it's been acquired by Gruppo Campari for upwards of $600 million.
13. Barrell Seagrass
Sometimes a particular permutation of finishing barrels hits so hard that it becomes a category unto itself. A few years ago, it was "cigar batches" first engineered by Nancy Fraley at Joseph A. Magnus & Co. The latest example, though, is this how-can-that-possibly-work combination of American and Canadian rye whiskeys finished separately in Martinique rhum, Madeira, and apricot brandy barrels, courtesy of Barrell Craft Spirits. In 2021, this release seemingly came out of nowhere to become an immediate sensation among critics, drinkers, and online whiskey fans, who quickly elevated its secondary-market price. It was such a hit, in fact, that other companies have knocked off the idea of "Seagrass" finishing.
12. Rare Character
Spirits expert Pablo Moix had long wanted to revive the era of private-label bourbon, when bars and restaurants would have their own house bottlings. Along with spirits company founder Peter Nevenglosky he launched Rare Character in 2021, offering sourced single-barrel bourbon and ryes, uncut and unfiltered, packaged in handsome bottles with personalized labels for each and every one. Despite the rarity of each release (maybe 180 bottles max) and the difficulty of scoring them, completist collectors have popped up trying to catch them all, particularly focusing on Exceptional Series releases, Native Wood-finished bottlings, and (soon enough) the brand's upcoming Wild-Turkey-sourced Pride of Anderson County.
11. Leopold Bros. Three Chamber Rye Whiskey
Colorado distiller Todd Leopold wanted to make a rye whiskey like it might have tasted before Prohibition. The only problem was, the kind of stills used back then no longer existed — so he painstakingly built one himself. The rye grain from that era was no longer common, either, so he commissioned the production of Abruzzi, a high-oil, hard-to-distill, extremely fragrant rye grain once brought to the U.S. from Italy. In a world where the term "unicorn" is thrown around cheaply, this is truly a sui generis American whiskey. Nevertheless, it has more of a cult following among whiskey nerds and historians than taters (who often pooh-pooh its $250 price tag), which isn't necessarily a bad thing.
10. Jack Daniel's Experiments
Simply being a top-selling brand does not necessarily make a whiskey important these days. This makes it all the more impressive that good ol' Jack, literally this country's best-selling whiskey producer at nearly 15 million 9-liter cases per year, does not simply rest on its laurels but, in the last few years, has continued to push the envelope with innovative and delicious releases. The brand has released age-stated versions of its flagship Old No. 7, bonded versions, ryes, single malt, and "triple mash" releases, and a HAZMAT proof bottling called Coy Hill, which became a sensation on the secondary market.
9. Russell's Reserve Single Rickhouse Collection
Until recently, Wild Turkey was one of the few Kentucky heritage brands unable to force create its own unicorn — no matter how much the cognoscenti has always loved its liquid. That has certainly changed of late in the form of Russell's Reserve 13 Year Old and especially this now annual series that aspires to exemplify what specific aging facilities do to the final flavor profile of bourbon.
8. Weller
No bourbon has defined the tater era more than this Buffalo Trace line of wheated bourbons. What was once a humble line of daily drinkers became a unicorn after neophyte drinkers learned it came from the same mash bill as Pappy Van Winkle. Within the last half-decade, bottles of W.L. Weller 12 Year, W.L. Weller Antique, and W.L. Weller Special Reserve have mostly disappeared from shelves, while the distillery has begun to release new variants in the line nearly every year — whether W.L. Weller Full Proof, W.L. Weller Single Barrel, or W.L. Weller C.Y.P.B. (Craft Your Perfect Bourbon), an 8-year-old release literally designed by internet voters. This year's offering of Daniel Weller, a $500 allocated release packaged in a lavish bottle, proved the Weller name still has some mileage left in it.
7. Michter's Toasted Barrel
Before amburana, there was "toasted," another buzz word that could guarantee sales. Back in 2013, trying to figure out ways to differentiate his then-contract-distilled bourbons from everyone else's, Chatham Imports founder Joseph Magliocco came up with a simple concept: taking his flagship Michter's US*1 Kentucky Straight Bourbon and, once it was fully matured, put it in another barrel that was toasted (i.e., heated over an open flame at a lower temperature for a longer time, as opposed to the minute or so scorching that is used to char barrels). Taken for a test drive in Hong Kong, it was an instant hit before creating a new category in the States — a craze that remains red hot, or well toasted, a decade down the line. Today, most all of the major distilleries now release their own toasted expressions.
6. Willett Family Estate
While current bottlings of its own distillate aren't as ballyhooed as the highly mature sourced releases the Bardstown brand made its bones off in the aughts and early 2010s, the distillery continues to have a brand equity like pretty much no one else in Kentucky. That's how many of its newer releases are able to sell out the door of the distillery for whopping prices, with a large group of superfans dedicated to fully collecting the brand.
5. Maker's Mark Cellar Aged
Such a legendary Kentucky brand was due to get tater-ized eventually, and though the sublime Wood Finishing Series seemed like it would be the one to do the trick, it was this year's doubly mature release that finally did it. Launched this September, this blend of 11- and 12-year-old bourbon, bottled at cask strength, proved that what many had long clamored for merited such, uh, clamoring. An instant unicorn, $150 MSRP bottles quickly soared toward a grand online.
4. Old Forester Birthday Bourbon/Parker's Heritage Collection/Four Roses Limited Edition Small Batch
Here are three LEs (limited editions) from three Kentucky heritage distilleries, each engineered to be a Pappy killer, released, respectively, in 2002, 2007, and 2008. None quite accomplished that in the eyes of the taterati, though they remain highly allocated and highly sought after. Unlike the Van Winkles, however, these LEs change slightly year to year, whether in age statement, mash bill, whiskey category, or even barrel finishing. Some years they're great, occasionally they are duds (who green-lit Parker's Heritage Orange Curaçao?!), but they always matter.
3. George T. Stagg
Then there were the LEs that came from the distillery that already had Pappy. Hitting the shelves for the first time in 2000, the Buffalo Trace Antique Collection (BTAC, pronounced "bee-tack" by taters), would come to offer a quintet of small-batch, well-aged, high-proof, handsomely packaged bottles that included W.L. Weller, Sazerac 18, and Eagle Rare 17. 2002 saw the addition of George T. Stagg (GTS in tater parlance), which would quickly take the throne. So much so that, in 2021, when Buffalo Trace claimed barrels weren't up to standard to merit a release,  The New York Times covered the story (and conspiracy theories as to why it didn't appear that year abound). This has all, in turn, made its kid brother, simply known as Stagg, an important bottle as well.
2. Blanton's
Call it overrated, overhyped, or simply not as tasty as all the newfound attention merits, but whatever the case, Blanton's has developed an oddly incredible importance. All of which is a bit strange. Blanton's was already one of the most important bourbons ever released — America's first widespread single-barrel expression. But from its first releases in 1984 (in Japan, no less!) all the way up until around five years ago, it was a reliable shelf staple. Today, it has become a symbol of what the bourbon secondary market, the mainstream of collectible bourbon, and the fanboying over anything Buffalo Trace-distilled has inflected; it's typically the most logged release on price guide Bottle Blue Book at any given time, while variants Blanton's Gold Edition, Black Label, and Straight from the Barrel also are ubiquitous in the top 10.
1. Pappy Van Winkle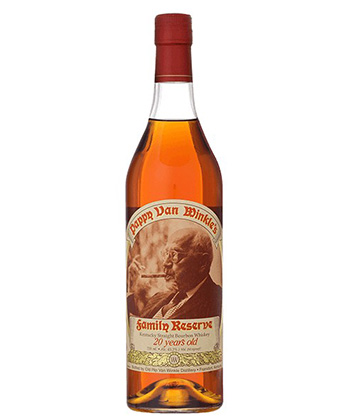 It was 1994, and the bourbon industry was still in the midst of a near three-decades-long glut, when a then unheard-of 20-year-old bourbon hit store shelves. Another three decades later, Pappy Van Winkle has completely changed the bourbon, if not spirits, industry, and shows no sign of losing its status as the unicorn par excellence. Now, while only the 15, 20, and 23 Year have the Pappy Van Winkle name (and visage) on the label, such is the power of "Pappy" that many bars, restaurants, retailers, and, of course, taters have attached the moniker to everything from Old Rip Van Winkle 10 Year and Van Winkle Special Reserve "Lot B" 12 Year to Weller blends to even assorted rums, tequilas, Armagnacs, and anything else of importance. It's a trite story by now, but you can't deny how important Pappy continues to be.