In 2023, wine lovers embrace uncommon varieties, underappreciated regions, and unconventional winemaking techniques, and that adventurous approach need not be limited to buying bottles and ordering from wine lists. Travel planning and wine-focused itineraries can also match this desire for exploration.
This list of the best wine destinations to visit this year celebrates up-and-coming wine regions, producers that are innovating and even creating new high-quality appellations, as well as some beloved destinations with revamped attractions.
From the desert of Peru and sunny countryside of Texas to the sandy shores of Croatia and rolling green hills of Georgia, this list will help you get off the beaten path and try something new. Here are our top 10 wine destinations for 2023.
Don't Miss A Drop
Get the latest in beer, wine, and cocktail culture sent straight to your inbox.
10. Ica Valley, Peru
Does Peru even make wine? Well, it's complicated. Peru actually has a rich history of grape growing, as Spanish settlers started planting vines in the country in the mid-1500s to produce wine. However, when King Philip IV prohibited the import of Peruvian wines in 1614 out of fear that it would compete with Spain's own wine industry, Peruvian producers resorted to distilling the wines, creating a type of brandy that is now known as pisco.
Peru has taken off as a culinary capital over the past decade, with award-winning bars and restaurants leading the charge in embracing local products, including wine. Therefore, an increasing number of producers are recovering the art of still wine production, with some even championing native Peruvian grapes. So while everyone loves a great Pisco Sour, it's time to turn our attention to the wines coming out of this nation.
The Ica Valley, known as the capital of pisco production, is a stunning mirage-like desert oasis surrounded by sand dunes and palm trees. Here, visitors can enjoy both incredible pisco and wine from some of the country's most historic producers, and there are even tours that focus on both. Head to Tacama to tour what is considered the oldest vineyard in South America and enjoy a delicious meal at the on-site restaurant. Established in 1684, Hacienda La Caravedo is the oldest continuously operating distillery in the Americas, making it another must-visit. Guests can also book a room on its beautiful property for the full experience.
9. Puglia, Italy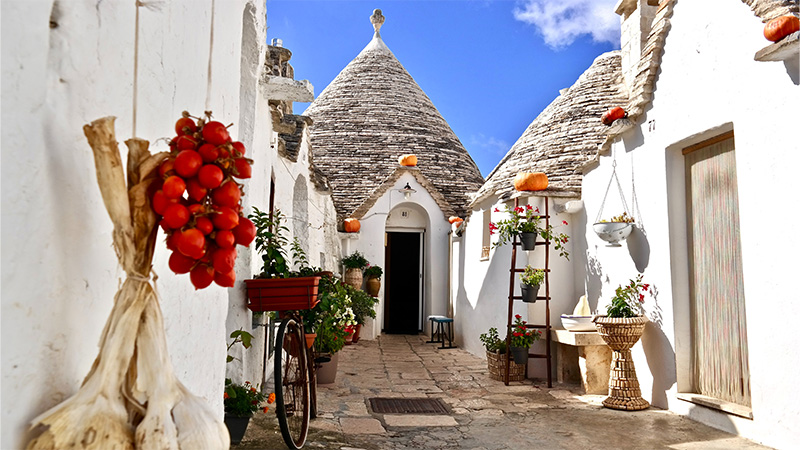 Chances are you've seen photos of this sun-soaked southern Italian region pop up on social media with increasing frequency over the past couple of years. Even though Puglia has been known for its iconic landscape of stunning white trulli (small dwellings made of limestone), handcrafted orecchiette, creamy burrata, and high-quality olive oil production, it has never been widely regarded as a wine destination — until now.
Historically, Puglia was considered a bulk wine region, often sending wine from its sunny, high-yielding vineyards to more prestigious winemakers in northern Italy to augment their production. It was only in the late 1900s that producers in Puglia started bottling and labeling their wines under the region's name. Much of this was driven by the arrival of Marchesi Antinori, who founded the Tormaresca winery in 1998 with the goal of crafting high-quality, distinctly Puglian wines with native varieties. Now visitors can enjoy the region's unique Negroamaro rosés, plush Primitivos, and brooding Aglianicos — preferably seaside or with some delicious local fare.
As Italy's longest wine region, there's a lot of ground to cover in Puglia, so it's essential to drive between vineyards or book a guided tour. Visit Tormaresca's iconic Bocca di Lupo vineyard, the historic Leone de Castris estate, or get to know the local terroir with Polaverna's unique "clay and limestone" tasting, where guests can compare wines made from each of Puglia's distinct soil types.
Borgo Egnazia was one of the first stunning hotels to put Puglia on the map, drawing celebrities and visitors from around the world to the heel of Italy. In addition to the property's several pools, restaurants, and wellness offerings, Borgo Egnazia embraces the region's rich tradition of festivals with several lively events throughout the year like the "La Primavera" celebration of spring and the "Il Pomodoro" festival appreciating the ancient art of preparing tomato sauce.
8. Texas Hill Country, Texas
While Texas wines might not be on the radar of drinkers across the country yet, Texas Hill Country has an enthusiastic community of producers putting the region on the map as a must-visit wine destination in the U.S. Centered around Fredericksburg, but also conveniently located between Austin and San Antonio, this up-and-coming destination is the perfect stop on your next domestic vacation.
Over the past several years, Texas Hill Country wineries have honed in on their region's distinct terroir and experimented with what grapes work best in the area. The results are definitely showing. From elegant Sangioveses and Mouvèdre-based blends to bold Tempranillo and Tannat, there are a lot of exciting varieties to explore.
Texas Hill Country offers a variety of unique ways to taste wine, including experiences like a private treehouse tasting overlooking a vineyard at Sandy Road Vineyards or a cave tasting in Slate Theory's unique underground cellars. If you want to see as much of Texas Hill Country as possible, the Passport Ticket program allows you to bounce around from winery to winery at your own pace with complimentary tastings from participating wineries included in each ticket, available for $120 per couple or $85 per person. For Texas Wine Month in October, there is a specialty passport event to help celebrate local wines.
After a day of winery visits, go out and enjoy the local dining scene with gems like the award-winning Cabernet Grill, which offers the largest selection of Texas wines in the country. Certain wineries also offer specialty dining experiences, like the William Chris Vineyards' Supper Club, which pairs a rotating menu of local favorites with incredible Texas wines. Fredericksburg will also see the arrival of several exciting new openings in 2023, including the Albert Hotel, which will offer a boutique rustic charm, as well as Six Twists, a new wine bar that will feature sparkling wines from around the world, including Texas.
7. Penedès, Spain
A quality revolution has been shaking up Spain's premier sparkling wine region, and while it has led to some contention among producers, it has also given way to some seriously great wine. About a decade ago, Cava's ever-growing popularity and rapid expansion started to rub some producers the wrong way, as they did not want to be known as a behemoth, mass-produced category, but rather a high-quality region for thoughtfully crafted sparkling wines. The bubbling tension came to a head when a group of producers opted to leave the Cava D.O. in 2019 and instead create a new designation, Corpinnat (meaning "Heart of Penedès"), which imposes stricter viticulture and winemaking standards. Now Cava has responded with higher-quality designations of its own. All of this is to say: Now's a great time to visit Penedès and drink boundary-pushing sparkling wines.
Visit the producers credited with leading the Corpinnat charge, including Gramona and Recaredo, to learn about their commitment to biodynamic viticulture and long-aged wines while tasting some of their best expressions. For those interested in checking out some classic Cava producers, head to the boutique father-and- son-run operation Solà Raventós or Agustí Torelló Mata.
It would be remiss of us not to mention that Penedès is only about an hour outside Barcelona, home of two out of the top three bars in the world according to the World's 50 Best list. A trip to the colorful beachside city to drink at the theatrical Paradiso bar, followed by a getaway to sparkling wine country, sounds like a pretty good one-two punch to us.
6. Santa Ynez Valley, Calif.
While many California wine regions are overrun or prohibitively expensive (and sometimes both), this quaint AVA in Santa Barbara County has recently emerged as an exciting and accessible wine destination. While the region, specifically the charming Danish town of Solvang, is infamous for being the backdrop of the controversial wine movie "Sideways," the Santa Ynez Valley is much more than just windmills and Pinot fanatics in 2023.
Santa Barbara County is based along the longest-transverse valley (running from east to west) on the Pacific coast. Its position allows for cooling sea breezes to roll through, making it an ideal location to craft elegant cool-climate wines. While producers in the Santa Ynez Valley continue to make stunning examples of Pinot Noir and Chardonnay, some winemakers are leaning into other more off-the-beaten path varieties, leading to an incredible range of wines to explore from peppery Syrah and juicy Grenache to grassy Grüner Veltliner and sultry Sangiovese.
The towns of Los Alamos and Los Olivos have won over tourists with their rustic cowboy charm, boasting aesthetically pleasing tasting rooms, hotels, shops, and restaurants. For an ideal day in Santa Ynez Valley, start with pastries at Bob's Well Bread Bakery in Los Alamos, and head to local tasting rooms like A Tribute to Grace, Liquid Farm, Stolpman Vineyards, and Holus Bolus. Then pop by the garden at Bodega to explore more local wine and beer selections, and after a few glasses of wine, head to Ostrichland for some shenanigans. Finish the evening Pico or Bell's, two incredible restaurants that are putting Los Alamos on the culinary map.
Those looking for a hotel that matches the vacation's vintage vibes should check out the Skyview Los Alamos, a refurbished motel with gorgeous desert views, a lovely pool, and a great on-site restaurant, Norman.
5. Hvar, Croatia
Located off of Croatia's Dalmatian coast, the island of Hvar is renowned for its stunning beaches, vibrant nightlife, and its rich bounty of lavender, olive oil, and yes, wine. As tourism continues to spike in Croatia's major cities, including Split and Dobrovnik, this island surrounded by the Adriatic Sea provides refuge for those looking for a beachside getaway.
While Hvar is a relatively small island, measuring just 40 miles long and five miles wide, its wine industry is both culturally and historically significant: Viticulture on the island can be traced back to at least 4th century B.C. The local red grape Plavac Mali dominates, making up about 71 percent of the plantings. Believed to be an ancestral relative of Zinfandel, Plavac Mali creates plush, fruit-forward red wines, and elegant, peppery rosés. In terms of white wine, expect delightfully aromatic expressions of native grapes Pošip and Bogdanusa.
Wineries on the island are scattered around the outskirts of Hvar city, so the best way to get around is to rent a car or, even better, book a boat tour to experience Hvar's crystal blue waters and rocky cliff sides. Head to Vina Tomić for a tour of a new winery, recently built on the family's historic property, and a guided tasting in its romantic candle-lit, cave-like cellar. Then visit the iconic Zlatan Otok winery to frolic through the seaside vineyards and experience local food and wine pairings at the producer's restaurant. Be sure to snag some bottles to go, as Croatian wine isn't easy to find in the U.S.
In terms of accommodations, a flurry of notable luxury hotels have opened over the past several years. Large parties can consider a gorgeous waterfront villa at Maslina Resort, while couples should check in at Hvar's latest luxury property, Moeesy, or the newly refurbished Beach Bay, which is also the island's first sustainable hotel.
4. Loire Valley, France
With its famed wines like the earthy and peppery Cabernet Franc from Chinon, textured and aromatic Chenin Blanc from Saviennières, and mineral-rich Sauvignon Blanc from Sancerre, the Loire Valley is by no means a new or emerging destination in France. However, the quaint region has experienced a massive tourism glow-up in recent years after welcoming a number of new luxury properties and dining experiences, and pushing it to the top of our French travel hit list in the process.
At the center of Loire's new hotel scene is the Fleur de Loire in Blois. Its sprawling property boasts a stunning spa and fine-dining restaurant from renowned Michelin-starred chef Christophe Hey. The Loire also has no shortage of charming castles for those looking for a Renaissance-era vibe — the recently restored historic properties of Château Louise de La Vallière and Château Amboise provide a regal vacation setting. While living it up in a majestic castle is always a plus, those who would rather embrace the region's rustic side can book a cozy woodland getaway outside of Tours at one of the newly opened Loire Valley Lodges.
Cycling is a great way to traverse the meandering valley, especially while making strategic stops across the countryside to visit local producers. Alternatively, book a boat tour to take in the scenery along France's longest river. Many wineries offer tastings by appointment only, so plan a route ahead of time. Some great domaines to consider include Domaine Huet in Vouvray, Domaine Amirault in Saint-Nicolas-de-Bourgueil, Domaine Bobinet in Saumur, and, of course, the renowned Domaine Olga Raffault in Chinon. For sparkling wine lovers, exploring the Crémant de Loire at Langlois-Chateau and Bouvet Ladubay is also a must.
Don't forget to plan a stop in Chavignol to experience the region's famous Crottin de Chavignol goat cheese. Sitting back and watching goats roam the vineyards while sipping Sauvignon Blanc and eating goat cheese is what a trip to the Loire is all about.
3. Auckland, New Zealand
Not only are travelers able to visit Auckland for the first time in years, the city on New Zealand's North Island is actually easier to get to than ever before thanks to a new nonstop flight route between New York and Auckland that Air New Zealand launched last year. The city itself is an impressive culinary destination, and the growing scene of high-end hotels make it a great home base for exploring the surrounding wine regions.
While in the city center, explore Auckland's diverse culinary offerings and local wines at restaurants and bars like yakitori-focused Omni; Cazador, which presents locally caught game in delicate small plates, as well as freshly sliced meats in their next door delicatessen; and La Fuente, a bar and shop specializing in wine and mezcal. Make sure to book a hotel with waterfront views, like The Hotel Britomart, a certified sustainable oasis with calming wood and tile accents, or the QT Auckland, which features an expansive rooftop terrace with a view.
In addition to the expected Sauvignon Blanc, producers in the area offer a wide range of wines to explore including Chardonnay, Pinot Noir, Syrah, Sémillon, and Pinot Gris. When it's time to go wine tasting, you can either drive about 30 minutes or book a tour to visit some of the quintessential estates in the wider Auckland area including Kumeu River Wines and Mazurans. Additionally, take the ferry to Waiheke Island to visit some of the region's best boutique wineries along the stunning beaches and vineyard-covered hills. Book a tasting at Goldie Estate, embark on a guided ebike tour of the farm and vineyards at Man O' War winery, or reserve an exclusive tasting dinner at Tantalus Estate for an all-out wine excursion.
2. Setúbal, Portugal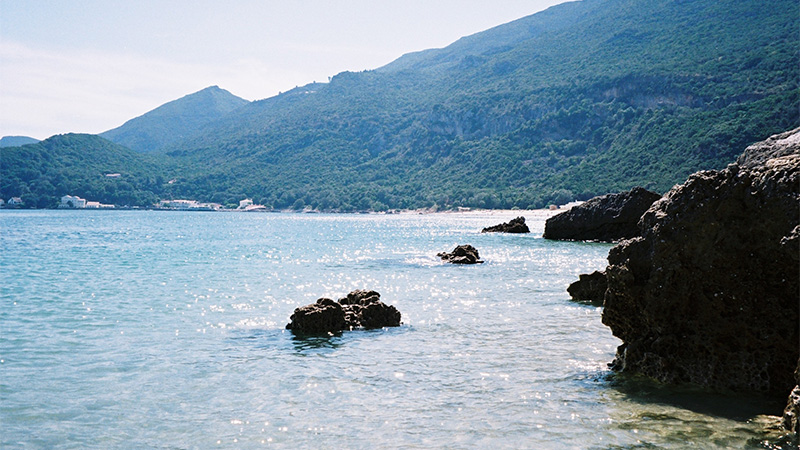 It's no secret that Portugal is a hot travel destination right now. Between the stunning tile-adorned streets of Lisbon, the historic castle-riddled region of Sintra, and the iconic tasting rooms of Porto, the country has become the darling of European travel over the past decade. Concurrently, the wines of Portugal have also taken off, finally being recognized for the quality and value they offer. Previously underrated regions like the Douro Valley, Vinho Verde, and Alentejo are now booming with wine tourism, but there are still some hidden gems to uncover.
One region still flying under the radar is the Setúbal Peninsula, which is hiding in plain sight just a short 30- minute drive across a bridge from Lisbon. This beautiful coastal region is known for its fortified wines made with Moscatel grapes. Moscatel de Setúbal often lives in the shadows of Portugal's premier fortified wines of port and Madeira even though it's complex and nuanced, and remains relatively affordable. The region also produces great dry wines, including aromatic whites made from Moscatel and bold and juicy reds from the native Castelão grape.
Explore all that the region has to offer by visiting local wineries like Quinta do Piloto and the historic estate of José Maria da Fonseca. Beyond the wineries, visitors can soak up the sun on the beach, take in the natural scenery of the Serra da Arrábida, try local seafood specialties and the tangy Queijo Azeitão cheese, and tour the medieval Castelo de Palmela (which you can also stay at overnight). Check out our recently published wine-lover's guide to Setúbal for more tips on how to make the most of a trip to Portugal's best-kept secret.
1. Kakheti, Georgia
Skin-contact wines, amphora aging, low-intervention winemaking techniques — all of these current wine trends can be traced back to the ancient winemaking practices of Georgia, so it's no wonder the region is so hot right now. With a winemaking history spanning over 8,000 years, Georgia is often considered the "birthplace of wine." Today, Georgian wine is rapidly growing in popularity, with its exports growing at record-breaking speed each year, including a 7.81 percent spike in exports to the U.S. Georgia's popularity has led to a bump in tourism and the country is also seeing an influx of immigration, which has bolstered its national economy. So, if you're one of the many drinkers who caught the amber wine bug, book your trip to Georgia now, before prices start to rise.
There is no better place to immerse yourself in Georgian wine than Kakheti, the country's premier wine-producing region. Located in eastern Georgia about an hour drive from Tbilisi, the warm-climate region is home to the country's iconic native grapes, the inky red Saperavi and unique white grape Rkatsiteli. The famed amber wines from the region are made from local white grapes that are fermented in contact with their skins and stems in clay amphorae called qvevri, giving the wines a distinct savory, complex profile and distinctive amber color. This process is actually a UNESCO World Heritage-listed tradition, and many wineries allow visitors to observe the ancient technique.
Must-visit properties include Vazisubani Estate, Kardanakhi Wine Factory, and Akido, where guests can enjoy guided tastings surrounded by the stunning vineyards. If you are interested in learning about natural winemaking, visit the Pheasant's Tears winery and restaurant. And for large groups the estate's newly opened restaurant, Crazy Pomegranate, curates private wine pairing dinners for a minimum of 10 guests using ingredients from its farm. For those looking for a further exploration of Georgia's unique cuisine, book a local cooking class to master the art of khachapuri and seasonal dishes in the middle of an organic garden.
Lodging options range from sprawling historic estates to quaint inns with a lot of local character. Check in at Lost Ridge, which functions as an inn, a craft brewery, and a horse ranch for a truly unique experience. Alternatively, stay at Tsinandali Estate, a landmark of Georgia that was originally built in 1886 and inherited by Prince Alexander Chavchavadze. The recently renovated hotel on this land also houses the A. Chavchavadze Museum, where guests can see vineyards, taste the wine, and even tour Prince Alexander Chavchavadze's personal wine cellar with over 15,000 bottles of wine dating back to 1814.