How To Make A Pisco Sour
While both Chile and Peru claim a deep attachment to the Pisco Sour, it is clear that this delicious drink was first invented in the 1920s in Lima Peru -- ironically by an American bartender.
Pisco Sour Ingredients
2 oz Pisco

1 oz Lime

3/4 oz Gum Arabic syrup, can be substituted with Simple Syrup

1 egg white (optional)
Pisco Sour Directions
Combine all ingredients in shaker tin.

Add a few chips of ice.

Shake until ice chips are dissolved.

Fill tin with ice.

Shake vigorously, until tin is frosted over.

Strain into chilled cocktail glass

Garnish with Angostura Bitters and enjoy.
Rate This Recipe:
Yield: 1 Cocktail
Calories: 202
Updated: 2022-05-31
Listen To Our Cocktail College Pisco Sour Podcast
---
Related Reads & Recipes
Learn About Brandy
More Brandy Recipes To Explore
Brandy Crusta:
Get our recipe for a great Brandy Crusta. Learn everything you need to know to make a perfect Brandy Crusta.
Hennessy Hot Toddy Recipe:
The Hennessy Hot Toddy, with its hints of lemon, cinnamon, and maple syrup, is the perfect winter drink to get you through the second half of January.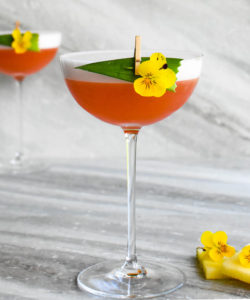 Le Toucan Recipe:
A playful spin on the Jungle Bird cocktail, this colorful drink replaces rum and Campari with Armagnac and Suze, an herbaceous French aperitif.
The Hot Spiced Cider:
This tasty cocktail is a simple combination of cinnamon-infused brandy and the requisite apple cider. Get the recipe here!
Sparkling Pisco Cobbler Recipe:
This delicious libation for the New Year is a variation on the Sherry Cobbler. Check out our New Year's Eve Sparkling Pisco Cobbler
The Calvados Negroni Recipe:
This festive, fall-friendly version of a classic Negroni swaps out gin for Calvados, an apple and pear brandy from Normandy, France. Serve it up!