As nights get a little longer and temperatures get a little cooler, there's no doubt that fall is just around the bend. And while pumpkin spice may dominate the seasonal fall flavor camp, there are a number of other delightful autumnal tastes to relish in this time of year. Take maple syrup, for example.
Rich, sweet, and sticky with notes of caramel and vanilla, maple syrup makes a wonderful addition to fall cocktails, providing concoctions with an edge of sweetness and seasonal spice. And with only a small amount necessary to taste the maple essence, a little goes a long way, making it an easy sweetener swap for simple syrup. Check out seven of the best maple cocktails for fall here.
Benton's Old Fashioned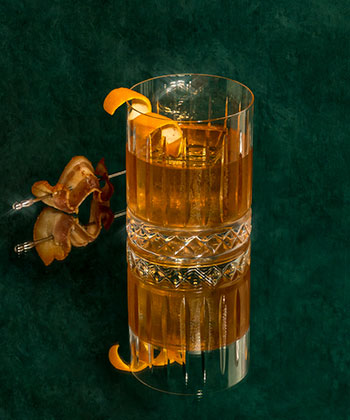 Don't Miss A Drop
Get the latest in beer, wine, and cocktail culture sent straight to your inbox.
Hailing from New York City's award-winning speakeasy Please Don't Tell, the Benton's Old Fashioned uses an unconventional spirit as its base: bacon-infused bourbon. While the cocktail was initially approached with a degree of skepticism by PDT founder Jim Meehan, it soon went on to become the bar's top seller. To make your own, combine the bacon-infused whiskey with a quarter- ounce of maple syrup and some Angostura bitters for a delightful nightcap that can carry you through those chilly nights.
Strawberry and Maple Brown Derby
Bursting with fresh fruit, the Strawberry and Maple Brown Derby is an ideal sipper for evenings spent watching the leaves turn. This riff combines bourbon, grapefruit juice, chopped strawberries, and maple syrup, the last of which softens the citrus's bitter bite and mellows out the brown spirit. The drink also delivers an undercurrent of baking spices with a delightful, spiced finish.
Walnut and Maple Old Fashioned
Another variation of the classic, the Walnut and Maple Old Fashioned adds two of fall's most iconic ingredients to the cocktail's build. The nutty note comes to us in the form of walnut bitters, which elevate the aromatic spices present in the bourbon. The addition of maple syrup further provides the cocktail with a seasonal element and balances the heat from the base spirit, creating a playful but proper concoction ideal for holidays like Thanksgiving.
The Nor'easter
Created by Bill Harden of TAPS at The Georges in Lexington, Va., the Nor'easter teeters the line between sweet and smoky. With three types of spirits serving as the base — Four Roses Single Barrel, apple brandy, and Ancho Reyes — the drink offers spiced notes that tango with a crisp apple flavor well suited for autumn. Lemon and lime juice brighten things up while maple syrup provides a hint of sweetness. Plus, with an egg white tossed into the mix, the drink takes on a luscious mouthfeel and cloud-like texture that lives up to the cocktail's stormy name.
The Banker's Choice
Coffee cocktails have never been hotter, and there's no better time to enjoy them than in the fall. This year, forget the Espresso Martini and reach for the Banker's Choice, which combines coffee-infused bourbon with maple syrup, Lazzaroni Amaro, and crème de pêche. The drink is an ideal marriage of sweet and bitter flavors, and serves as a superb nightcap for chilly autumn evenings.
The Zesty Zeus
While there may not be many cocktails using Cognac as their base, the spirit is a great choice when you're looking to take a break from bourbon, which tends to dominate autumnal cocktail menus. The grape spirit stars alongside rye whiskey in the Zesty Zeus, creating a base that accentuates the bitter notes in cold-brew coffee. Thanks to a touch of maple syrup, the drink is balanced, slightly sweet, and definitely delicious.
Maple Bacon Manhattan
The Manhattan is an ever-popular choice among drinkers looking for a transitional whiskey cocktail. Consider sprucing up your typical specs with a bit of breakfast: maple syrup and bacon. The Maple Bacon Manhattan deploys Bulleit Rye as its base, while sweet vermouth offers it a softer edge. The combination is further sweetened with a quarter-ounce of maple syrup with a single dash of Angostura, elevating the rye's spicy green aromas. When garnished with an orange peel and a strip of bacon, the cocktail's even more enticing on the nose.