When we think of Pinot Noir, Burgundy, California, and Oregon immediately come to mind. But the finicky grape is grown throughout the wine world, and there is notable Pinot Noir produced in other areas of France, Italy, New Zealand, Australia, South Africa, and New York's Finger Lakes, among others.
Today, I'm focusing on Pinot Noir from France's Loire Valley, which accounts for just a fraction of the region's red wine output compared with Cabernet Franc, its signature red grape. But Loire Valley Pinot Noirs can be wonderful lighter examples of the variety, with lots of red fruit notes, earth, moderate alcohol, and refreshing acidity.
The top Loire Pinots are from Sancerre, one of the most famous appellations in the entire region that's almost become synonymous with Sauvignon Blanc, the white variety that accounts for most of the production. So note that if you see a wine labeled Sancerre Rouge, it's a Pinot Noir.
Don't Miss A Drop
Get the latest in beer, wine, and cocktail culture sent straight to your inbox.
Beyond Sancerre, other appellations in the Centre-Loire, the subregion where most of the Pinot Noir is grown, include Menetou-Salon, Reuilly, and Coteaux du Giennois, where it's sometimes blended with Gamay. Pinot Noir blends are also found in the wines of Cheverny to the northwest.
Tom Stevenson notes in his excellent reference "The Sotheby's Wine Encyclopedia" that the Central Loire was historically part of the Duchy of Burgundy, "which explains the presence of Pinot Noir vines." He points out that after destruction caused by phylloxera, vineyards that were returned to production were mostly replanted with Sauvignon Blanc, which explains the grape's dominance today.
Soils in the two most important appellations, Sancerre and Menetou-Salon, are typically limestone and clay, which impart the wines' signature minerality, both in the reds and whites.
It had been a while since I had tasted these Pinot Noirs, and I was struck once again by their vitality, depth, and their relatively delicate character. They don't have the "big fruit" of California, nor perhaps the nuance of high-end red Burgundy, but they shine in their unique way, reflecting their terroir in spades and representing very good values. All of them are under $40 and one of them, surprisingly for its quality, is under $15.
With their modest alcohol and ample acidity, these wines would be a perfect pairing for your Thanksgiving feast — and all the more refreshing if you give them a slight chill.
Here are eight of the best Loire Valley Pinot Noirs to try:
Lauverjat Moulin des Vrillères Sancerre Rouge 2021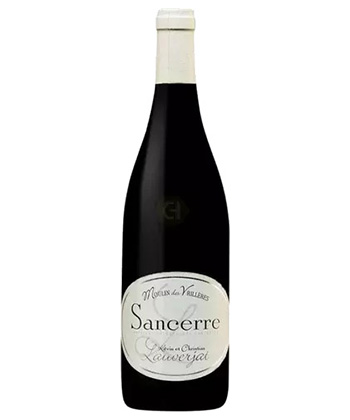 Raspberry and earth aromas announce this wine, with redcurrant and sour cherry notes on the palate. With its bright acidity, it's light, straightforward, and downright delicious. A "bistro wine" if there ever was one, and a great bottle to have on hand for weekday chicken, fish, and other lighter dishes. If you ordered it at said bistro, they'd probably charge $15 or so a glass, which makes the bottle price even more attractive.
Price: $24
Buy This Wine
François Le Saint Sancerre Rouge 2021
Aromas of a fall orchard, red fruits, and rose petals are followed by raspberry and pomegranate flavors, along with touches of vanilla, orange rind, and powdered cinnamon. All of this is framed by a backdrop of minerals and lively acidity. The grapes are grown organically and the wine is aged for a year in oak barrels. Great complexity and an ABV of 12.5 percent.
Price: $32
Buy This Wine
Christian Venier Cheverny Rouge 'Les Hauts de Madon' 2022
Cheverny is a wonderful Loire appellation, both for white and red wines. Blending is the rule here, and this Cheverny rouge is made with 70 percent Pinot Noir and 30 percent Gamay. Fermented using semi-carbonic maceration, the wine is "grapey," not unlike Beaujolais, with lovely red and blue fruits and a touch of baking spices. Earth and mineral notes are in the background, and a nice tannic grip gives it structure.
Price: $38
Buy This Wine
Domaine Philippe Gilbert Menetou-Salon Rouge 2021
The Gilbert family has been producing wine in Menetou-Salon, which is adjacent to Sancerre, for nine generations and has practiced organic and biodynamic farming for the last 20 years. This wine is fermented and aged in large wooden and cement tanks. It's a departure from the typical red-berry style, with concentrated dark fruit notes — plum, black cherry, blackberry — and a chalky minerality.
Price: $32
Buy This Wine
J. de Villebois Pinot Noir Vin de France 2021
This wine is labeled under the non-specific Vin de France appellation, and the Villebois website says the grapes come from "a selection of the best Pinot Noir terroirs," no details provided. But wherever it's from, this under-$15 Pinot Noir is a winner and one of the best you'll find at this price point. With hints of tobacco and eucalyptus on the nose, there's red fruit and blueberry on the palate with a wet-stone minerality. A great budget Pinot Noir and a definite "case buy."
Price: $14
Buy This Wine
J. de Villebois Sancerre Rouge 2019
Think of this one as the older sibling of the Villebois' Pinot Noir above. It has a bit more oomph, with concentrated fruit supported by elegant tannins. Dark cherry, raspberry, and a touch of red licorice are accented by rose petal, mineral, earth, and leather touches.
Price: $36
Buy This Wine
Hubert Brochard Sancerre Rouge 2019
This wine has more savory notes, including mushrooms, braised meat, and forest floor. Dark fruit flavors, mainly plum and blueberry, give way to red fruit, including pomegranate, as the wine opens up. A hint of baking spices also emerges. It all comes together in a wine that shows superb depth and balance.
Price: $32
Buy This Wine
Lucien Crochet Sancerre Rouge 'La Croix du Roy' 2016
This exquisite wine reveals different flavors with just about every sip. Deeper in color than many others, it begins with aromas of raspberry, blueberry, and earth; then plum, pomegranate, and blackberry emerge on the palate with a subtle cedar note. It's all supported by chalky minerality. Part of the wine is aged in barrels and part of it in stainless steel for one year. One of the very top Loire Valley Pinot Noirs.
Price: $39
Buy This Wine
Next up: Red wines from Austria.