What if there were a place where tasting the red wines was like a trip back in time, to an era before the days when many winemakers and wine regions, in search of high scores from critics, came to believe that "bigger is better," alcohol levels be damned?
What if there were a place where the red wines were often lighter both in color and feel, where the alcohol levels were anywhere from 11.5–13 percent, give or take, but where many of the wines still had considerable character?
That place may have been California 40 years ago. But today, it is New York's Finger Lakes, a region in the central part of the state that has become synonymous with world-class Riesling but that deserves greater attention for its other white wines (as I wrote about in my last column) — and also its cool-climate reds.
Don't Miss A Drop
Get the latest in beer, wine, and cocktail culture sent straight to your inbox.
I base this on my tastings of dozens of Finger Lakes reds over the last several months, from well-known varieties like Cabernet Franc and Pinot Noir to less familiar ones like Blaufränkisch and Saperavi. Remarkably, one of the standouts was a Cabernet Sauvignon — the only one I tasted and a variety that's almost negligible in the region — that clocked in at just 11.7 percent ABV (compared with many California Cabs in the 14–15 percent range).
Kyle Anne Pallischeck, executive director of the Finger Lakes Wine Alliance, tells VinePair that "you're never going to find a red in the Finger Lakes that I would call full-bodied. You might see medium-full, but the acid is always going to be high so that it keeps it lighter on your palate."
She says she is starting to see more interest in these leaner wines in wine bars and wine-oriented restaurants that understand how consumers are "shifting towards cooler-climate, more fresh, refreshing wines, food-friendly wines — lower alcohol, not overly ripe — and have a better understanding of vintage variation as well."
While many say that Cabernet Franc is the region's signature red, I believe that Blaufränkisch, the spicy, earthy Austrian variety also known as Lemberger (and labeled both ways in the Finger Lakes) may be the quiet star here.
With all of this in mind, here are 10 Finger Lakes reds worth trying:
Dr. Konstantin Frank Old Vines Pinot Noir 2020
From a pioneering Finger Lakes winery, this is a Pinot Noir that can compete with many from California or Oregon. Perfectly balanced with refreshing acidity and light tannins, it offers tastes of cherry, strawberry, and blueberry with an overlay of vanilla and touches of earth and cookie dough. The website says the blend includes wine from the original Pinot Noir vines planted by its founder Dr. Konstantin Frank in 1958, representing the second-oldest Pinot Noir vines in the U.S.
Price: $27
Buy This Wine
Stony Lonesome Cabernet Sauvignon Sawmill Creek Vineyard 2020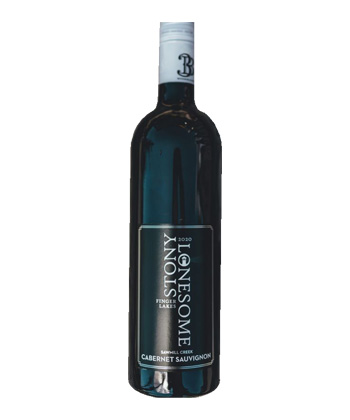 This lovely Cabernet shows true varietal character in a fresh, approachable style. A beautiful combination of concentrated dark and red fruit tastes that include dried cherry, raspberry, and blackberry accented by a mocha note. Fine tannins add to the elegance of this classy wine with under-12 percent ABV. Stony Lonesome is a label of Three Brothers Wineries & Estates on Seneca Lake.
Price: $46
Buy This Wine
McGregor Vineyard Saperavi 2019
Saperavi, an ancient variety originally from the country of Georgia, soars in this phenomenal wine from McGregor, which overlooks Keuka Lake and was founded in 1971. Dark, dense, and full-bodied (but with alcohol at just 12.4 percent), aromas and tastes include blackberry and violets with hints of black licorice, green olive, and orange rind. Firm tannins and refreshing acidity complete the picture. McGregor also offers Reserve and Grand Reserve Saperavis with a year or two of additional age.
Price: $60
Buy This Wine
Wagner Vineyards Cabernet Franc 2020
This elegant wine, an under-$20 value, evokes some of the Cabernet Francs of France's Loire Valley. Initial tastes of sour cherry and pomegranate give way to darker fruit notes as it opens up. There's a touch of leafiness, which is typical of young Cab Franc. A refreshing wine of balance and complexity that will evolve for several years and is perfect for lighter foods, including white meats and fish.
Price: $19
Buy This Wine
Toast Winery Zweigelt 2021
Great acidity and freshness in this Austrian variety make it a superb food wine. It's rather Beaujolais-like in taste and feel, with notes of sour cherry and blueberry and hints of vanilla and forest floor. It was perfect with a shrimp and vegetable risotto, neither overpowering, nor overpowered by, the food.
Price: $24
Buy This Wine
Weis Vineyards Blaufränkisch 2020
This stellar wine makes a convincing case for the importance of Blaufränkisch in the Finger Lakes. Savory, with notes of blackberry, plum, and overripe strawberry, the wine is lively and lean with an impressively long finish that beckons you for the next sip. A serious wine that should be compared with Blaufränkisches from Austria.
Price: $26
Buy This Wine
Fox Run Vineyards Unoaked Lemberger (Blaufränkisch) 2021
Another wine that evokes young Beaujolais in its lightness and fruitiness with aromas and concentrated tastes of blackberry and blueberry compote and white pepper on the finish. With ample acidity, this will be a summer hit with a slight chill for all kinds of foods and for sipping on its own.
Price: $20
Buy This Wine
Lakewood Vineyards Cabernet Franc 2020
There's lots of complexity in this Cab Franc, with blueberry and cranberry notes, touches of orange rind and spice, and subtle oak that provides hints of vanilla and smoke. Soft tannins round out the picture in an altogether lovely wine. Another excellent value.
Price: $20
Buy This Wine
Point of the Bluff Vineyards Reserve Pinot Noir
This delightful Pinot Noir, with ABV at just 12 percent, is complex and delicious, showing aromas and tastes of cherry, raspberry, and blueberry. The concentrated fruit is framed by lively acidity and accented by touches of earth, cinnamon, and vanilla. The winery on Keuka Lake claims on its website that its Pinot Noir "has the elegance and finesse of some of the best wine around the world." I won't disagree.
Price: $35
Buy This Wine
Heron Hill Winery Blaufränkisch Ingle Vineyard 2020
This delicate and expressive Blaufränkisch shows dark fruit tastes, including cassis and black cherry, with secondary notes of white pepper, black licorice, and flowers. All of it is supported by a gentle tannic structure and balanced acidity. Serve it slightly chilled to give it an even more refreshing lift.
Price: $35
Buy This Wine
Next up: The Chardonnays of Oregon