The Story Behind The Scottish Seaside
This spin on an Old Fashioned uses its short ingredients list wisely, packing a lot of flavor into a very balanced drink. I added an edible flower to the top to add color and aromatics.
Ingredients
2 ounces Scotch

½ ounce Licor 43

2 dashes orange bitters

Edible flower, for garnish
Directions
Combine all ingredients in a cocktail shaker with ice.

Shake for approximately 30 seconds to chill and combine ingredients.

Fine-strain into a Nick & Nora glass.

Garnish with an edible flower.
Rate This Recipe:
Yield: 1
Updated: 2019-08-12
---
Related Reads & Recipes
Learn About Scotch
· Our always updated list of the best Scotch to buy right now!
More Scotch Recipes To Explore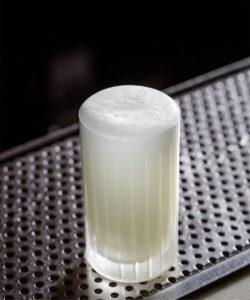 The Dawn Patrol Recipe:
The Dawn Patrol, created by Death & Co New York's head bartender, Shannon Tebay, is a take on the classic Morning Glory Fizz.
The Smoky Tea Penicillin:
For this twist on a Penicillin, cocktail columnist Natalie Migliarini uses smoky black tea from China. Get the recipe and learn how to make it!
Johnnie Walker Rob Roy:
The Rob Roy, a Scotch variation on the Manhattan, takes its name from the infamous Scottish rebel Rob Roy MacGregor.
Johnnie Walker Bobby Burns:
This Rob Roy, topped with a lemon peel, is a complex classic worthy of regular rotation in your seasonal cocktail repertoire.
The Penicillin Recipe:
This Scotch cocktail manages to be both boozy and refreshing. Learn how to make this modern classic with our recipe — doctor's orders!