How To Make A Gibson
If you're a fan of Gin Martinis, but have a thing for onions, the oft-overlooked is the cocktail you need in your life
Gibson Ingredients
2 ¾ oz Gin

3/4 oz Dry vermouth
Gibson Directions
Combine all ingredients in mixing glass with ice.

Stir.

Strain into chilled cocktail glass

Garnish with onions and enjoy.
Rate This Recipe:
Yield: 1 Cocktail
Calories: 173
Updated: 2022-05-31
Listen To Our Cocktail College Gibson Podcast
Gibson Variations To Try:
The Dorsey Gibson - The Dorsey Gibson is a great variation of a Martini for anyone interested in branching out from dirty Martinis.
---
Related Reads & Recipes
Learn About Gin
· Gin 101
· Our always updated list of the best Gin to buy right now!
More Gin Recipes To Explore
The Colonial Cocktail Recipe:
Gin, Aperol, and sparkling wine come together in this bright, bubbly cocktail from NYC cafe Shoo Shoo. Learn how to make the recipe here.
Gin Fizz:
Get our recipe for a great Gin Fizz. Learn everything you need to know to make a perfect Gin Fizz.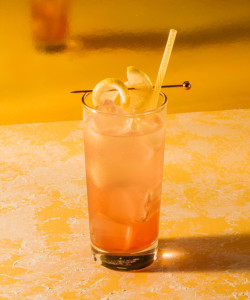 The Long Beach Iced Tea Recipe:
Sister to the notorious party starter the Long Island Iced Tea, the Long Beach Iced Tea evokes that refreshing West Coast sunshine.
The Countess Cocktail Recipe:
In addition to an Earl Grey-infused Lillet Blanc, The Countess includes gin, lemon, and pomegranate juice, plus sweet elderflower liqueur.
The Fog Cutter:
With four types of booze occupying the same glass, the Fog Cutter has earned a reputation as the Long Island Iced Tea of tiki drinks.
The Peak Of Summer Recipe:
Overloaded with sweet and ripe strawberries? There may be "healthier" ways to consume them, but combining berries and booze is the best.