The Story Behind The First Flight
For this take on the French 75, Yang employs bourbon instead of gin, housemade orgeat instead of simple syrup, and adds a touch of Angostura bitters. The resulting cocktail is a bit more complex while still retaining the light, refreshing qualities of a French 75. 
Ingredients
1 ounce bourbon

1/2 ounce lemon

1/2 ounce orgeat

2 dashes of Angostura bitters

Champagne
Directions
Combine all ingredients into a mixing tin with ice.

Shake and strain into a chilled flute.

Top with Champagne.
Rate This Recipe:
Yield: 1
Updated: 2022-10-18
---
Related Reads & Recipes
Learn About Bourbon
· Our always updated list of the best Bourbon to buy right now!
More Bourbon Recipes To Explore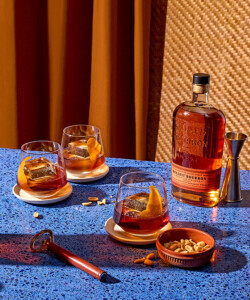 Cola Old Fashioned:
Why be forced to choose between cheering on your team and enjoying an easy Sunday morning when you can have both?
The Southern Knight Recipe:
With bourbon, ginger beer, and a touch of strawberry, the Southern Knight is an update to a recipe developed by New Orleans bartender Kent Westmoreland.
The Grownup Thin Mint Recipe:
Every thinking person's favorite Girl Scout cookie gets a boozy, grown-up twist in this tasty bourbon cocktail. Learn how to make the recipe!
The Southern Jam Recipe:
One of my favorite ways to use bourbon is to combine it with your favorite jam. Read on to learn this Southern Jam Cocktail recipe