Syrah has had quite a journey from its home in France's Northern Rhône. This hilly, cool-climate region is where Syrah first became renowned for its distinct savory notes, with hints of smoked meats, black olives, and cracked black pepper accenting the more typical blueberry and plum flavors. Though Syrah was once almost exclusively grown in this small but prestigious region, the late 20th century marked a big change for the variety. Under the name Shiraz, the grape took off in Australia, where producers embraced the variety's bolder side, making full-bodied, jammy expressions. Syrah also made its way to the U.S. through a group of winemakers in California called the Rhône Rangers who set out to champion native Rhône varieties on the West Coast. Bulk production of not-so-great quality Shiraz, and the growing popularity of other full-bodied wines like Argentinian Malbec, have caused Syrah to fall by the wayside — but it feels like this variety is slated for a triumphant return.
Syrah's recent lack of ubiquity has actually worked to its benefit. Rather than planting Syrah just anywhere, passionate growers tend to approach this variety with intention, seeking out specific microclimates that suit its exact needs — with great examples coming from cool-climate sites in Santa Barbara, Sonoma, and even the Santa Cruz Mountains. Similarly, a new generation of winemakers in Australia are working to bring back balance to their beloved Shiraz with a renewed focus on the grape. Through these thoughtful wines, Syrah has continued to garner a considerable, yet slightly under-the-radar, fanbase over the years.
So whether you're a diehard Syrah drinker, or looking to give the grape another chance, it's time to seek out these bottles that represent a new chapter for the variety. From Australia's Barossa Valley to California's Central Coast, and from the Blue Mountains of Washington State to its home in the Northern Rhône, here are 11 of the best Syrahs we tried this year.
Sister's Run Epiphany Shiraz 2020
The vibe at Sister's Run is that they don't take themselves too seriously but make serious wine. The name of the winery is a testament to winemaker Elena Brooks, who is known to keep a pair of stilettos in the back of her car, just in case she needs to kick off her boots and run to a gala to accept an award. Love it. This wine is from Australia's McLaren Vale, and though McLaren Vale Shiraz fell out of favor in recent years, this bottle signals a comeback for the category. It's an extremely good value for the price, and true to the bold Australian style, while providing great balance. The nose is earthy and peppery with some deep plum flavors. The mouthfeel is soft and subtle with a fleshy vibe that balances the depth and acidity. This incredibly focused wine is a win for McLaren Vale.
Average Price: $20
Rating: 93
Dandelion Vineyards 'Lionheart of the Barossa' Shiraz 2021
Oh, look! Elena Brooks made another amazing Shiraz. This one is from Australia's renowned Barossa region, made under her Dandelion label.This is yet another example of why we should bring Shiraz back into our collective drinking culture. Similar to her McLaren Vale bottling, this wine shows that the grape is ready and willing to show a sense of place in Australia. This one is big and fruit-forward, with some wood char and plums on the nose. Even a hint of coffee swims up to say "Hey." It has a great palate with ripe fruit and good acidity to break up the depth. A slight bitter note on the finish adds to the complexity. Welcome back, Shiraz! Thanks, Elena!
Average Price: $25
Rating: 93
Alkoomi Shiraz-Viognier 2021
Sandy and Rod Hallett's family has been farming grapes in western Australia's Frankland River for over 50 years. The rolling hills of this area, well outside the more well-known regions in New South Wales and South Australia, is known for its farmland. And sure enough, Alkoomi was a grain and livestock farm until the early '70s when Sandy's parents took the plunge and planted one hectare of vines. Today that one hectare has become 1,200, and it's still a family affair with the help of Sandy and Rod's eldest daughter Laura and her husband Tim. This is not just a Shiraz, but a Shiraz co-fermented with Viognier — a nod to the style first popularized in the Côte-Rôtie region of France. And it's straight deliciousness. The nose is all ripe brambly blackberry fruit with a waft of cracked peppercorn and licorice. The palate is so damn good, with Syrah's characteristic herby peppery notes mingling with a wonderful concentrated fruit core. It's a bottle you just have to taste for yourself.
Average Price: $26
Rating: 93
Bedrock Wine Co. California Syrah 2021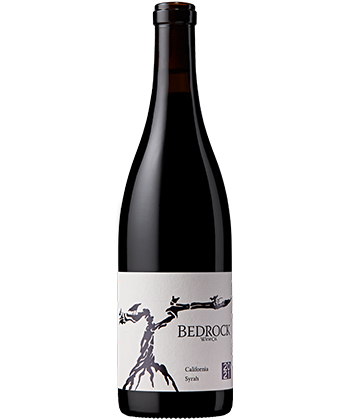 Bedrock Wine Co. is a beast. California native Morgan Twain-Peterson and Staten Island native Chris Cottrell source fruit from vineyards as far south as Lime Kiln Valley in San Benito to Mendocino County. The winery's story is so intricate you need to hit up its website to reach more about how all of this came to be. Twain-Peterson grew up making wine with his father, Joel Peterson, who founded the well-known brand Ravenswood. Bedrock's deep roots in the region can be seen through its dedication to working with old and historic sites from across California. The winery is even a founding member of the Historic Vineyard Society, which is committed to preserving and reviving historic vineyard sites and promoting viticultural diversity. This 2021 California Syrah was made with grapes coming from different plots across Santa Barbara. The lots were each made with 20 to 60 percent whole-cluster fermentation for some added spice. This Syrah is a damn triumph for the price. It has ripe black brambly fruit with a hint of oak and cooking spices on the nose. The palate is impeccably balanced with amazing fruit depth held up by a bursting cloud of acidity, lifting the aromas to your senses. So damn good.
Average Price: $30
Rating: 94
Florèz Wines Romulus Syrah 2021
In 2017 James Jelks started Florèz Wines in Santa Cruz, Calif. After graduating from UC Davis with a degree in winemaking, Jelks spent 10 years making wine across the globe, only to return to his roots in Santa Cruz. Jelks is dedicated to sustainability, dry farming his own vineyards (growing vines without the help of irrigation) and sourcing grapes from vineyards that adhere to organic or sustainable practices. This Syrah is from his Alaya Vineyard, which is located on a gentle slope in the Santa Cruz Mountains, about four miles from the ocean, surrounded by the mighty redwoods. Florèz makes another Syrah called Remus — as an ode to the Roman myth — from an adjacent vineyard that's from a slightly cooler site one mile closer to the ocean. This Romulus bottling is made with whole-cluster fermentation, meaning he does not de-stem the grapes, and it comes through in this truly varietally correct wine. It's savory, peppery, and meaty with some spiced dark fruit on the nose. The palate is ripe and grippy with good lean fruit that has just enough depth to match the acidity.
Average Price: $38
Rating: 92
Domaine Romaneaux-Destezet Hervé Souhaut Syrah 2022
Among some of the most famous hills in France's Northern Rhône, Hervé Souhaut farms five hectares of land in the town of Arlebosc, about a 30-minute drive from the renowned region of St. Joseph. The winery lies underneath a 16th-century fortified farm named "Les Romaneaux" that sits among the vines. In a region known for wines that tend to require years of aging, Souhaut makes wines that are ready to drink now (although they can also age well). He works with subtlety and finesse, coaxing out fresh yet savory flavors through fermentation with whole grape bunches and semi-carbonic maceration. This strategy leads to uniquely delicate and balanced wines. This Syrah shows the deepest soul of the variety. It will make you wonder how something this good can be found for under $40. It has an enticing nose that draws you in with dense, dark fruit notes accented by spiced meat, cracked peppercorns, and a melange of cooking herbs. The palate is an almost perfect representation of the Northern Rhône. Grippy with an amazing medium depth of fruit and stunning acidity. Amazing wine.
Average Price: $38
Rating: 97
Tensley Turner Vineyard Syrah 2022
Joey Tensley has been around wine most of his life, but it was a trip he took to France when he was 12 years old that sealed the deal. The smell of the cave and fermenting wine stuck with Tensley through to adulthood. He made good on a young Joey's dream, starting his career making wine for well-known producers in Santa Barbara County. Tensley grew an appreciation for Santa Barbara's distinct microclimates, with one of the few east-west mountain ranges on the planet, and decided to start his own label in 1998, focusing on terroir-driven expressions of Rhône varieties. This single-vineyard example from the Turner Vineyard shows he really knows how to dial into a sense of place. The nose has ripe brambly berry aromas along with cooking herbs and some grilled meat char. The palate is wonderful with soft fruit and a slight tannic edge. The acidity lifts up the savory character, making it bright and deep at the same time. It's nice seeing varietally correct Syrah in SoCal.
Average Price: $45
Rating: 93
Scar of the Sea Bassi Vineyard Syrah 2022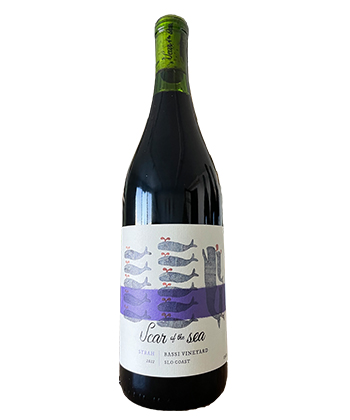 Mikey and Gina Giugni started Scar of the Sea in 2012. They love being able to work, live, and play by the water, so the Central Coast was a prime location to get their start. They source from sustainable vineyards that farm for the future and coax those quality grapes into awesomeness. They are part of a new generation of American winemakers with an insatiable appetite for experimentation and exploring new ways of making great wine. They also can bring out the freshness in varieties like Syrah that have typically been over-extracted in California. This wine is the polar opposite of that, coming from the ocean-influenced San Luis Obispo Coast. The nose is bright and citrusy with some welcome herbs and leather. There's a small dose of earthiness that adds some interest. The palate is peppery and savory with bright acidity and enough fruit to match. This wine is on the lighter side of Syrah, and it really works here.
Average Price: $46
Rating: 90
Pax Armagh Vineyard Syrah 2021
Pax and Pamela Mahale started Pax wines in 2000 with a focus on making Syrah and Gamay Noir from cool, coastal sites in California. As time went on, Pax began experimenting with more varieties, making elegant, low-alcohol wines from varieties like Vermentino, Pinot Blanc, and Trousseau Gris. This Syrah is a testament to their mission of making easy-to-drink, fresh wines. It comes from the Armagh Vineyard, one of the coolest spots in the windy Petaluma Gap. The vines are old and the yields are low, but that's where the magic happens in skilled hands. The nose smells like cured meat and mint sauce with a saline vibe. This carries over to the palate with some cracked black peppercorns and a rich texture. It has such good balance and enough acidity to allow the fruit to express itself.
Average Price: $60
Rating: 92
Bien Nacido Estate Syrah 2021
Brothers Stephen and Bob Miller founded the iconic Bien Nacido Vineyard in California's Santa Maria Valley in 1973, originally planting the land to Pinot Noir and Chardonnay with the hopes of building one of the most elite vineyards in California. This endeavor was clearly a success, as it is currently one of the oldest cool-climate vineyards in California and is also the most single vineyard-designated site in the world. Even though Bien Nacido is still known for Pinot Noir and Chardonnay, the vineyard also has other cool-climate-friendly grapes like Syrah. The winery always blends in a little bit of Viognier to heighten the aromatics, and that definitely comes through in the wine. The nose has notes of juicy plums, with some oak and cracked peppercorn. The palate is simply amazing with more spice and the softest fruit core balanced by seamless natural acidity. So damn balanced. Did we mention balance?
Average Price: $75
Rating: 94
Valdemar Estates Blue Mountain Vineyard Syrah 2020
Valdemar Estates in Walla Walla, Wash., is so far ahead in the wine industry that it can be dizzying. It is the first internationally owned winery in Washington State and prides itself on being the first 100 percent inclusive and accessible wine tourism experience in the U.S. There's a lot that goes into this and they have a great video on their website that explains it all. It's worth a watch. Winemaker Marie-Eve Gilla and assistant winemaker Devyani Gupta carry on a family legacy that began five generations ago in Rioja, Spain, where Valdemar Estates was born. They're not only making great wine, but fostering progress in sustainability beyond the vineyard. This Syrah comes from the Blue Mountain Vineyard, which their state-of-the-art winery overlooks. The nose welcomes you with dark fruit and subtle notes of earthy cracked peppercorns. It has a very well-structured palate with good fruit depth and acidity. There's a bitter note that contrasts the juicy fruit, adding to the wine's complexity.
Average Price: $75
Rating: 93
VinePair's tasting methodology
Throughout the year, VinePair conducts numerous tastings for our popular Buy This Booze column, and wine and spirits reviews. Our mission is to provide a clear, reliable source of information for drinkers, providing an overview applicable to day-to-day buying and drinking.
Tastings are not typically conducted blind. In alignment with our reviews mission, we believe in purposefully tasting all products as our readers typically would, with full knowledge of the producer, the region, and — importantly — the price.
For Buy This Booze roundups, we typically include a maximum of one expression per brand, though we do allow multiple products from the same production facility (i.e., released under different labels).
For this Riesling roundup, we set out to consider the best wines from a range of locations and price points. From notable to up-and-coming regions, we looked for wines whose flavor profiles went beyond the grape's standard characteristics. The lower-priced bottles of the list represent those with the most balance and concentration at their price points. As for the more expensive inclusions, these wines were selected due to their nuanced notes and overall complexity.