Riesling has always been a divisive variety for wine drinkers. Many revere the grape for its laser-like acidity and ability to age, whereas some hesitate to give Riesling a shot because of its sweet reputation. It's true that many examples contain varying levels of residual sugar — and that's not a bad thing — but an increasing number of dry, mineral-driven Rieslings are also hitting the market from an array of regions. All of these wines deserve your attention.
Beyond Riesling's home in Germany, great bottles can be found from France's sunny Alsace region, higher-altitude sites in Australia, and the waterfront vineyards of New York's Finger Lakes. These wines range in style, but almost always deliver Riesling's signature acidity, and provide enchanting notes of juicy stone fruits, tart green apple, honeysuckle, and fresh citrus. As for those off-dry versions, they are a great tool for tricky food pairings, offsetting the spice in some dishes and complementing the sweetness in others.
Riesling is such a versatile grape that there's an expression out there for everyone; it's just a matter of finding your preferred style. Whether you're a Riesling fanatic looking to try something new or a skeptic waiting to be convinced, here are 10 of the best Rieslings for 2023, with links to full reviews by VinePair tastings director Keith Beavers.
Table Of Contents
Best Riesling Wines Under $30
Weinhaus Ress Riesling Trocken 2021
Trocken, the German for dry, is a classification used on German wines to indicate that they're dry, as opposed to off-dry or sweet. And in the Rheingau, one of Germany's most recognized Riesling regions, situated on the right bank of the Rhine river, over 60 percent of the wines fall under this dry category. There's a subtle pear expression on the nose with a big dose of minerality. On the palate, it has just the right amount of balance between fruit and acidity, making for a balanced and refreshing everyday white wine.
Average Price: $15
Rating: 92
Hermann J. Wiemer Semi-Dry Riesling 2022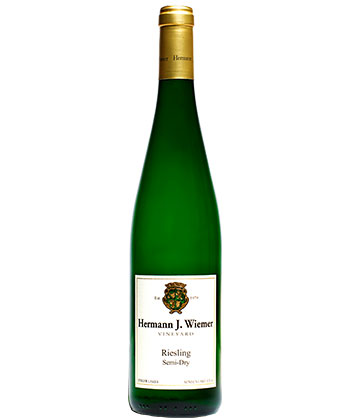 The Finger Lakes AVA is what it is today because of intrepid people who braved the elements of this extremely cool-climate area to prove that it could be a great U.S. wine region. One of those determined people was Hermann J. Wiemer. He started working for the Taylor Wine Co. in the 1960s, but his obsession with Vitis vinifera varieties became a primary focus. He bought land in the area and planted Riesling and Chardonnay to show that vinifera varieties could work in the Finger Lakes. Eventually, Wiemer created a nursery to help future generations gain access to his important work. Even though he retired in 2007, his apprentice Fred Merwarth carries on the work, making some of the most site-specific wines in the area. This unique semi-dry Riesling has a nose of Moscato that's been spiked with a piece of slate. The palate offers notes of beeswax, spice, and cooked herbs, along with a honeyed sweetness with a gingery, waxy texture. The acidity is abundant, but the balanced, refreshing structure maintains a subtle concentration of sweetness.
Average Price: $20
Rating: 94
Anthony Road Dry Riesling 2021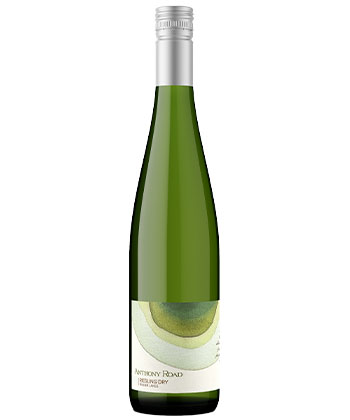 Baltimore natives John and Ann Martini left the city life in 1973 to start a winery in the Finger Lakes. The family planted their first vineyard that summer, and surprisingly — without any agricultural background — started to grow the business. Sticking it out in the extreme, cool-climate of an emerging region is no small feat, but they're still here today and thriving as a family business with 30 acres of vines. It's good they kept at it because this Riesling is one of the best we have tasted from this region. Honey, petrol, waxy apples, and pears grace the senses on the nose. The palate is electric and grippy with some added green tea vibes. It's complex and concentrated, has great depth, and a nice long finish.
Average Price: $20
Rating: 96
Dandelion Vineyards 'Enchanted Garden of the Eden Valley' Riesling 2022
Dandelion Vineyards' founder and winemaker Elena Brooks has been making wine since she was 16 (it was Chardonnay). Her mother worked at a winery in Bulgaria and she soon found herself falling in love with the process. After years of studying and making wine around the world, she landed in Australia with her family. Today, she is seen as one of the brightest stars in Australian wine. We fell in love with her Cabernet Sauvignon and are head over heels for this incredible Eden Valley Riesling. It has a wet slate (like after a rainstorm) nose with fruit just beneath in the form of juicy apples. The mouthfeel abounds with full, round fruit framed by good grippy acidity that clings then releases into the palate. The wine is expertly balanced between deep fruit and angular acidity, making it harmonious and a joy to sip.
Average Price: $25
Rating: 94
Nathan Kendall 'Nathan K.' Dry Riesling 2021
Finger Lakes native Nathan Kendall has traveled the world making wine. But his goal was always to return to the shores of Seneca Lake. His love for cool-climate wines can be seen in his travels in Mosel in Germany, Willamette Valley in Oregon, and Waipara in New Zealand. He also did stints in Australia and California's Sonoma for good measure. He founded Nathan K. Wines in 2011 with a focus on crafting elegant and complex wines with sustainability in mind. This Riesling hits all the points Nathan is trying to make. The nose is reminiscent of a German-style wine, with a wet- stone minerality and notes of honeysuckle and white pepper. The palate is pleasantly austere, but has enough fruit depth that the acidity doesn't slash through your palate. Good wine, Nathan!
Average Price: $25
Rating: 92
Best's Great Western Riesling 2022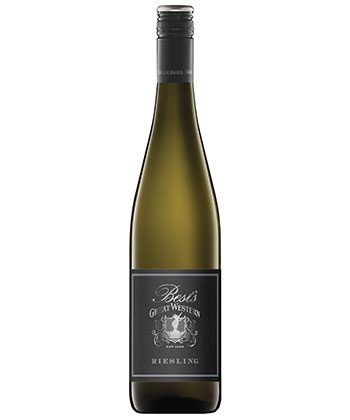 One of the oldest and continuously family-owned and operated wineries in the country, Best's Great Western is part of the history of wine in Australia. In 1866 Henry Best purchased 30 hectares of land in the small town of Great Western, and planted the property's first vines in 1868. These vines are thought to be sourced from James Busby's collection — widely regarded as the father of Australian wine — and are some of the oldest and rarest pre-phylloxera plantings in the world. Over the generations they have maintained quality, winning awards and hiring skilled winemakers, securing their legacy in the town of Great Western and beyond. This Riesling was made under the supervision of Justin Purser, who has recently handed over the reins to Jacob Parton after over a decade of work, and it's just wonderful. It has a bright and angular nose with some juicy fruit to contrast the comfy austerity. A little white pepper flits in the glass as well. Full with a nice juicy grip and some welcome effervescence on the palate. Great wine.
Average Price: $26
Rating: 94
Hermann J. Wiemer Flower Day Riesling 2022
Although Hermann J. Wiemer offers an array of delicious Rieslings, we were compelled by this bottle as it represents the winery's dedication to biodynamic farming. This wine is made from fruit sourced from the HJW vineyard, the first site that the winery started converting to biodynamic agriculture in 2015. The property is currently awaiting official Demeter certification. "On the biodynamic calendar, there are four kinds of days: root days, flower days, fruit days, and leaf days. Each of these days has certain tasks associated with it; fruit days are meant for harvesting, leaf days for watering, root days for pruning," the winery's website states. "On flower days, the vineyard is left alone to rest — so we suggest resting and enjoying this delicious Riesling!" We couldn't agree more. It has welcoming aromas of waxy flower petals, ginger, and squeaky green apples. It's vibrant and so expressive with some added citrus and savory notes on the palate. A sustainable success!
Average Price: $27
Rating: 94
Best Riesling Wines Over $30
Hillick & Hobbs Estate Dry Riesling 2021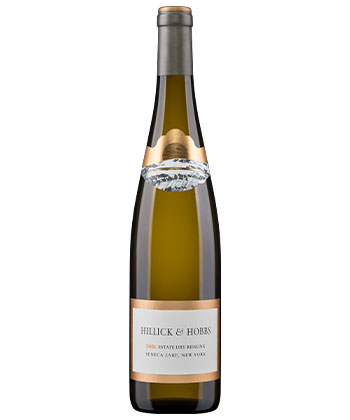 Paul Hobbs is one of the most well-known winemakers in California. He cut his teeth working for Robert Mondavi on the Opus One team for their inaugural vintage. This propelled him into stardom. But Hobbs actually got his start in agriculture in upstate New York when his father told him to rip up some orchard trees and plant vineyards. After a storied career on the West Coast and collaborations in Europe and Argentina, he planted a vineyard from the ground up in his home state. The vineyard, which he named after his parents, is located in Hector Falls along Seneca Lake. The property's slate soil reminded Hobbs of the Mosel, and he planted it to 100 percent Riesling. Based on this bottle, we think this new venture is a resounding success. It's floral and savory on the nose with honey, slight rosemary and thyme hints, and a deep-down orange peel note. The palate is very balanced with a juicy roundness that plays well with the angular savory notes and bright acidity of the wine.
Average Price: $35
Rating: 94
Koehler-Ruprecht Kallstadter 'Saumagen' Riesling Kabinett Trocken 2021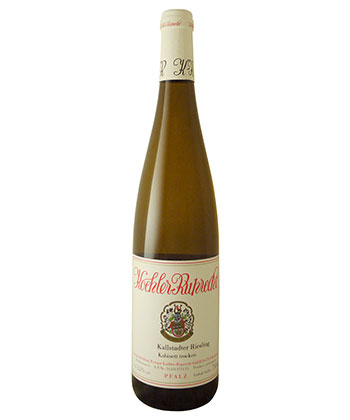 For 30 years Bernd Philippi worked with vineyards in Germany's Pfalz region, implementing sustainable agricultural practices. He worked the land without irrigation or herbicides, and only added the needed amount of sulfur while allowing for long macerations. This style of winemaking is a tricky business and requires a lot of skill. When he retired in 2008 he handed the reins to Dominik Sona, who, to this day, carries out Bernd's legacy. This single-vineyard wine comes from the limestone-based Saumagen vineyard, which was planted in the early 19th century. The Saumagen name, which translates to pig stomach, is a reference to the vineyard's shape. The approach to agriculture and sense of place comes through in this Riesling. It has a subtle herby nose with wonderful hints of thyme, rosemary, and spearmint. You can also detect some creaminess and a whisper of butterscotch. The palate is grippy with active acidity that's balanced by mild fruit depth. Minerals for days! Such a focused wine.
Average Price: $35
Rating: 93
Leon Manbach Riesling Grand Cru Frankstein 2019
Alsace is home to 51 grand cru vineyard sites. There's a very short list of varieties permitted in these grand crus, with Riesling often being the main focus (Gewürztraminer, Muscat, and Pinot Gris are also allowed). This bottle comes from the granite-rich Frankstein grand cru site in the Dambach-La-Ville commune, which consists of about just under 140 acres under vine. This wine really shows a sense of place. On the nose, there's a lean honey note along with pepper, wicker, and sliced pears. It has a very drying palate with bracing acidity and a nice fruit concentration as that honey note carries over. It's as dry as the granite the grapes grew on, but very well balanced.
Average Price: $35
Rating: 93
FAQs
What regions make good Riesling?
Riesling tends to thrive in cool-climate regions like Germany, Alsace, Austria, Australia's Eden Valley, and the Finger Lakes in upstate New York. Many of the world's best Rieslings come from vineyards located at high altitudes or on steep slopes, giving the grapes the perfect balance of cool temperatures and sun exposure. Many of the great Riesling regions also feature slate soils, like Germany's Mosel region. The style can vary between each of these all-star regions, so it's worth exploring all of them to find your favorite.
How can I tell if a Riesling will be dry or sweet?
Germany has a long history of Riesling production, so the country has a specific labeling system that indicates the residual sugar levels in the wine. Typically, if the wine has "trocken" on the label, that means the wine is dry. Other terms like "Halbtrocken" and "Feinherb" are used to indicate an off-dry wine, and "Liebliche" or "Süss" signals a sweet wine. Outside of Germany, many regions like the Finger Lakes have started to include "dry" or "off-dry" on the labels, or include the residual sugar level on the back. When in doubt, check the alcohol level of the bottle, if it is 12 percent or higher, that tends to mean the wine is dry, and if the wine is 8 to 10 percent alcohol, that can indicate there's some sweetness.
VinePair's tasting methodology
Throughout the year, VinePair conducts numerous tastings for our popular Buy This Booze column, and wine and spirits reviews. Our mission is to provide a clear, reliable source of information for drinkers, providing an overview applicable to day-to-day buying and drinking.
Tastings are not typically conducted blind. In alignment with our reviews mission, we believe in purposefully tasting all products as our readers typically would, with full knowledge of the producer, the region, and — importantly — the price.
For Buy This Booze roundups, we typically include a maximum of one expression per brand, though we do allow multiple products from the same production facility (i.e., released under different labels).
For this Riesling roundup, we set out to consider the best wines from a range of locations and price points. From notable to up-and-coming regions, we looked for wines whose flavor profiles went beyond the grape's standard characteristics. The lower-priced bottles of the list represent those with the most balance and concentration at their price points. As for the more expensive inclusions, these wines were selected due to their nuanced notes and overall complexity.