The bang for your buck bottle you bring to every party, the case-buy for weeknight dinners, the easy afternoon sipper to enjoy with friends — this is the $20-and-under category in wine, and it's huge. The offerings are overwhelming, and some are better than others, but here at VinePair, we think that good wine is good wine, no matter the price point.
In fact, some of the most exciting wines we taste during the year are those affordable bottles that shine like cubic zirconia and are delicious. These are the everyday wines of the American consumer, and they deserve to be celebrated. We compiled a list of 20 wines in the white, red, pink, and bubbly categories to not only get you through the winter, but to load up on in preparation for the warmer months.
Say hello to your new go-tos. Here are the 20 best cheap wines under $20 to drink this year.
Table Of Contents
White Wines
Attems Pinot Grigio 2020
Pinot Grigio is ubiquitous on our shelves, meaning it can be tough to find the right one. For a bottle that hits all the right notes while being friendly on your wallet, look no further than Attems (a reference to a dynastic rule in the 12th century in Friuli-Venezia Giulia). The palate is full and round with active acidity punching through the fruit and giving some minerality to the wine. It will set the standard for everyday Pinot Grigios.
Average price: $16
Rating: 92
Decoy Sauvignon Blanc 2021
California tends to have its own unique style of Sauvignon Blanc: calm and fruity, yet lively. It really shines through in this bottle. Bright yet deep tropical vibes occupy the nose with a soft, creamy palate that pops with natural acidity.
Average price: $20
Rating: 90
Broadbent Vinho Verde 2019
From the Portuguese province of Minho well north of Lisbon, the Vinho Verde region is celebrated for its vibrant, slightly fizzy white wines made from a plethora of native varieties. These wines define refreshment, and this bottle is one of the best examples on our market to represent the style, bursting with frothy acidity and bright fruit aromas of lemons and pears.
Average price: $13
Rating: 88
Jadix Picpoul de Pinet 2019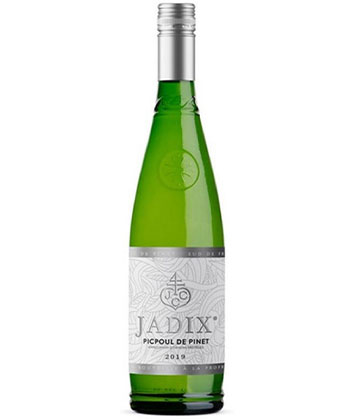 Piles and piles of fresh seafood, pulled every morning from the Mediterranean, are consumed daily in the town of Pinet in southern France while sipping bottles (see that plural there?) of Picpoul. With this bottle, you can transport to the seaside town. It's extremely refreshing, has some serious depth for a white wine, and is lively on the palate with ripe fruit flavors.
Average price: $14
Rating: 89
Louis Jadot Mâcon-Villages 2019
In the category of things that make you go "hmmm?" is this bottle. You have seen it everywhere, and the price is right. Can it really deliver on flavor? That's a hard yes! It's an unoaked Chardonnay from the region where the grape was born and is simply satisfying. Apple aromas and a juicy palate are balanced by moderate acidity, which adds depth. Go get it!
Average price: $14
Rating: 88
Red Wines
Mastroberardino Irpinia Aglianico 'Re di More' 2015
The Aglianico grape is so ancient, ampelographers (grape detectives) can't find its origin. The name is a nod to the Greeks, whom many assume brought it over to southern Italy (it emerged from Hellenica, what it was once called). It's deep, earthy, and smells like brambly fruit in a tobacco shop with soft-ish tannins. This is Campanian country wine at its best. Steak night, anyone?
Average price: $14
Rating: 92
Rodei Tinto 2020
Let's make weeknight Rioja a thing! Wines from this region don't only age well but can also be fun and playful in their youth. This wine is buoyant with berries and a hint of herb on the nose. The fruit is deep with great acidity, making this bottle ready for a good chill in the fridge before popping.
Average price: $10
Rating: 89
Cataclysm Cabernet Sauvignon 2019
This is a weeknight Cab for a reason. It won't kick you in the teeth with high alcohol or appeal to your sweet tooth with a ton of oak. It's soft and slightly floral, with prominent tannins and soft fruit cutting through the comfy, austere frame. This wine still has some aging potential, so buy a few bottles to keep on hand.
Average price: $16
Rating: 90
Mezzacorona 'Dinotte' Red Blend Vigneti delle Dolomiti IGT 2013
This is the bottle you grab without looking when hosting a spontaneous friends hangout. It's punchy and balanced with all the fruits on the nose and a soft palate. It's a fun, easy sipper for a casual evening with good conversation.
Average price: $11
Rating: 89
Buena Vista Winery Vinicultural Society Sonoma Pinot Noir 2018
The legendary Agoston Haraszthy (the Count) established the Buena Vista Winery Vinicultural Society in 1857 while Sonoma was still being realized. Today, his legacy lives on — and he would be proud of this Pinot Noir. It's earthy with bright berry fruit and minimal oak. It has an overall balance that will please multiple palates.
Average price: $16
Rating: 89
Rosé Wines
Abacela Winery Grenache Rosé 2021
This is a fun and unique rosé from the Umpqua Valley in southern Oregon — miles away from the Willamette — where grapes like Dolcetto, Malbec, and Grenache (like this wine) are grown. This is a wonderful rosé that shows the lighter side of the Grenache grape. It's light with a hint of grapefruit and a citrusy-tart yet balanced palate.
Average price: $20
Rating: 90
Ferraton Pere & Fils Cotes du Rhône Samorens Rosé 2021
Grenache, Syrah, and Cinsault are not only grown in Provence but also in the neighboring Rhône. And this big, round, and refreshing pink wine with juicy fruit notes has all three. It's casual and balanced — a great food rosé ready for taco night.
Average price: $15
Rating: 90
Chateau Ste. Michelle Columbia Valley Rosé 2021
This is a very American rosé with mostly Cabernet Sauvignon and Syrah and a dollop of Grenache. It gives off some of those classic Cab peppery notes, unique for this hue, and a slight menthol vibe. All that is balanced well with aromas of peaches and strawberries, making it a great brunch wine.
Average price: $15
Rating: 90
Bodegas Godelia Mencía Rosé 2021
Very northwest of Rioja is the mountainous region of Bierzo, where the Mencia grape thrives. If you like Cabernet Franc, you will love this variety. In its rosado form, it sheds the slight pepper notes and fills out with fruit. This example is big and juicy with a lot of acidity balancing the roundness.
Average price: $15
Rating: 90
Sparkling Wines
Josh Cellars Prosecco NV
Move aside, "Emily In Paris," it's Josh in Verona … or the Veneto … er … Prosecco. OK, that didn't work, but the Josh brand has gone to Italy and come back with some bubbly that's affordable and delicious. It has a waxy honeycomb nose with some floral and pear notes. The palate has a mild depth with some minerality lingering in the bubbles. It could make a great Mimosa but is also a nice one to sip on its own.
Average price: $15
Rating: 90
Venturini Baldini 'Cadelvento' Lambrusco Rosato NV
Can we get back into Lambrusco, please? Despite its headache-inducing reputation, it's such an awesome category of wine and deserves our love and affection. Let's start with a pink one to ease back in. It's calm, welcoming, and mildly tart with a comfy depth on the palate piercing through the lazy perlage.
Average price: $18
Rating: 93
Jeio (by Bisol) Prosecco Rosé DOC 2020
Rosé Prosecco became an official category in 2021, and it has since hit a fever pitch with so many on store shelves. Bisol is at the top of this category and very affordable. It features aromas of freshly sliced pear with the slight earthiness of parmesan rind. The bubbles actively bounce around in the glass, emphasizing punchy fruit.
Average price: $18
Rating: 91
Mumm Napa Brut Prestige NV
This is such a go-to, it's not even funny. It's everywhere and offers guaranteed deliciousness every time you pop open a bottle. It smells like honey-drizzled pears with a quiet hint of vanilla. The bubbles are soft but lively, with a nice grip on the palate. This is not a Mimosa wine, but it is a brunch wine.
Average price: $20
Rating: 89
The Chook Sparkling Shiraz
If you thought Italian Lambrusco had the sparkling red wine category entirely to itself, think again. This may be the only sparkling Aussie red wine on our market, but it's absolutely awesome. It's frothy with very soft bubbles and deep, dark, balanced fruit.
Average price: $18
Rating: 88
Acquesi Brachetto NV
If you are a Moscato fan, then consider this its pink-ish/red cousin. The Brachetto grape is native to Piedmont, the same region Moscato calls home, and like the former, it delivers on sweetness. The nose is all strawberries that, when carried to the palate, meet a layer of creaminess — coalescing into a strawberry jam-like flavor. The bubbles break up the depth and add some refreshment.
Average price: $18
Rating: 90
FAQ
What are some tips on buying good, cheap wine?
To find great cheap wine, avoid bottles from well-known, expensive regions. Instead, look to offerings made with more obscure grapes from the New World, which includes Argentina, Chile, and the U.S., among other places.
What is a good large brand of cheap wine?
Chateau Ste. Michelle is a widely-available wine brand offering great value across the board.
What's the cheapest wine on the U.S. market?
Franzia, Sutter Home, Barefoot, Cupcake, and Yellow Tail are among the cheapest, widely-available wine brands on the U.S. market.
VinePair's Tasting Methodology
Throughout the year, VinePair conducts numerous tastings for our popular Buy This Booze column, and wine and spirits reviews. Our mission is to provide a clear, reliable source of information for drinkers, providing an overview applicable to day-to-day buying and drinking.
Tastings are not typically conducted blind. In alignment with our reviews mission, we believe in purposefully tasting all products as our readers typically would, with full knowledge of the producer, the region, and — importantly — the price.
For Buy This Booze roundups, we typically include a maximum of one expression per brand, though we do allow multiple products from the same production facility (i.e., released under different labels).
In creating this list of affordable wines, we took into account various criteria before making our final decisions. Our goal was to showcase the diverse range of styles and regions from around the world that won't break the bank.