Barrel aging gin is nearly as old as the spirit itself. The slightly unusual practice dates back to the late 18th century, when oak casks were used to store and transport the juniper-infused spirit.
In recent years, a number of small-production American distillers have quietly spearheaded a mini barrel-aged revival. Each has its own interpretation of the style, and with so many variables within the production process — from base spirit, to botanicals, to oak contact — no two barrel-aged gins are the same.
This makes figuring out how to use barrel-aged gins difficult, but ensures the category is diverse and versatile, as VinePair recently found out after blind-tasting more than 20 varieties.
From aromatic, lightly honey-hued gins, to dark amber bottlings that could easily be mistaken for bourbon or Scotch, the category offers something for every palate. Here are 10 of our favorites.
New York Distilling Company takes unaged, double-distilled rye whiskey and then distills it a third time along with juniper berries and Cluster hops. The spirit then rests for three months in oak barrels, giving it a faint, tea-stained hue. The result is an intensely aromatic gin that's unlike anything we've  sampled before. Juniper, bergamot, and citrus peel aromas dominate, with subtler notes of fennel seeds and licorice. The light barrel influence is more apparent on the palate, where there are flavors of baking spices and Earl Grey tea. Mix with sweet vermouth, Curuçao, and a dash of bitters for an intriguing Martinez. Average Price: $42.
Big Gin's Peat Barreled spirit ages for just four months in single-malt casks, meaning the wood's influence is much lighter (in both color and aromas and flavors) than many others in the category. The smoky influence from the peated barrels is barely apparent on the nose, though there is a surprising depth of vanilla and sweet baking spice aromas from the oak. The palate is well-rounded and creamy and tinged with anise, fennel, and licorice. The lasting finish is ever-so-slightly reminiscent of a peated single malt. Serve in a 50:50 Martini with high-quality vermouth in a Maraschino-liqueur-washed coupe glass. Average Price: $36.
Nuanced, delicate, and luxurious, Citadelle Réserve smells like it was concocted in a high-end perfumerie rather than a distillery. The French producer adds yuzu, genepi, and bleuet to its "Original" bottling, and rests the gin for a period of five months in five different types of wood (acacia, mulberry, cherry, chestnut, and French oak). Each lot is then blended in an eight-foot-tall, egg-shaped wooden barrel. Despite this heavy oak influence, the gin remains delicate. Its nose is rich in botanicals, including lavender, orange blossom, green tea, and blanched almonds. This is an ideal Martini gin — chill it, mix it 15:1 (the "Montgomery" ratio) with a dry French vermouth, and serve with lemon twist. Average Price: $39.
New Riff ages this gin for five to seven months in freshly used bourbon barrels. This adds a pronounced vanilla character, which mixes with the spirit's strong juniper, caraway seeds, and cedarwood aromas. The palate is consistent with the nose, with added flavors of fresh celery. Use in a zesty G&T with lots of lime. Average Price: $33.
Garden herbs provide the predominant aromas in this gin, with basil, rosemary, mint, and sage seasoned with a touch of sweet baking spices. Double down on the gin's herbal character by mixing with a very light tonic and handfuls of fresh basil and mint, or mix it with Lillet Blanc and Suze to highlight its sweet notes in a White Negroni. Average Price: $33.
Aged by the Chicago distillery for 18 months in new American oak barrels, this gin is complex and confusing — in a good way. To the eye, it looks like a classic brown spirit, but pour a measure and you'll be met with intense aromas of fresh herbs, coriander seeds, citrus peel, and orange blossom. Only on the palate does it start to resemble a dark spirit, with baking spice notes, pepper, and candied ginger all present. Sip it on the rocks or neat, or use in a classic Negroni. Average Price: $48.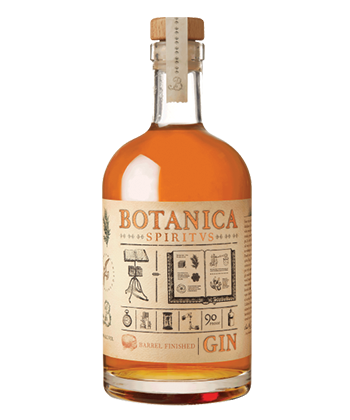 Falcon Spirits distills wine into a brandy base before infusing the spirit with botanicals like juniper, vanilla, lemon verbena, and galangal. The spirit then ages for a minimum of eight months in new French oak before it's blended with a small amount of gin that's aged for a shorter period. The rich honey color is slightly misleading, as the juniper-heavy palate makes it taste similar to a traditional gin. Mix with a healthy squeeze of lemon and top with tonic for a well-balanced G&T. Average Price $52.
Ransom Spirits developed the recipe for this "historically accurate" Old Tom Gin with historian, author, and all-round cocktail guru David Wondrich. The Oregon distiller produces its base spirit from a corn and barley mash bill, then ages it for six to 12 months in used French oak wine barrels. The barley comes through on the nose and the palate, mixing with juniper, vanilla, cinnamon, and nutmeg. This is an ideal gin for a Negroni or a Martinez. Average Price: $39
An experimental release from an independent Brooklyn distiller, this gin has a light amber hue from a period of aging in American oak barrels. It's aromatically intriguing, with a strong scent of menthol and sweet lemon curd followed by vanilla bean and creamy white chocolate on the palate. A lovely sipping gin, this spirit would also work well in a Negroni or an Old Fashioned. Average Price: $48.
For this small-batch, organic release, Chicago distiller Koval ages its dry gin for six months in barrels that previously held whiskey. The nose exudes juniper, coriander, and cedar, while its palate is rich in vanilla, malt, and cookie flavors, making it a bonafide gin/dark spirit hybrid. Sip this neat, on the rocks, or in an Old Fashioned. Average Price: $50.