Though often viewed as an afterthought when it comes to cocktails, vodka remains America's favorite spirit. And while its popularity has waned in recent years, plenty of brands are on a mission to make vodka a go-to for bartenders looking to get creative behind the bar.
Although perhaps best known in pop culture classics like the Cosmo and White Russian, vodka has always been a permanent fixture in cocktail culture. To help reignite America's lost love for the ubiquitous spirit, VinePair asked drinks experts for their favorite bottle recently added to their bar. From a corn-based version that rivals a prominent brand to several bottlings distilled by whiskey experts, keep reading for a collection of must-have vodkas.
The Best New Vodkas Recommended By Bartenders:
blank. Vodka
Republic Restoratives Civic Vodka
Amass Vodka
Reverend Distilling Vodka:
Nikka Coffey Vodka
Haku Vodka
Ocean Organic Vodka
Clear Creek Distillery Vodka
Dr. Stoner's Fresh Herb Vodka
Ketel One Botanical Vodka
Keep reading for details about all of the recommended bottles!
Don't Miss A Drop
Get the latest in beer, wine, and cocktail culture sent straight to your inbox.
---
"I'm kind of obsessed with blank. vodka right now. It's 100 percent corn-based like Tito's, but it's smoother and comes at a lower price point. And it's from Long Island, so I get to give a local business some love, too." —Caitlin O'Rourke, Head Bartender, Moonrise Izakaya, NYC
"Our house vodka is Republic Restoratives Civic Vodka out of D.C., and it's a fantastic clean and crisp vodka with a great price point. We also love that it's local to us and women-owned!" —Ashley McMichael a.k.a. Amac, Bar Manager, NiHao, Baltimore
"Amass Vodka. Not sure if there's a more charming vodka on the market." —Steve Livigni, F&B Partner + Beverage Director, Caravan Swim Club at Hotel June, Los Angeles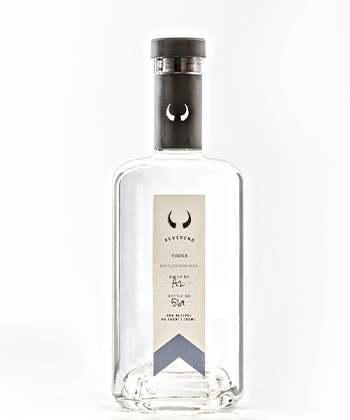 "Reverend Distilling Vodka: I think it's a feat for a local producer to make a vodka that's so inspired by Old World distilling style. For a whiskey-centric distillery to still take vodka seriously and put forth a spirit that is representative of the category is impressive (and delicious)." —Josh Seaburg, Bartender, Crudo Nudo, Norfolk, Va.
"Many people are familiar with Nikka making great whiskey, but not many know that they started making vodka a few years ago. It's a beautiful product to play around with, either in a Martini or Gimlet. It has a silky texture and zesty notes." —Shaun Dunn, Lead Bartender, Somerset at Viceroy Chicago, Chicago
"Haku from Beam Suntory, like many Japanese spirits, is soft, delicate, and incredibly smooth from their use of bamboo charcoal for filtering. It has some floral characteristics and is overall very mellow and round with a little bit of sweetness. Great on the rocks or in a Martini with a twist." —Emmanuelle Massicot, Assistant GM/Beverage Director, Kata Robata, Houston
"Ocean Organic Vodka: Though not a new release, I think this vodka makes a great Martini for the dry Martini lovers because they combine organic sugar cane and deep ocean mineral water, creating a subtle complexity from the ocean's minerals. This vodka would go well with fresh oysters!"—Roberta Scampoli, Lead Bartender, Dirty Habit DC, Washington, D.C.
"Often, vodkas are considered the bastard child of the bar, but when you get craft distilleries putting the expertise in like Clear Creek Distillery, [which uses] glacial waters from Mount Hood, it makes me rethink my relationship with the spirit. Like their eaux de vie and brandies, this product gets me excited to drink and get creative, and offers guests a unique experience." —Daniel Daily, Food & Beverage Director/Head Mixologist, Letty's Tavern, Kennett, Penn.
"Released a few years ago, a vodka that's earned a spot on our shelf for its unique, innovative taste is Dr. Stoner's Fresh Herb Vodka. Made with 19 herbal ingredients and extracts, this vodka brings an exciting botanical flavor profile with a soft, smooth finish. Whether served neat, chilled, or working its way into a drink (Mules, Martinis, etc.), this aromatic 84-proof vodka is sure to bring an exciting twist to your classic cocktails. Next time you find yourself in Virginia Beach, take the time to check out Chesapeake Bay Distillery and their other awesome products." —John Tharp, Bartender, Croc's 19th Street Bistro, Virginia Beach, Va.
"I'd say the best new vodka we have for our bar is the Ketel One Botanical made with cucumber and mint. It's featured in our Nurse cocktail and paired with lime and elderflower tonic. It has quickly become a hit! It's so light and refreshing and [is]a perfect go-to for this spring and summer." —Ronnie Lopez, Lead Bartender, Causwells, San Francisco