Nothing screams summer vibes like a good old-fashioned tiki drink to get the party started. Here at VinePair, we have a strong affinity for rum-based, neon-colored cocktails to make it feel like mid-July, no matter what the weather outside says. Tiki drinks are a state of mind, #amiright?
We've rounded up 12 of the most delectable, fruit-forward, and, of course, boozy tiki drinks to warm you up and get you in that summer mentality no matter where you are. We'll cheers (or in Hawaiian, kāmau kī!) to that!
We're sticking to the basics with this rum & pineapple juice-based cocktail, the OG Tiki, if you will. Plus, the bitterness from the Campari perfectly balances the sugar in the juices.
Don't Miss A Drop
Get the latest in beer, wine, and cocktail culture sent straight to your inbox.
We love the incorporation of Falernum, a sweet Caribbean syrup used in local tiki drinks. Its dominant flavors of ginger and baking spices play gorgeously off the various rums in the cocktail. Drink like a local and sip the leftovers on the rocks!
While there's no rum in this particular recipe, we couldn't help but be captivated by how gorgeous these flower-adorned cocktails looked. Plus, the recipe incorporates bubbly and two types of sorbet. What more could you want?
No matter what type of pain you're in, you're sure to instantly forget it after a few sips of this delicious rum and coconut milk cocktail. Grated nutmeg adds a savory, warming touch.
Does it get more Caribbean than this? We think not.
First of all, the name of this cocktail hooked us instantly, though the recipe wasn't far behind. The frozen banana ideally thickens the texture of the drink, while bitterness and sweetness are kept perfectly in balance.
While again, not rum-based, we're suckers for anything with smoky mezcal in it, especially when mixed with ginger beer. Smoky, spicy, and all-around delicious.
Nothing says vacation like a classic Bahama Mama. Coffee, coconut, and rum flavors — our three favorite things — all in one? We'll take two.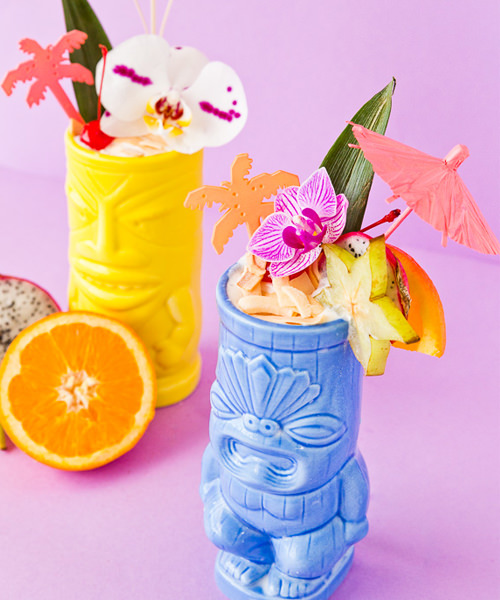 Everyone's favorite childhood ice cream memory makes a boozy, island-tweaked resurgence in this tasty tiki drink. Also, how adorable are these tiki mugs?!
Did someone say a gin-based tiki cocktail? We're never ones to turn down anything with gin in it, especially when it looks this tropical and delicious.
With three different fruit-flavored rums, this beverage definitely packs a punch to your tiki mug. We'd recommend sipping sloooowly…
Between the name, the color, and the ingredients in this cocktail, we already feel like we're at the beach before even having taken a sip! Channel your inner mermaid with a few of these turquoise tiki drinks.