While we are all about the integrity of the craft here at VinePair, let's be honest — our heads can often be turned by a gorgeous presentation. So, if you're looking to get in the game of aesthetics-focused home bartending, this list is for you.
Some of these recipes flaunt technicolor ingredients, intricately layered builds, and bubbly theatrics. Some are classics with enduring appeal — like the perfectly pink Clover Club — while others, like the Miami Vice, grab your attention with their playful, over-the-top looks. And if you've ever visited Dante in New York City, you know how enticing a tray of fluffy, Campari-tinged Garibaldis with perfectly placed orange slices can look when approaching a table.
Whether you're hosting a summer soirée with Pinterest board-level decor or plotting your next social media drink flex, the stunning looks of these cocktails are sure to impress. Oh, and they taste damn good, too.
Don't Miss A Drop
Get the latest in beer, wine, and cocktail culture sent straight to your inbox.
The Garibaldi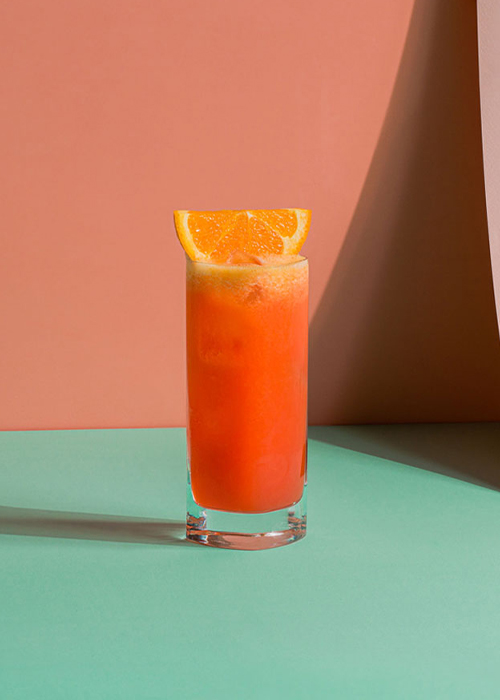 With just two ingredients, the Garibaldi might be the most low-lift way to bring coastal Italian vibes to any summer festivity. The intense hue of the Campari is mellowed out by freshly squeezed orange juice, which also adds a nice frothy texture to the drink. The recognizable red-orange color of the cocktail is actually thought to be an homage to the drink's namesake, Giuseppe Garibaldi, representing the red shirts his followers wore in their fight for liberation. An upside-down orange slice to garnish completes the iconic look. Photograph a few of these strategically under a beach umbrella and you could convince anyone that you're sipping one beachside on the Amalfi Coast.