If you've ever wanted to sip a magical elixir that gives you the strength of a royal warrior and the finesse of a smooth-talking con artist, it might be time for you to invest in a bottle of Drambuie. Though favored by princes and lounge singers alike, this herbal wonder somehow manages to stay subtly out of the spotlight. It's like that silent party-goer you dismiss on the rooftop terrace, but who you later find out owns the hotel.
Gaelic Battles And Humphrey Bogart
Here's the legend: Bonnie Prince Charles tried to take on Great Britain. He lost, and was subsequently chased across Scotland by the King's troops. When the leader of Clan MacKinnon helped him escape, Charles showed his thanks by handing over the recipe for his secret personal dram: a sweet, spiced whisky formulated to increase vigor and vitality.
The recipe found its way to the Broadford Hotel, where the owner started serving it to his guests. People called it "The Drink That Satisfies," or "An Dram Buidheach" in Gaelic. The nickname Drambuie stuck, a distillery was established in Edinburgh, and the spirit took off. Drambuie became the first liqueur stocked in the House of Lords, and later made it all the way to the cellars of Buckingham.
Don't Miss A Drop
Get the latest in beer, wine, and cocktail culture sent straight to your inbox.
During Prohibition, Drambuie carved a niche in America because it was able to beautifully mix in with bootleg spirits and tame their rough edges. This naturally led to its most widespread usage in a little cocktail called the Rusty Nail, enjoyed in copious amounts by the fine gentlemen of the Rat Pack in NYC. So we can thank Bogart and Sinatra, at least in part, for Drambuie's permanent seat at the bar.
Tasting Notes
What is Drambuie? Basically, it's a blend of several different Scotch whiskys, infused with a smattering of spices, herbs, and Scottish heather honey. We know the recipe includes cloves, and apparently some saffron…but beyond that, it's top secret.
Appearance
The color is a rich amber, inlaid with a golden glow that catches the light nicely.
Nose
You'll find a cozy blanket of baking spices, honey, dried fruit, and a very light breeze of Scotch in the background.
Taste
Honey and flowers immediately hit the palate. Then it slips into sultry demerara sugar, vanilla, clove, and cardamom.
Body
Smooth and soft, weighted like a light honey syrup. It deftly coats the mouth, with a soft warmth that never burns.
Finish
Here it's all sugarcane and delicate spice. The mild, tacky sweetness of fresh chewing gum lingers on for a few moments.
Standard Cocktails
When we talk about mixing Drambuie, there's really only two words you're going to hear: Rusty Nail. A simple mix of Drambuie and Scotch, it's what put this bottle on the map. But there has to be more to it than that, right?
If you cruise through Drambuie's website, you'll find a lot of variations on established cocktails. There's riffs on the Nail itself, like the Bitter and Twisted Nail, which introduces Campari to the standard recipe. Then there's classic fare like the Old Fashioned, which you can dress up with Drambuie and brown sugar syrup for a richer spin.
But let's move on to bigger things.
Cocktails To Try
Let me get it out of the way right now: I'm not a fan of sweet cocktails. As with my humor and my heart, I like things dry and bitter. That said, I was intrigued by the many layers that Drambuie has to offer, and conceded to its sweet charms long enough to explore some new creations.
Drambuie + Hard Cider
This is like a Sidral Mundet apple soda poured over a bagfull of spices. Freshly brewed chai adds some depth, while a splash of lemon brightens things up. You've basically got autumnal flavors dunked in a bubbly summertime sensibility. I'd recommend cold-brewing the tea for a more concentrated kick.
Ingredients:
1 oz Drambuie
1 1/2 oz black masala chai (no milk)
1 tsp lemon juice
3 oz dry hard apple cider
Build in a glass with plenty of ice, and top up with the cider.
Drambuie + Ginger Beer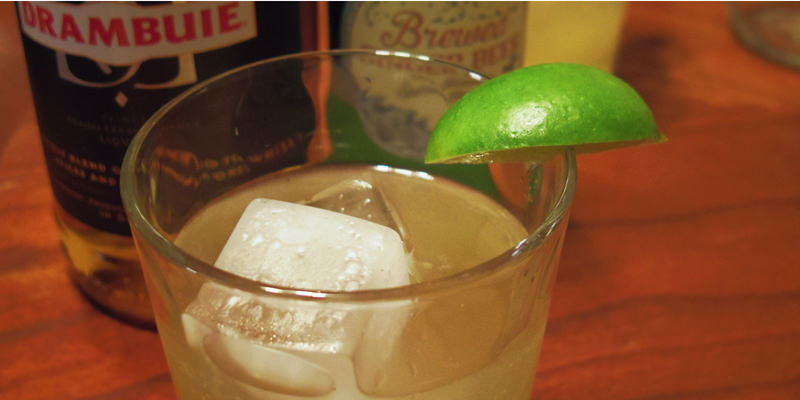 This is mostly a Mule, but with Drambuie and green tea it becomes a different beast. The tea actually tones down the ginger more than I'd like. Still, honey notes ring loud and clear, and with the herbal tones, this lands halfway between hard candies and cough drops—but you know, in a good way.
Ingredients:
1 oz Drambuie
1 oz green tea
3 oz ginger beer
fresh lime
Pour over ice, then squeeze the lime wedge and drop in.
Drambuie + Cold Brewed Coffee
A liquid chocolate-orange truffle. It offers a smooth and luxurious mouthfeel, with flavors of saffron and allspice wandering beneath its toplayer of rich sweetness. Next time you're having boozy brunch, mix up one of these silky little numbers. Hair of the dog never felt so good.
If you're looking to make your own cold brew, Stumptown has some tips on different methods you can use. I've had decent results with a French Press, but in this case I just used some ready-made concentrate from Trader Joe's. Because I'm a cheater.
Ingredients:
1 oz Drambuie
3 1/2 oz cold-brewed coffee concentrate
2 dashes orange bitters
orange zest
Fill a glass with rocks. Bitters first, coffee second, Drambuie third. Press and twist the orange peel over the surface, then let it fall.
Drambuie + Cola
We've got some deep, dark undertones going on here, especially due to the heavy dose of bitters. On the first sip you'll find heavy sugarcane sweetness, nipped by the sharp, tart lime. Then herbs wash through, with lots of cardamom surfacing at the finish. You'd never know there's booze in here, but there's a complexity that makes this cola feel real grown up.
Ingredients:
1 oz Drambuie
1/4 oz Angostura bitters
4 oz Mexican Coca-Cola
fresh lime
Pour everything in a big glass of ice cubes. Hell, double the recipe. Squeeze in a big wedge of lime. Ahh.