The underappreciated Chenin Blanc grape is in its element in France's Loire Valley. With perhaps the exception of South Africa, no region comes close in terms of quality and diversity in Chenin-based wines.
Surprisingly, it turns out that there is almost as much production of Chenin Blanc as the region's other well-known white varieties: Sauvignon Blanc and Melon de Bourgogne (the latter is the grape of Muscadet wines and edges out the other two just slightly in volume of grapes grown).
While Loire Valley Sauvignon Blanc is almost synonymous with Sancerre, and Muscadet has its place in the realm of fresh, relatively inexpensive whites, Chenin Blanc and its most famous appellation — Vouvray — don't quite have the buzz they deserve.
Don't Miss A Drop
Get the latest in beer, wine, and cocktail culture sent straight to your inbox.
But Vouvray, in its best examples, is at or near the pinnacle of Loire Valley wines (white or red) and is well worth getting to know.
The Vouvray appellation lies in the middle of the Loire Valley, just outside Tours on the north bank of the Loire River and just across the river from Montlouis, which produces nearly identical wines but is less familiar.
The Chenin Blanc grape is sometimes compared with Chardonnay: The two are similar in body and, like Chardonnay, Chenin Blanc is often aged in oak barrels. But the fruit profile is different, with Chardonnay leaning toward tropical fruit notes and Chenin toward apple and pear.
Like the best Chardonnays, the top Chenins from Vouvray have something else: a pronounced minerality from limestone, clay, and calcareous soils that, along with lively acidity, gives them texture and balances their generous fruit profile. Without it, the wines can be cloying and mundane, as a few that I tasted were.
Unlike Chardonnay, which is always dry, there are four distinct styles of Vouvray: dry (sec), off- or medium-dry (tendre), sweet (demi-sec), and very sweet (moelleux). The wines I review below are all dry to off-dry, the latter considered the classic Vouvray style that pairs with many foods, including all kinds of fish and chicken recipes as well as Asian and Indian dishes. With a bit of residual sugar, they hold up well to the assaults of spicy and hot foods.
Beyond those styles, many wineries also produce sparkling Vouvrays, which are made in the traditional method. In fact, about half the Chenin Blanc grapes grown in Vouvray go into sparkling wines, which can be delicious and deserve more attention in this country.
Here are eight top Vouvrays from France's Loire Valley.
Château de Montfort Vouvray 2020
Made in an off-dry style, there's a touch of gunflint on the nose, followed by pear and stone fruit notes, especially apricot, on the palate. Aged in stainless steel tanks, this one grew on me, opening up to reveal complexity beyond the generous fruit it showed at first. It's also an excellent under-$20 value.
Price: $19
Buy This Wine
Domaine des Aubuisières Vouvray 'Le Petit Clos' 2021
"The fruits of summer," I wrote in my notes about this dry Vouvray made from organically grown grapes. Flavors of white peach, pear, and a hint of orange are joined by a chalky minerality and a touch of cream on the finish. The wine's texture stems in part from fermentation and aging in amphorae. The clay vessels go back to the ancient Greeks and Romans and are being used increasingly in modern winemaking with exciting results.
Price: $22
Buy This Wine
Vignoble Alain Robert Vouvray 'Les Charmes' 2021
The estate was started by Catherine and Alain Robert in 1973 with just five acres under vine, and has since expanded to more than 90. This light and bright Vouvray has exceptional balance with red and green apple notes, lemon-lime, and hints of cinnamon and ginger. There's great length on the mineral finish. Another real Vouvray bargain.
Price: $20
Buy This Wine
François et Julien Pinon Vouvray 'Les Trois Argiles' 2018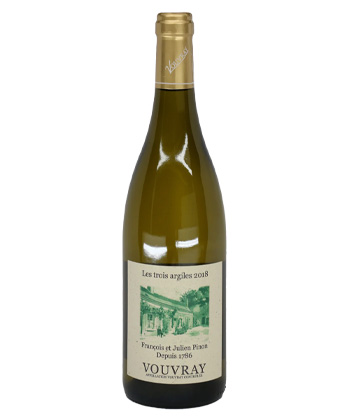 This stellar Vouvray is just slightly off-dry and has aromas of flint and wet stone. Pear dominates on the palate, with subtle notes of mint and caramel in the background, the latter from partial aging in barrels. There's an underlying minerality. The wine has a nice softness from a few years of bottle age and, like many top Vouvrays, will continue to evolve for a number of years. Pinon is one of Vouvray's stars. The estate has been certified organic since 2011 and is run today by Julien Pinon. His father, the legendary François Pinon, died in 2021.
Price: $27
Buy This Wine
Domaine Huët Vouvray 'Le Haut-Lieu' 2022
Huët is perhaps the most famous name in Vouvray (and the Loire Valley), and this dry wine is young but delicious with years of potential ahead of it. It announces itself with a touch of pink grapefruit on the nose and palate, followed by melon and honeysuckle notes. There are hints of butterscotch, green olive, and saline. A refined and elegant wine from biodynamically grown grapes that lives up to its name. Le Haut-Lieu is the domain's original 22-acre vineyard. The winery, founded in 1928 by Victor Huët, has been principally owned by Anthony Hwang, a New York businessman, since 2002.
Price: $38
Buy This Wine
François Chidaine 'Les Argiles' Vin de France 2020
Chidaine is another superstar of Vouvray and this wine is all the proof you need. It's a luscious wine with peach, pear, and almond notes with refreshing hints of menthol and eucalyptus. As it opens up and warms slightly, its wonderful complexity emerges. Chidaine has been in a dispute with the Vouvray wine authorities (remember, they are rigid in France) over his aging practices; hence the "Vin de France" designation. No matter, this is phenomenal Vouvray even if the label can't call it that.
Price: $33
Buy This Wine
Domaine du Facteur Vouvray Extra Brut NV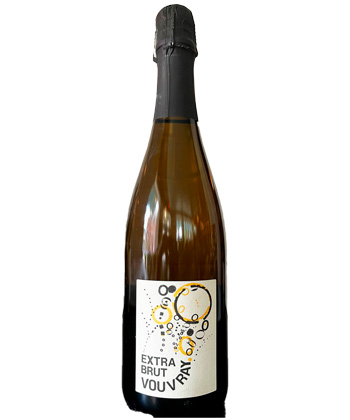 With green apple, stone fruit, and lemon-lime flavors, this is a beautiful example of sparkling Vouvray, in this case "extra brut," or very dry. Zippy acid tension is balanced by just the right amount of brioche that softens the wine and gives it a nice creamy finish. Made by Fabien Brutout, a young winemaker farming biodynamically, it shows how sparkling Vouvray can be a great, less-expensive alternative to Champagne.
Price: $26
Buy This Wine
Champalou Vouvray Brut NV
This is another great example of why the Loire Valley produces some of the best French bubbly beyond Champagne. It starts off with aromas of just-baked bread, citrus, and herbs. On the palate, lemon-lime, green apple, and white peach flavors dominate with more of that bready creaminess on the finish. As in Champagne, several vintages are blended to produce the wine.
Price: $26
Buy This Wine
Next up: The Etna Biancos of Sicily.