You're in your favorite wine store and you're browsing the Italian wine aisle. You come across the red wines from Piedmont in Italy's northwest. There will be some wines from Barolo and Barbaresco, the famous denominations you might have heard of and tried. Maybe some Dolcetto or Barbera. You might also see a Langhe Nebbiolo or two.
So, just what is Langhe Nebbiolo? As the name tells us, it's a wine made from the Nebbiolo grape, the signature red variety of Piedmont and the same grape used in Barolo and Barbaresco.
The difference is that Barolo and Barbaresco refer to the more specific, rarefied sites within the broader Langhe region of Piedmont, while Langhe Nebbiolo wines can come from anywhere within Langhe. That's one distinction. Another is that a Barolo or Barbaresco producer may decide to bottle Nebbiolo from younger vines, or use grapes that don't quite meet their standards for the more celebrated wines. These wines can be "declassified" as Langhe Nebbiolo.
Don't Miss A Drop
Get the latest in beer, wine, and cocktail culture sent straight to your inbox.
In any event, Langhe Nebbiolo gives us the chance to experience the great Nebbiolo grape at prices far below those of Barbaresco and Barolo, and sooner, since Langhe Nebbiolos tend to be more accessible earlier; there are lots of 2021s, 2020s, and 2019s around right now.
You'll find that they can be quite tannic, although the "chewiness" tends to soften with time in the bottle or swirling around in your glass. Decanting some of the more aggressive wines is a good idea.
Langhe Nebbiolos, like Barolos and Barbarescos, have a signature earthiness, which makes them phenomenal food partners, especially with all kinds of meats and umami-rich dishes. Mushrooms in just about any iteration are also a natural companion. Don't be fooled by their often-light color; these are wines with considerable power, and alcohol levels that typically fall at 14 or 14.5 percent. They tend to be in the $25 to $35 range.
"I think it's a very important category because it's helping many new consumers start understanding, enjoying, and, at the end of the day, falling in love with Nebbiolo," Stefano Gagliardo, an owner and the winemaker of the Gianni Gagliardo winery, tells VinePair.
His wines, including a range of Barolos, are approachable and elegant even in their youth, which Gagliardo strives for. This differentiates his wines from many that have an initial toughness that requires considerable bottle age. Another distinction: He does not declassify wines that are not up to his standards for Barolo. "My customers, when they buy a wine," he says, "I want them to buy the first selection of what I do, and not a second choice or something else."
Here are six Langhe Nebbiolos worth trying:
Gianni Gagliardo Da Batiè Langhe Nebbiolo 2019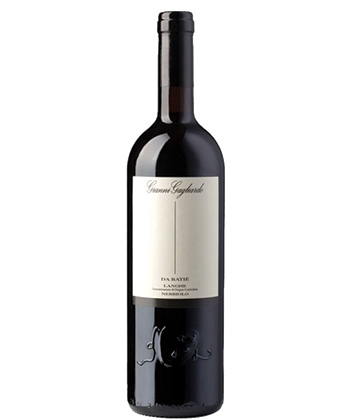 Gianni Gagliardo grows the grapes specifically for this superb wine in one of its vineyards in the Roero area. While this region is best known for the white wines made from Arneis, the reds can be called Langhe Nebbiolo. The grapes are grown organically in sandy soils, which helps produce a warmer microclimate. The wine is aged for a few months in stainless steel before bottling, with no exposure to oak barrels. The 2019 is complex and beautiful, with floral, forest floor, and meat aromas and overripe strawberry on the palate.
Price: $31
Buy This Wine
Barale Fratelli Langhe Nebbiolo 2021
A producer of both Barolo and Barbaresco, Fratelli also makes a Langhe Nebbiolo with lots of depth and detail. While still a bit young with "chewy," tannins, the 2021 shows raspberry and tart cherry flavors along with secondary notes of red licorice, earth, and a hint of ground cumin. With its bright acidity, it was a refreshing counterpoint to a late-night dinner of wild mushroom ravioli drizzled with sautéed garlic and sage in olive oil.
Price: $27
Buy This Wine
Paitin Langhe Nebbiolo 'Starda' 2021
Like many wineries in the region, this Barbaresco producer dates back more than a century and makes this well-priced Langhe Nebbiolo from organically grown grapes. The wine is aged in older oak barrels, lending minimal wood influence to the flavor profile. Moderately tannic with red fruits and violets on the nose, the palate reveals spiced cherry and slightly tart raspberry notes. Lively acidity makes it another excellent food wine.
Price: $23
Buy This Wine
Giacomo Fenocchio Langhe Nebbiolo 2021
From young vines, this is a beautifully balanced wine from a longtime Barolo producer and is drinking well right now. Beyond cherry, it also shows darker fruit flavors, including blackberry and blueberry, along with earth and mineral notes and hints of tobacco. It's aged in stainless steel and large Slavonian oak casks, which serve to oxygenate the wine rather than to impart any significant wood flavors.
Price: $25
Buy This Wine
Massolino Langhe Nebbiolo 2020
The Massolino winery, which dates back to 1896, makes a large range of wines including Barolos, Barbarescos, and this exquisite Langhe Nebbiolo crafted from grapes from several areas in Langhe. It's refreshingly acidic with red fruit notes, including cherry and pomegranate, accented by hints of fennel seed, cinnamon stick, and leather. It's drinking nicely right now and will continue to evolve.
Price: $27
Buy This Wine
La Spinetta Langhe Nebbiolo 2020
This earthy wine is a blend of grapes from La Spinetta's three Barbaresco vineyards and is characterized by dark berry fruit aromas and flavors along with dried mushrooms and seared meat. It's all framed by dusty tannins and a steely minerality. A bit brooding at first, it opens up nicely in the glass, but decanting will move things along more quickly.
Price: $22
Buy This Wine
Next up: White wines from Spain's Rioja