The Story Behind The Painkiller
The Painkiller was first made in the British Virgin Islands with Pusser's Navy Rum. You may notice it on menus with the numbers #2, #3, and #4 after its name; that indicates how many ounces of rum are used.
It's essentially a boozier Piña Colada, and is sure to drown any and all sorrows.
Ingredients
2 to 4 ounces of Pusser's Navy Rum

4 ounces unsweetened pineapple juice

1 ounce freshly squeezed orange juice

1 ounce cream of coconut
Directions
Combine ingredients in a cocktail shaker with plenty of crushed ice.

Shake well, and then pour entire contents of the shaker into your glassware of choice.

Top with generous sprinkle of nutmeg, and garnish with pineapple fronds and an orange wedge.
Rate This Recipe:
Yield: 1
Calories: 262
Updated: 2022-06-01
---
Related Reads & Recipes
Learn About Rum
· Rum 101
· Our always updated list of the best Rum to buy right now!
More Rum Recipes To Explore
The Hibiscus Colada Recipe:
A spin on the classic Pina Colada, this tiki cocktail is easy to make at home. It combines rum, coconut yogurt, and homemade hibiscus syrup. Learn how to make it!
Mai Mojito Colada Recipe:
This cocktail is the perfect mashup of a Mojito, a Piña Colada and a Mai Tai, perfect for helping you imagine yourself in a hammock on a beach somewhere.
The Secret Life of Plants Recipe:
This sophisticated rum cocktail comes from Hey Love, a bar in Portland, OR, and features mango and Oolong tea. Learn how to make it with this recipe.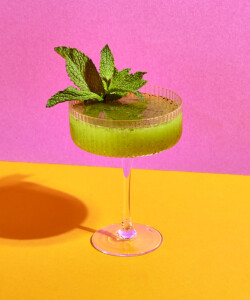 The Missionary's Downfall:
More than just an evocative name, the Missionary's Downfall is a souped-up Daiquiri with a vivacious blend of ingredients. Check it out here!
Ti' Punch:
Ti' Punch is a simple, easy-to-make drink that showcases the grassy, nuanced flavors of rhum agricole. Check out the recipe here!