The Story Behind The Oaxacan Ginger Toddy
Mezcal is a perfect liquor for a Hot Toddy, as you'll still get smokiness and warmth from the spirit. Try this one that features chartreuse and heavy cream.
Ingredients
1 ounce Vamonos Riendo Mezcal

½ ounce yellow chartreuse

1 sugar cube (or teaspoon of white sugar)

1 bag ginger tea

Heavy cream
Directions
Add mezcal and yellow chartreuse to a 6 oz Toddy glass. Fill 60 percent of the way up with hot water and add a bag of ginger tea and sugar cube.

Steep for 4 to 5 minutes.

Remove bag and top off with more hot water.

To garnish, float hand-shaken heavy cream over the top of the drink.

For an optional garnish, grate dehydrated lemon zest over the cream.
Rate This Recipe:
Yield: 1
Updated: 2021-01-28
---
Related Reads & Recipes
Learn About Mezcal
· Our always updated list of the best Mezcal to buy right now!
More Mezcal Recipes To Explore
The Pineapple Mezcal Sour Recipe:
The fresh, earthy notes in the mezcal pair wonderfully with the pineapple juice's natural sugars, while agave and lemon juice bring balance to the cocktail.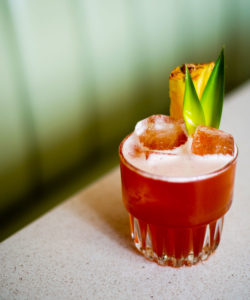 The Lawn Flamingo Recipe:
Checking all the flavor boxes, Brooklyn beverage director Sarah Boisjoli mixes sweet, tart, and savory with pineapple and lime juices, blackstrap rum, mezcal, Campari, and simple syrup. Learn how to make her recipe here.
Tabaré's Lover's Margarita:
Tabaré's Lover's Margarita is elevated by humble ingredients and a touch of spice for a perfect balance of soft citrus and smoky agave.
The Down in Flames Recipe:
From Normandie restaurant in Portland, Ore. comes this boozy rye and mezcal cocktail akin to a smoky Old Fashioned. Learn how to make it with this recipe!
The Diamond Paloma Recipe:
This riff on the classic Paloma cocktail features mezcal and was inspired by a Miami Beach hotel. Learn how to make it with this easy recipe.