The Story Behind The The Green New Deal
This cocktail created by Tyler Moschler of Bricolage NYC is perfect for the summer-to-fall transition. It's tart yet subtly sweet, combining gin with yellow chartreuse, lime juice, green apple, and pinches of cilantro and mint.
Ingredients
1 ½ ounces gin

½ ounce yellow chartreuse

¾ ounce lime juice

½ ounce simple syrup

5 slices Granny Smith apple

1 pinch cilantro

1 pinch mint
Directions
Muddle four apple slices and herbs in a cocktail shaker.

Add all other ingredients to shaker and ice, and shake to combine.

Strain and pour into a Nick and Nora glass.

Garnish with fresh green apple slice.
Rate This Recipe:
Yield: 1
Updated: 2019-10-12
---
Related Reads & Recipes
Learn About Gin
· Gin 101
· Our always updated list of the best Gin to buy right now!
More Gin Recipes To Explore
The Cadillac Swizz Recipe:
From Bibo Ergo Sum in Los Angeles comes this vibrantly colored cocktail featuring gin, mezcal, and fresh carrot and lime juices. Learn how to make it with this recipe.
Singapore Sling:
Get our recipe for a great Singapore Sling. Learn everything you need to know to make a perfect Singapore Sling.
The Winter Citrus Spritz:
Put lemons, blood oranges, clementines, and other winter citrus to work in this bright, refreshing spritz. Get the recipe here.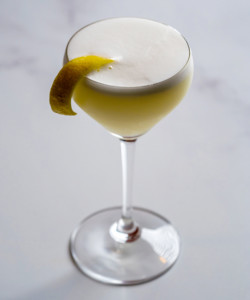 The White Lady Recipe:
One sip of the White Lady, and you'll see why she's persisted for so long on the menus of cocktail bars worldwide. Here's the recipe!
The Rosy Gin Punch Recipe:
This easy gin cocktail can easily be batched to serve a crowd. Learn how to make it with this recipe from cocktail columnist Natalie Migliarini.