The Story Behind The Second Summer
Sparkling cocktails can fit any season. In this case, forget winter ever came. The Second Summer recipe features equal parts cranberry juice and Prosecco, plus gin and orange-flavored liqueur. Make it seasonal with a wintry sprig of rosemary or your favorite piney herb.
Ingredients
3 ounces cranberry juice

1 ounce gin, such as Distillery 209

½ ounce orange-flavored liqueur, such as Cointreau

3 ounces dry Prosecco, such as Mionetto Prosecco Brut

10 cloves

1 bunch of fresh rosemary sprigs

Juniper berries
Directions
Fill shaker with several ice cubes.

Combine cranberry juice, gin, Cointreau, cloves, and one rosemary sprig in shaker.

Shake until well combined.

Fill a drinking glass ⅔ way with crushed ice.

Strain contents from shaker over ice.

Top with Prosecco.

Garnish with a sprinkle of juniper berries, clove, and fresh rosemary.
Rate This Recipe:
Yield: 1
Updated: 2019-12-12
---
Related Reads & Recipes
Learn About Gin
· Gin 101
· Our always updated list of the best Gin to buy right now!
More Gin Recipes To Explore
Milady's Big Apple Martini:
Combining 4 types of alcohol, the Big Apple Martini packs a punch with bright, acidic apple blending with oaky warmth. Get the recipe here!
The Pineapple-Basil Highball Recipe:
Bright and aromatic, this summer highball mixes gin and fresh basil with fresh lime and sparkling water. Learn how to make it with this recipe!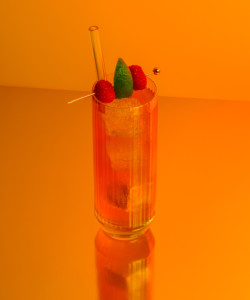 The Floradora Recipe:
This pretty-in-pink covers all the bases of the perfect refresher: tart, summery, a little spicy, and sessionable.
The Bronx:
A shaken mix of gin, two types of vermouth, and orange juice, the Bronx enjoyed massive popularity in the early 1900s. See the recipe here!
The Pumpkin Spice Gin Sour Recipe:
Classic autumnal flavors just happen to be the perfect complements to gin, as exemplified in this sweet and spiced riff on the gin sour.
The Colonial Cocktail Recipe:
Gin, Aperol, and sparkling wine come together in this bright, bubbly cocktail from NYC cafe Shoo Shoo. Learn how to make the recipe here.