The Story Behind The Mezcal Martini
Mexican spirits are Khan's bread and butter, so it's no surprise that his Martini variation includes mezcal and tequila rather than gin or vodka. A pickled jalapeño garnish adds a slight brininess and a kick to complement the smokiness of mezcal.
Ingredients
25 milliliters Tequila Ocho Blanco

25 milliliters mezcal joven (espadín)

25 milliliters bianco vermouth

25 milliliters distilled water

Garnish: pickled jalapeño
Directions
Premix the cocktail in a large batch and store it in a freezer set to 19 degrees Fahrenheit.

When ready to serve, pour the cocktail into a chilled Martini glass.

Garnish with a pickled jalapeño.
Rate This Recipe:
Yield: 1
Updated: 2022-06-21
---
Related Reads & Recipes
Learn About Mezcal
· Our always updated list of the best Mezcal to buy right now!
More Mezcal Recipes To Explore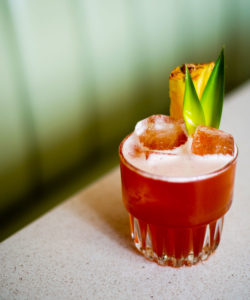 The Lawn Flamingo Recipe:
Checking all the flavor boxes, Brooklyn beverage director Sarah Boisjoli mixes sweet, tart, and savory with pineapple and lime juices, blackstrap rum, mezcal, Campari, and simple syrup. Learn how to make her recipe here.
The Berry-Mezcal Colada Recipe:
Instantly transport yourself to tropical temperatures with this decadent cocktail, made with mezcal, coconut, and fresh citrus.
The Diamond Paloma Recipe:
This riff on the classic Paloma cocktail features mezcal and was inspired by a Miami Beach hotel. Learn how to make it with this easy recipe.
The Solar Spritz Recipe:
Mezcal, Prosecco, and citrus liqueur combine in this elegant, easy-drinking sparkling cocktail. Learn how to make it with this recipe.
The El Murcielago Cocktail Recipe:
From Portland beverage professional Beau Raymond comes this boozy sour with a velvety texture, featuring mezcal, tequila, and more. Learn how to make it with this recipe.