In case you've been living under a rock, tequila is having a moment right now, and it's a major one. And with the spirit's on-premise sales set to soon overtake vodka and new labels popping up seemingly every week — along with the growing popularity of ready-to-drink cocktails — it's no surprise that many brands are making tequila the star of their canned offerings, too.
While it can be satisfying to take the time to juice our own citrus and whip up a fresh cocktail, sometimes it's just easier to just reach for one that's already been prepped for you. With this abundance of canned tequila drinks on the market, we did our due diligence and sampled dozens to determine our favorites — with one caveat. As there are almost too many ready-to-drink Margaritas out there to count, we've dedicated a separate round-up to our favorite RTD and RTS Margs.
So, Margs aside, here are 10 of the best canned tequila drinks to sip on right now.
Epic Western Ranch Water
If you're in the market for a straight-up, no-frills combination of tequila, sparkling water, and lime juice, this can holds the platonic ideal. The lime juice is zippy and tart, and complements the pleasantly present tequila perfectly. A salted edge rounds out every sip, and the drink's carbonation tickles your nose just like Topo Chico does. In fact, if you blindfolded us and said a bartender made this Ranch Water fresh, we'd believe you. Bubbly, refreshing, and canned at 8 percent ABV, this option packs a punch.
Onda Tequila Seltzer, Pineapple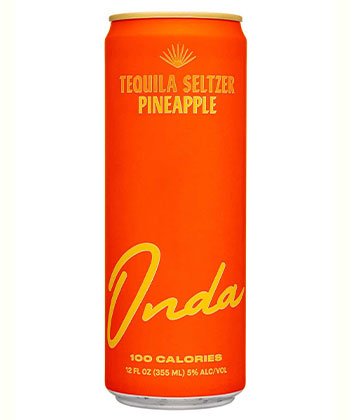 While celebrity-backed tequila brands often get a bad rap, actress Shay Mitchell's Onda Sparkling Tequila Seltzers are a boozy breath of fresh air. The line's pineapple flavor leads the charge, bursting with tangy, fresh pineapple juice complemented by vegetal green agave flavors. If a Tequila Pineapple is your go-to dive bar drink of choice, you'd be hard-pressed to taste the difference between one made fresh and what's housed in Onda's bright red packaging. Also a welcome surprise was the line's coconut flavor, which dodges the often-aggressively cloying nature of many coconut-inspired sips, instead providing the palate with a delightful impression of fresh coconut shavings.
High Noon Tequila Seltzer, Grapefruit
Launched in March 2023, High Noon's line of tequila seltzers — which includes flavors lime, grapefruit, strawberry, and passion fruit — are the RTD giant's first foray into tequila. Impressing us the most was the grapefruit expression, which greets you with wonderful aromas of ripe, juicy grapefruit. For those who aren't looking for a strong tequila taste, this is a more subtle option. The grapefruit flavor dominates on the palate with a hint of vegetal agave lingering on the finish. With tame carbonation, High Noon's Grapefruit Tequila Seltzers are easy-drinking and perfect for sessionable sipping.
Straightaway Cocktails Paloma
Clocking in at 10 percent ABV, this boozy option that tastes like a properly made Paloma should. The tequila notes are weighty on the palate, serving the taste buds hints of mineral and fruity agave notes elevated by a saccharine punch of grapefruit soda. Tangy citrus blossoms across the tongue, with a profile remarkably similar to that of Squirt, the grapefruit soda favored by many bartenders.
Tequila Cazadores Ready-to-Drink Paloma
Admittedly, Tequila Cazadores' Paloma is heavy on the vanilla flavor and a bit sweeter than we'd typically opt for, but it remains objectively delicious. The palate is welcoming and avoids the harsh bitterness of grapefruits that may turn people off from the idea of a Paloma. With a Creamsicle-esque tilt, Cazadores' Paloma is a more decadent version of the classic.
Betty Booze Sparkling Tequila with Lime Shiso
Just as lime and mint complement rum in a Mojito, shiso and lime play well with tequila in Betty Booze's Sparkling Tequila with Lime Shiso. The lime note is incredibly juicy, and shiso's mild astringency gives the cocktail a blooming green note that prevents it from feeling flat.
Cutwater Ranch Water Lime
If you're someone who thoroughly enjoys the taste of tequila in their glass, this is the canned cocktail for you. Straightforward and approachable, Cutwater's Ranch Water delivers exactly what it promises: a balanced combination of tequila, soda water, and a hint of lime juice. With no cloying artificial sweetness on the palate, Cutwater is a solid choice for a low-fuss beverage.
Freshie Organic Tequila Seltzer, Blood Orange Habanero
If you see the word "habanero" and instantly fear that spice will dominate your palate, let Freshie's Blood Orange Habanero Tequila Seltzer change your mind. Rather than assaulting the taste buds with overwhelming heat, this seltzer's pepper gives the cocktail a vegetal note and a slightly warmed finish. The blood-orange flavor is relatively subtle, which makes for a clean-sipping, crushable canned cocktail for days spent under the hot summer sun.
Waterbird Tequila Pineapple
Juicy and mouthwatering, Waterbird's Tequila Pineapple is zippy and bursting with flavor. Acidic pineapple juice is neutralized by a salty note that also elevates the tequila's agave essence. With refined bubbles, the canned libation drinks similarly to a Tequila Soda with a splash of pineapple juice made fresh at your favorite dive.
Volley Tequila Seltzer, Zesty Lime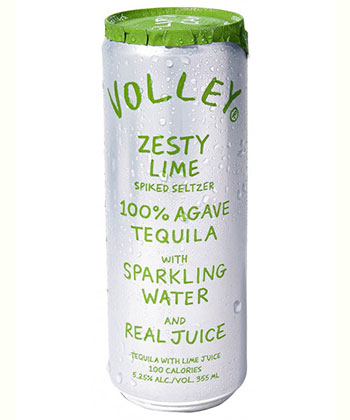 Rather than packing a loud punch, Volley's zesty Lime Tequila Seltzer acts more like pleasant background music to a relaxed night with friends. Straightforward and accessible, the seltzer delivers tart lime juice with a salty finish. For a lower-ABV cocktail to sip at the end of a long day, this is the perfect pick to crack open.