With Cinco de Mayo behind us and summer's long, hot days just around the bend, there's never been a better time to enjoy the age-old combination of tequila and lime juice. Perfect for quaffing during afternoons spent under the scorching sun, Margaritas are undoubtedly the quintessential summer cocktail, with frozen, fruity, and floral versions a plenty.
That said, sometimes it's easier to reach for a sipper that's already been prepared and packaged when you're headed out for a day in the park. With a market full of options, we tasked ourselves with tasting a huge selection of ready-to-drink and ready-to-serve Margaritas to figure out our favorites. Here are 13 of the best RTD and RTS Margaritas to drink this summer.
Table Of Contents
The Best Canned Ready-to-Drink Margaritas
Tequila Cazadores Ready-to-Drink Margarita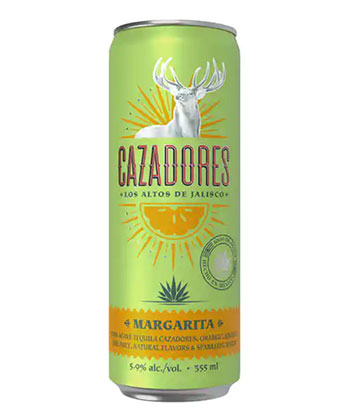 You're probably familiar with Cazadores' stag-clad tequila bottles, which are a mainstay on back bars across the country. Tequila Cazadores' bright green, canned ready-made Margarita displays the same proud animal, and is bustling with lovely effervescence and zippy lime juice. Subtle vegetal notes blend with light and refreshing acidity, and at just 5.9 percent alcohol by volume, this is a sessionable pick for drinking in the sun.
Golden Rule Spirits Margarita Original
This is a Margarita for the purists out there. With a delightful citrus taste and a balanced string of sweetness, there's nothing artificial about this RTD. One thing to note: There's definitely a subtle heat to this offering, so we recommend serving it over ice for the best experience.
JuneShine Spirits Spicy Tequila Margarita
If a Spicy Marg is more your speed, you'll definitely want to reach for the Spicy Tequila Margarita from JuneShine. While it's certainly meant for the spice lovers, the jalapeño flavors are incredibly well integrated and taste as if the pepper were freshly meddled in the can. Bright, blooming citrus emboldens the palate, and if you prefer your Margs with a salted rim, you'll love the hint of salinity that complements the lime juice. Vegetal and delicious, you'll want to sip on this all summer.
Ranch Rider Spirits Margarita
​​Somewhere between a hard seltzer and freshly made Margarita lies this zippy RTD. With a nice level of tartness, it's not too sweet, but not too sour — a nice and crisp drink that welcomes the next sip. Bring it to a pool day or a pregame — either way, it's sure to be a hit.
Tip Top Margarita
Tip Top Proper Cocktails never fail to impress us, and this Marg is no exception. It's undeniably strong in flavor — it calls for lots of ice and perhaps an extra squeeze of lime — but this is a well-made Margarita that could easily pass as being freshly made by an expert mixologist.
Straightaway Margarita
For a pre-packaged Marg that looks as great as it tastes, Straightaway hits the nail on the head. This one offers mild heat, offset by the tongue-tingling smokiness of mezcal. A bright lime zip and a hint of sweetness balance everything out.
Dos Equis Mango Margarita
Nailing a mango-flavored product is hard to do, but man, does Dos Equis do it right with its canned Mango Margarita. Juicy mango aromas burst from the can immediately upon opening, and the palate follows with fresh mango flavors dancing across the taste buds. Despite being packaged in slim cans, this Margarita is non-carbonated, which lends itself to a light and refreshing mouthfeel. It's especially easy drinking, and it may be tough to stop at just one.
Post Meridiem Real Lime Juice Margarita
Perfect for a near-traditional Margarita drinking experience, look no further than this option by Post Meridiem. Crammed into this mini 100-milliliter can is an incredible balanced Margarita jumping with tangy acidity. Made with real lime juice, the cocktail avoids skewing overly sour, and the tequila maintains a nice, long finish. Shake vigorously before opening and serve over ice to dilute the powerful 55 percent ABV.
Austin Cocktails Bergamot Orange Sparkling Margarita
A Margarita goes to the spa in this delightful citrus-flavored libation from Austin Cocktails. The nose flourishes notes of bergamot, and the palate follows with nuanced layers of fresh orange essence and a hint of salinity. Incredibly balanced, light, and sessionable, this canned cocktail could easily pass as a talented mixologist's fresh creation.
The Best Bottled Ready-to-Drink Margaritas
On The Rocks Cocktails (OTR) Margarita
On The Rocks Cocktails' Margarita, made with Hornitos Plata, is earthy and understated, and stands out from its peers with its relatively muted levels of lime and sweetness. The resulting Marg is great for those looking for a grassy, zesty Margarita in a bottle perfect for sharing with friends or sipping over a few weeks.
Olmeca Altos Tequila Altos Ready-to-Serve Margarita, Strawberry
From the beloved tequila brand — and packaged in the same bottle — Olmeca Altos Tequila's strawberry RTS Margarita is like summer in a sip. Its jammy strawberry flavor blends with a hint of vanilla on the nose before splashing across the palate, dousing the taste buds in a beautifully balanced and fruit-forward sipper. It's challenging to nail a strawberry flavor without tasting artificial, yet Altos executes it flawlessly. The finish imparts a lingering sweetness that will keep you coming back for more.
Batch & Bottle Milagro Margarita Ready-to-Drink Cocktail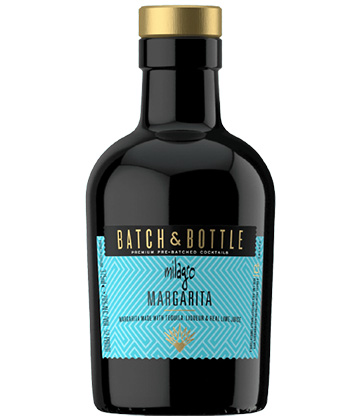 Batch & Bottle partnered with Milagro tequila for their latest pre-batched cocktail release. Delicate orange blossom and black pepper from the tequila meet a refreshing splash of acidity on the palate, providing a salty and refreshing sip. The pour leans a little more on the viscous side, so we recommend serving this one over ice and with an extra lime wedge.
The Best Seltzer Margaritas
Topo Chico Margarita Hard Seltzer Prickly Pear
OK, this Margarita-flavored seltzer isn't exactly a swap for your average Marg on the rocks, but its prickly pear flavors impart a bright floral essence that we love. Bubbly, light, and wildly refreshing, this is the hard seltzer for Margarita mavens.