Maybe you're roasting a chicken and want a rich white wine pairing. Maybe you love white Burgundy and the beautiful balance of thoughtful oak aging. Maybe you stole sips of your mom's buttery, ice-cubed Chardonnay as a teenager and are nostalgic for those flavors.
Whatever the reason you're seeking out a buttery Chardonnay, congratulations! You've come to the right place. Sure, the ABC —Anything but Chardonnay — club may still be swinging, but there's nothing wrong with preferring a richer style.
Read on for eight big, buttery Chardonnays that are totally delicious.
Eden Road "The Long Road" Chardonnay
Located in Murrumbateman, Australia, this winery highlights Australia's cool-climate wines. This wine balances buttery, spicy notes with flinty minerality, and really over-delivers for the price. Lovely with mushroom toast or risotto. Average price: $16.
Stag's Leap Chardonnay
Stag's Leap is a Napa icon, and its Chardonnay is quintessential Napa Chardonnay. Expect notes of vanilla and caramel, tempered with lemon curd, white peach, and freshly picked lilacs. This is the perfect cheese-pairing wine, but also lovely with roast chicken or seared scallops. Average price: $25.
Au Bon Climat "Los Alamos" Chardonnay
This is the perfect buttery Chardonnay to bring to a dinner party. Even if your fellow guests think they don't like oaked Chardonnays, they'll quickly appreciate how wonderfully it pairs with everything from cheese boards to light mains. Heck, with its viscosity and creamy coconut notes, this would even be good with burgers. Average price: $27.
Cakebread Chardonnay
Photographer Jack Cakebread ventured to Napa 30 years ago for work and fell in love with the region. Today, his wines are among Napa's most iconic bottles. This Chardonnay features Pippin apples on the nose and smoky, minerally flavors on the palate. Enjoy with a chicken panini or crab. Average price: $46.
Stuhlmuller Vineyards Reserve Chardonnay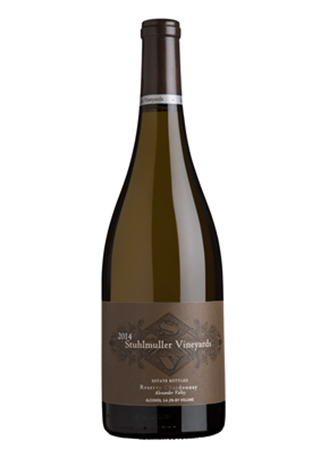 This Sonoma Chardonnay is sleek but rich, with notes of vanilla, baked apple, hazelnut, and perfectly ripe pear. Perfect for a creamy chicken dish or even a B.L.T. if you feel like a high-low pairing. This wine is made with the oldest Chardonnay vines in the Stuhlmuller estate vineyard to lend richness and power. Average price: $48.
Radio-Coteau "Savoy" Chardonnay
This organically grown Chardonnay from California's Anderson Valley is perfectly autumnal — think pie crust, baked golden apples, and brown butter. While it certainly goes well with richly sauced fish dishes and roast chicken, it will also be lovely with braised pork shoulder or a well-spiced vegetarian main. Average price: $58.
Far Niente Winery Napa Valley Estate Chardonnay
Chardonnay was the first grape cultivated by Napa's Far Niente in 1979. The Estate Chardonnay is classically Californian, with candied nuts, figs, and Madagascar vanilla on the palate, plus sweeping acidity to keep everything balanced. You can drink now or age for up to 10 years, if you'd like. Average price: $60.
Henri Prudhon & Fils Puligny-Montrachet "Les Enseignieres"
Burgundy is the ancestral home of opulent Chardonnay and this bottle, partially from 30-year-old vines and partially from 80-year-old vines, is no exception. While this is the priciest bottle on the list, it's still rather reasonable for Burgundy. This is a good bottle to buy two of — one to enjoy now, and one to cellar. Average price: $68.