Gone are the days when the canned cocktail landscape was limited to low-alcohol, artificial-tasting offerings.
Also known in the drinks business as ready-to-drink (RTD) beverages, canned cocktails have evolved in recent years to become one of the most diverse subcategories of drinks that can be enjoyed from portable packaging. There are bartender-quality options alongside crushable drinks that pack a hefty punch in the flavor department. Every style of cocktail you could possibly imagine (and more) can be found in RTD format.
To find the best canned and bottled cocktails, VinePair tasted dozens of options from more than 20 different producers. Some showed there's still room for improvement, but many surprised us with their high quality. While a few brands had several excellent contenders, we've selected the best product from each company to highlight the broadest range of brands worth trying.
It may be time to buy a bigger cooler because these 14 canned cocktails — at least — need to be sampled this summer.
ABV: 15%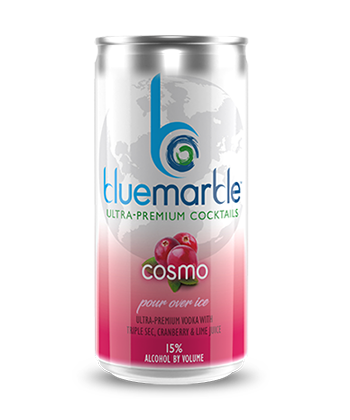 This petite, 200-milliliter can holds a potent Cosmopolitan. Orange aromas lead the nose, joined by cranberry and lemon on the palate, which is well balanced and concentrated. Blue Marble encourages drinkers to "pour over ice" on the packaging for this drink, and we agree that this Cosmo definitely benefits from the extra chill and even the slight dilution of a cube or two.
ABV: 4.2%

Bravazzi touts its line of canned hard beverages as "gourmet Italian sodas bursting with sun-ripened citrus flavor," and we couldn't put it better ourselves. Fresh clementine character flows through this hard soda, with waxy notes that are balanced out by refreshing bursts of sweet fruit juice. Bravazzi's entire lineup is incredibly crushable and the alcohol in each can is all but undetectable — this is a good thing, as long as you're keeping count.
ABV: 10%

This fruity take on the Bourbon Smash is an outlier: Most of the canned cocktails on the market use lighter spirits, such as tequila, vodka, or gin as their base alcohol, and those that do include whiskey lean toward a spirits-forward profile. While this cocktail showcases the rich character of bourbon, fresh spearmint and lemon notes ensure the drink tastes light and refreshing. For an even more refreshing take, add fresh mint and pour over ice.
ABV: 10%

This is not just a great canned cocktail, it's a fantastic Bloody Mary. The aromas are intense and inviting, even when sipped from the can. The palate has everything you expect from a brunch-worthy Bloody Mary: a rich, roasted tomato core; seasonings of savory celery salt; and a generous crack of fiery black pepper.
ABV: 10%

It's hard to pick a favorite from F!ve Drinks' lineup of canned cocktails, but the Margarita wins by a nose. In each of the brand's cocktails, the flavor continues to evolve from the moment it hits the palate through to a lengthy finish. In the case of the Margarita, it's a seasoning of hibiscus and habanero agave syrup that leaves a lasting impression (without overpowering). The canned cocktail landscape is awash with Margaritas — this just might be the best of them.
ABV: 7%

As any rum aficionado will explain, if you want to drink a bonafide Dark 'N Stormy, there's no substitute for Goslings Black Seal Rum. (No, seriously.) But trademarked names aside, this is a delicious canned cocktail. The dark rum interacts wonderfully with the ginger beer, adding layers of complexity and depth of flavor. Even if you're sipping straight from the can, be sure to add a squeeze of fresh lime for maximum enjoyment.
ABV: 42%

A longtime favorite of VinePair staff members, Hochstadter's Slow & Low Rock and Rye remains the only canned option whose alcohol content approaches anything close to a spirit-forward cocktail. While not marketed as such, this is essentially a canned Old Fashioned, and it's a delicious one at that. Sipping from the 100-milliliter can is tricky, though, because of its small size and the even smaller opening. We recommend enjoying from a glass — an ice-cold one plucked straight from the freezer, if possible.
ABV: 4.5%

Before you crack open this drink, you could be forgiven for wondering exactly what occasion calls for a canned Espresso Martini. That thought will soon be swept away when you start pouring and the Guinness-esque widget inside the can helps achieve a picture-perfect foam. The taste is just right, too, with rich coffee notes and generous sweetness. By the time you're finished, you'll realize that any occasion can — and should — be turned into a canned Espresso moment.
ABV: 5%

With the rise in prominence of hard seltzers, one might question whether canned vodka sodas can be truly considered a ready-to-drink "cocktail" anymore. Yet the vodka soda is indeed a cocktail, and this version is as good as it gets in canned form. The grapefruit flavor is the best of four delicious offerings from Lifted Libations, showcasing a pleasant balance of acidity and sweetness.
ABV: 7.5%

A bartender-crafted canned cocktail, this drink is an orchestra in a can. Each component is identifiable on the nose and palate, like individual instruments playing a symphony. Combined, the blend of vodka, oroblanco grapefruit, kumquat, jasmine, and ginger provides one of the most refreshing and well-balanced canned drinks you will come across this summer.
ABV: 4.2%

Among the most appetizing cocktails in this ranking, this is more of a delicious spritz than a classic Margarita. Made with agave wine rather than tequila, the palate has a gentle, enjoyable effervescence. Elderflower and ginger notes add sweet, floral character, balanced by a spray of lime juice. Buy a 4-pack and keep on hand for beach visits or lounging by the pool.
ABV: 8.2%

A carbonated, fruity twist on Brazil's national cocktail, this is a fun and refreshing option. The sweet scent of cachaça leads the nose, followed by a burst of tart passion fruit. Funky notes arrive on the palate, which keeps things interesting for spirits and cocktail geeks. But the overall profile remains nicely balanced and has good concentration, serving up something everyone can enjoy.
ABV: 20%

A delicate balancing act, the Aviation combines gin, Maraschino liqueur, crème de violette, and lemon juice. Finding a bartender who can make one properly is not a given; discovering a ready-to-drink version that tastes this good is even more surprising. Each component is present and accounted for, but in well-balanced, subtle proportions. The cocktail also arrives in attractive glass packaging, and On the Rocks offers multiple serving sizes for its entire range of cocktails — all of which are worth sampling on their own.
ABV: 5%

This is a crushable canned cocktail and quite possibly the best packaged Paloma available. The profile of tequila shines through on the nose and palate, but without the boozy kick that recalls one too many shots during college. The palate errs on the sweeter side, which is perfect for purists who insist this cocktail should be made with grapefruit soda rather than freshly squeezed juice. It's not cloying, though, and this remains a really refreshing option.