On New Year's Eve, Keri Ayscue stood on the patio of her North Carolina brewery Bearded Bee, her eyeglasses fogging above her mask. "Construction started in 2019 and then Covid hits, and we're like, 'Well, shit, we're too far in, so we're just gonna keep on trucking,'" she said. Bearded Bee opened July 31, the day that Gov. Roy Cooper's order took effect prohibiting alcohol sales after 11 p.m.
Located in the Raleigh-area bedroom community of Wendell, Bearded Bee has a mission to support local beekeepers. Covid has brought its own sting. Amid pollinator-themed decor in the taproom, tables were spread out to abide by the state's 50 percent capacity mandate. Just a dozen or so revelers partied in advance of a 10 p.m. curfew the governor had just imposed in response to increased Covid numbers.
Ayscue handed me a bittersweet New England IPA fermented with honey. A regular dressed head to toe in Bearded Bee merchandise wandered outside, saw I was interviewing Ayscue, and offered her own assessment of the place: "It's all good, y'all," she said. "It's aaaaalll gooood." She crossed the empty street to smoke in front of a honeybee mural that the county arts council had commissioned.
Don't Miss A Drop
Get the latest in beer, wine, and cocktail culture sent straight to your inbox.
"The biggest, most amazing thing is how much community support we've had," Ayscue says. But that's also brought pressure. "We're the first brewery in town, so we had to knock it out of the park."
Their competition is Covid. Along with its hit to sales, the pandemic has introduced the problem of masks for Keith, Ayscue's husband and Bearded Bee's head brewer, who is deaf and reads lips to communicate. "And it's been hard to plan events to draw more business," she says. "So we're gonna take it day by day. If we can maintain where we're at right now, we'll be OK." Her prediction for this year? "We'll see."
The Ayscues are just one set of owners in the Raleigh-Durham area who opened a new bar during, or shortly before, the pandemic. Surrounded by lush farmland and named for the local universities that have lured biotech firms and their well-heeled workforces, the North Carolina Research Triangle boasts an enviable food and drink scene. Nationally acclaimed restaurateurs like Ashley Christiansen and Scott Crawford help draw hospitality pros, some of whom eventually become owners themselves.
Ambitious new places launch here often. Given the time it takes to go from concept to launch, it's no wonder that some have opened during Covid. What is surprising is that so many new owners have kept at it, finding practical, and philosophical, ways to try and help their infant bars outlive the pandemic. Their strategies and their success vary, but their stories illustrate the creativity, flexibility, and fortitude it takes to survive.
'It's Going to be Great'
Bearded Bee had good timing. It launched in July after the state re-opened restaurants, distilleries, and breweries. Daniel Sartain wasn't as lucky with his new Durham spot, Annexe. With turntables built into the bar, elevated versions of "goofy '90s drinks," pink Champagne on tap, and a DJ'd, disco-ball dance floor, Annexe — tucked below Sartain's other spot, Bar Virgile — launched with a "fun, femme, and funky" theme just five days before the state-mandated closure. When Bar Virgile, a bar with a restaurant license serving classics like linguine Bolognese and cassoulet, reopened in May, so did Annexe, under a shared license. Then the liquor board re-designated Annexe a "private bar" and shuttered it again. Outdoor seating resumed for bars in October, but Annexe has no outdoor space.
For a while, staff was packaging Instagrammable sangria-to-go in clear plastic pouches with colored bendy straw closures. "People were all over it," Sartrain says, but it proved short-lived because he discovered it was illegal. North Carolina finally allowed takeout cocktails in December — the 34th state to do so — but given "surprisingly slow" demand and the law's restriction of one drink to go per day per customer, curbside sangria wasn't worth the effort again until spring.
But Sartrain wasn't giving up on Annexe. When I visited Raleigh-Durham back in January, he was researching new drinks, trying to get some inspiration for the bar's eventual reopening. "You just have to keep things fresh in mind, sit back, and watch it from afar. It's going to be great," he told me.
Finally, on Feb. 26, with vaccinations ramping up in the state, the governor eased restrictions, ending the curfew and stretching serving hours to 11 p.m. He also allowed bars to reopen at 30 percent capacity. At that level of occupancy, Annexe can barely cover its overhead. But Sartrain is making the most of it with a skeleton crew and an eight-cocktail menu. Instead of hired disc jockeys, "you got your 43-year-old bar owner DJ'ing on weekends," he says. It's an expression of his roll-with-the-punches attitude. "It's kind of ridiculous, but I love it so hard. It's been a goddamned year, so I'm flipping records and just like, 'Woo!'"
'Stick-to-It-iveness'
Sartrain's brand of optimism is practically a tool of the trade in the bar world. Just ask Matt Fern. Ashley Christensen's former beverage director, Fern left in 2015 to launch his own place, (ish) delicatessen, a sandwich shop with a sense of humor and a dedication to local beer and wine. His first location fell through, but in 2018 Fern hooked up with developers transforming an old Days Inn into a new boutique hotel, Longleaf. Loden Properties would build (ish) on site to service Longleaf, with Fern overseeing the hotel's food and beverage.
Their construction approval was scheduled for March 11, 2020, "the first day the city did away with in-person meetings," says Fern. When permitting was finally approved, the hotel had been closed for three months, and "everyone was leery about building without revenue." Fern started looking for space elsewhere, while still overseeing the lounge at Longleaf.
On a wintry evening, I visited him there, taking a seat on the patio to sip a Bulleit-spiked hot apple cider called You'll Shoot Your Eye Out from a '60s-inspired cocktail list. Despite plenty of social distance, a fire pit, and warming drinks, business was slow. "People aren't going out, and rightfully so," Fern says. But his deep-pocketed partners were supporting Longleaf Lounge. "Their stick-to-it-iveness is one of the biggest reasons that the place is open now," he says.
His long game intact, Fern had just found a new spot for (ish) — one nearby, where the deli can still serve as Longleaf's dedicated restaurant. His time frame for opening? "It's a roll of the dice. Somewhere between late spring and 2024," he laughs.
Fern's experience has taught him how to weather an extended crisis. "Prepare for if this happens again," he says. "Put money away. Everyone that has gone down said, 'It was going so well, but we were not saving what we needed.'"
More importantly, don't sweat it: "It's time to enjoy what we do and have a bit of fun," he says. "It's stressful enough as it is. Make people laugh, and let's get them drunk and full. We're not curing cancer."
'Figure Things Out on the Fly'
Of course, it's easier to take things in stride when you don't oversee a payroll. Staff kept turning over at Otra Vez, a stylish Mexican bar and restaurant that opened in West Raleigh in September. "People come in, and you can only offer them so much," general manager Julius Simpson told me. "They're super qualified, they've been in the industry for so long, but the jobs are not there. They've had to settle, but they don't stick. How long can you do a job that you're overqualified for?"
To solve the problem, Simpson cross-trained every hire. "Then they can maneuver into different positions," he says. "It's been helpful for the business and our people. It's job security; you're more useful the more tasks you can do."
On cue as I was interviewing Simpson, the lunch chef came out of the kitchen to mix me an Old Fashioned to go, with smoked chili syrup and chocolate bitters. "He's better at it than I am," says Simpson.
Another of Simpson's strategies was a return to old-school marketing: sales calls to the local medical and law offices; promo cards for apartment lobbies and leasing packages; A-frame road signs; flyers at the guest services desk at the mall.
But though all those efforts brought in customers, Otra Vez couldn't survive one of the biggest roadblocks of the pandemic era: an intransigent landlord. "Honestly," Otra Vez owner G. Patel told me, "success right now is the ability to work with all facets, including market adaptability, consumer safety, and landlords. If you can't drive up volume, it's not going to work. If you have a landlord that's not willing to work with you, then it's nearly impossible."
By mid-February, Otra Vez was over. But that hasn't stopped Patel. "You can't really look at regrets," he told me. "You have to figure things out on the fly. If you believe in a stamp-and-repeat process, maybe hospitality is not the field for you."
Patel, a prominent restaurateur who filed for Chapter 11 in 2019, has an iron stomach for the business. He opened a second concept during the pandemic. Killjoy, which was under construction when the shutdown began, was conceived as a fast-paced, fully packed neighborhood bar and restaurant with tropical wallpaper, a sparkly yellow bar, large-format cocktails, and a slushy machine. But it's not the drinks or the eye-popping decor that made Killjoy one of Raleigh Magazine's "best overall bars" for 2020. The writeup lingered, instead, over safety measures Patel and business partner Joshua Gagne built out during the shutdown, including a reservations system and a high-tech scanner for temperature and mask checks. Killjoy became the bar that Covid built.
"Operationally, we understood we need to think long-term versus just trying to pack however many people we can in here," says Gagne.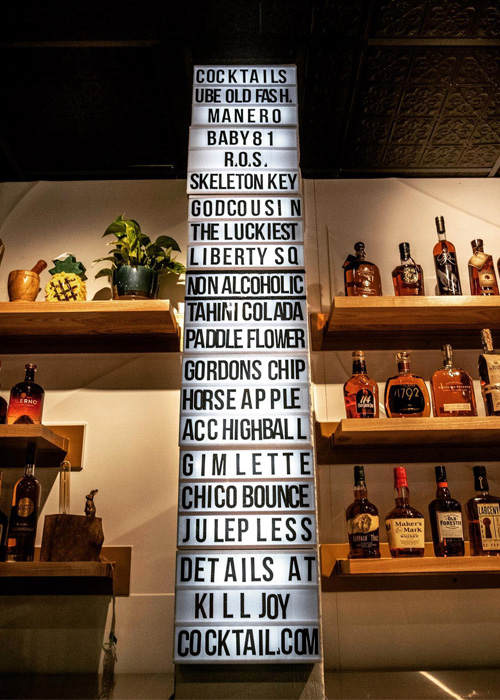 'Glass Half Full'
For the same reason, gin producers Melissa and Lee Katrincic decided to wait to reopen their sleek new bar at Durham Distillery. Corpse Reviver launched on Oct. 15 with contact tracing and medical-grade air purifiers. But that wasn't safe enough for the former scientists. When holiday season requests for big tables including out-of-town guests came in, Melissa Katrincic decided, "I cannot risk my bar team." The bar quickly closed again.
For now, the Katrincics are selling curbside bottles and cocktails to go. With new Covid cases trending downward, they've reopened Corpse Reviver's heated patio. And they were thinking big for a slated March 11 relaunch indoors, tricking out Martini trolleys like those at London's fabled Duke's Bar, and adding QR codes to receipts that will link to recipe videos. "The time off has given us a bit of a catch-up," says Melissa.
The forced shutdown did the same for Wake Forest's Norse Brewing Company back in the spring. Opened seven weeks before the March mandate, the Scandinavian-style brewery was an instant hit. "There were customers three deep at the bar, and the kitchen was a mess," longtime Raleigh brewmaster Brad Wynn told me over tart, black holiday ales brewed with currants and oatmeal.
The nine-week closure allowed Wynn to find new chefs and catch up with his brewing. By the time the brewery reopened at 50 percent capacity, Norse had installed a tent in back to space out tables, so no seating was lost. That was possible because Wynn's partners, Chris and Jenni Jorgensen, had bought the building and surrounding property — a key to the brewery's success.
"There's no landlord knocking on the door saying, 'Give us money,'" says Jorgensen, a first-time owner. Hasn't the pandemic dented his bottom line, anyway? His answer bespeaks a benefit of being a newbie during the pandemic. "We don't know. We have no history," he shrugs.
With that clean-slate approach, the partners are dreaming big. Wynn plans to add a cidery, a distillery, and a soda works, with a plan of possibly building a permanent structure where the tent is now to accommodate the brewer's ambitions. "We'll be a beverage company more than a beer company," he says.
It's a testament to the enduring faith it takes to run a drinks establishment, even in the best of times. "If we go about it in the glass-half-empty way, we'll want to kill ourselves." Jorgensen says. "At Norse, the glass is literally always half full."
This story is a part of VP Pro, our free content platform and newsletter for the drinks industry, covering wine, beer, and liquor — and beyond. Sign up for VP Pro now!