Summertime is a season for relaxing, but don't sleep on the stars. You never know what the cosmos has in store for you.
Thankfully, we've seen the future, and it's bright, bubbly, and boozy! Discover your destiny and see what the universe has planned this month with VinePair's July 2018 drink horoscope.
Aries: Radler
Don't Miss A Drop
Get the latest in beer, wine, and cocktail culture sent straight to your inbox.
Feeling sluggish in the heat? Cultivate some much-needed chill vibes this month to recharge. Take the time to reconnect with old friends and focus on relationships rather than the rat race. Pick up some black kyanite crystals to supercharge your spirit (especially at the start of the month) and beat the heat with a refreshing radler. The half soda/half beer concoction is the perfect yin to your yang and will have you hanging loose in no time.
Taurus: Txakoli Rosé
Mercury's retrograde starts on the 26th, so make the most of your momentum the rest of the month! Uranus is doubling down on the regression front as well, so it's up to you to keep things lively in July. When you feel disturbances in your aura — which are likely to increase as the month marches on — give the cosmos a little taste of chaos and shake up your routine. Keep your mind and body vitalized with an effervescent Spanish txakoli rosé. It's bright, refreshing, and the perfect antidote to sluggishness.
Gemini: Gin & Tonic
Gazing skyward will provide the guidance you seek this month, gentle Geminis. This is especially true as the Delta Aquarids meteor shower gains strength toward the end of July, showering your soul with creative inspiration. Relationships with Aquarians stand to blossom, so nurture those bonds with care. Keep things light with a classic gin and tonic. Anything more complex and your attention will turn to inharmonious distractions.
Cancer: Anderson Valley Pinot Noir
As the new moon enters Cancer on the 13th, new opportunities in life and love are presenting themselves willy-nilly to you, audacious Cancers. This month promises to be one of your finest — if you're able to harness the universe's energy accordingly. Don't allow cosmic noise to clutter your focus; instead, imbibe with a luscious, lively Pinot Noir from Anderson Valley. The terroir of this sleepy Northern California region will translate into some vital relief from the world's pandemonium.
Leo: Dark Mild Beer
The sun is rising on you this month, Leos — I mean that literally! As the sun transitions into Leo on the 22nd, it promises to shine a light on some areas of your life that may need a little TLC. Crank up "Waterfalls," roll up your sleeves, and get to work. But don't lose focus when the going gets tough! Keep things level with a delicious dark mild beer. They're low on ABV and big on flavor, which will keep you sharp but satisfied.
Virgo: Bourbon on the Rocks
Venus is firing up its energy to supercharge your aura this month. Take advantage of this cosmic boost by embracing your sultry side, you sexy Virgos. Those flying solo or coupled up have an equal chance to spice up their romance routines, and nothing screams "I want it that way" like a cheetah print throw, a roaring fire, and glass of bourbon on the rocks. O.K., it's a little warm for a fire, but you get the idea.
Libra: French Semillon
Ethereal Libras, this July has some surprises in store. Mercury at greatest eastern elongation mid-month can serve as a benchmark for shifting priorities — where will your heart lead you? Don't shy away from making self-care your prerogative. You're only as good to the world as you are to yourself. To ease into a luxurious mindset, pop a bottle of breezy French Semillon. Your worries will disappear as quickly as your glass empties.
Scorpio: Blended Margarita
Celebrate the end of Jupiter in retrograde in style, stellar Scorpios! You may feel as though you've broken through a hurdle that's been holding you back. That's perfectly natural for this summer season. It's time to let loose and transform every hour into happy hour by going all in for blended Margaritas. Yes, they're a little basic, but damn if they aren't delicious and refreshing. A salt rim is optional, but festivity is not!
Sagittarius: Chilled Malbec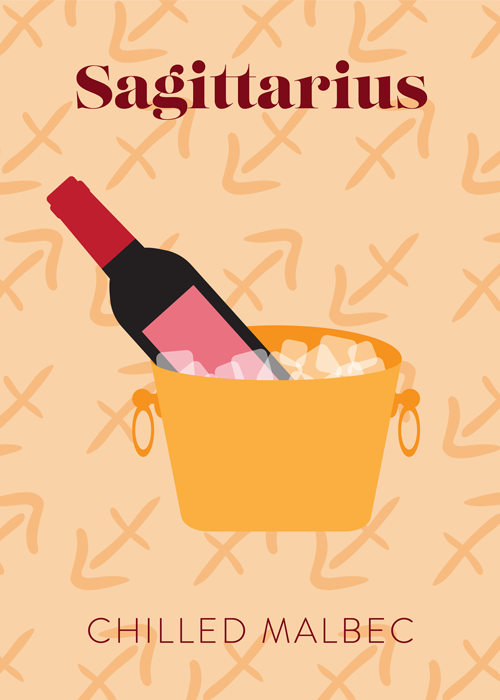 It's time to challenge your chi, Sagittarians. A new point of view is crucial this July, especially before the blood moon eclipse at the end of the month. Resist succumbing to boredom by embarking on unfamiliar activities. The more thrilling, the better: Think skydiving, surfing, or mountain biking. Keep your body guessing by turning a standard on its head, like a bold red wine served chilled. A delightful Malbec on ice is the perfect way to inspire new habits on hot days.
Capricorn: Absinthe
As an Earth sign, you draw significant power from the sun, which may prove problematic for you this month. On July 6, when the Earth reaches aphelion, the farthest point away from the sun every year, you may feel a lag in your vitality. Fortunately, being prepared is the best way to avoid complications. Dive head first into the dreamlike world of absinthe and unlock the mysteries of the galaxy, one sip at a time.
Aquarius: Hefeweizen
Full moons represent fresh starts, and this is especially true for you, ambitious Aquarius. As July paces forward, your charisma grows and grows, culminating on the 27th. With Mars at opposition, and the full moon in Aquarius, the duality of power serves to open up exciting new opportunities. Avoid getting carried away by staying rooted in reality. This is best achieved with the help of a hefeweizen. Its unfiltered existence can serve as inspiration for your own success.
Pisces: Mint Julep
Your ruler planet, Neptune, isn't doing you any favors this month, Pisces. As it retracts, you must answer with forward momentum. Does that sound challenging? It can be. But you're up to the task, and it's nothing that a highball of Mint Julep can't help. Pair the unexpected delight of crushed ice with a chunk of blue-green chalcedony to jazz up your booze routine. It's sure to wrangle summer into submission.