Known for its signature white-and-blue bottle design but beloved for its easy-drinking spirits, Clase Azul is one of the sought-after premium tequila brands on the market. Founded in 1997 by tequilero Arturo Lomeli, Clase Azul went on to produce some of the first ultra-premium tequilas in the category, and now it offers some of the most expensive: The brand's bottles retail for anywhere from $150 to a whopping $30,000.
While many tequila brands prefer to launch with a blanco for its approachability, Clase Azul broke the mold by first releasing a reposado, which would become its most popular expression. Thanks to eight months spent aging in American whiskey barrels, Clase Azul's reposado delivers a robust, naturally sweet flavor with notes of vanilla, papaya, and banana. Part of the liquid's allure is that it captures the intensely rich vanilla and caramel oak qualities typically reserved for cristalinos, despite the fact that it's only aged for eight months.
Though the brand may have debuted some of the finest tequilas available at the time of its launch, a number of brands produce tequilas of the same caliber today — often at a fraction of the cost. If you're looking to explore the wonderful world of reposados and cristalinos, here are eight worthy alternatives to Clase Azul.
Don't Miss A Drop
Get the latest in beer, wine, and cocktail culture sent straight to your inbox.
Casa Noble Tequila Reposado
Produced at Jalisco's La Cofradía distillery, Casa Noble Tequila Reposado delivers a rich, cooked agave core with subtle sweetness thanks to a year spent maturing in French oak casks. The brand is admired for its lengthy roasting period, during which its agaves are cooked for 36 to 38 hours, which imparts earthy, spiced flavors that combine beautifully with the influence of the oak in this reposado. Priced at $60, Casa Noble Tequila Reposado is an ideal light splurge for sipping.
Komos Tequila Añejo Cristalino
For an Azul alternative packaged in a similarly beautiful bottle, look no further than Komos Tequila Añejo Cristalino. The best part? It tastes as great as it looks. With welcoming aromas of agave syrup, vanilla, and berry compote and a weighty, luscious mouthfeel, Komos conveys many of the same qualities that draw tequila lovers to Clase Azul. While a bit of a splurge, it's certainly worth the extra cost.
Espanita Tequila Reposado
Priced at just $32, Espanita Tequila Reposado is certainly cheaper than Azul, but its producer is no less serious in its approach to reposado. Departing from the style's traditional flavor profiles, this tequila blooms with intriguing floral notes on the nose before tropical fruit and whispers of vanilla splash across the palate.
Cincoro Reposado
For a velvety sipper delivering many of the same notes as Clase Azul, Cincoro Reposado delivers. Aged for eight to 10 months in ex-Tennessee whiskey barrels, the golden tequila opens with welcoming aromas of baking spices and vanilla. These notes translate on the palate, complemented by vegetal pineapple leaf and a kiss of smoke.
Tequila Partida Cristalino Añejo
For a tequila brimming with vanilla notes, Tequila Partida Cristalino Añejo is a great bottle to reach for. Aged for 18 months in ex-bourbon American oak casks, the tequila opens with dense whiffs of oak and vanilla before ripe, tropical fruits, succulent caramel, and vanilla tickle the taste buds. Wonderfully sweet and dangerously easy-drinking, this $57 tequila is delightful for a more budget-friendly treat than a splurge on Clase.
Patrón El Alto Reposado
Packaged in a tall, angular bottle that's a departure from Patrón's squat signature packaging, El Alto Reposado is likely meant to compete in the vast luxury tequila space. And though it's a splurge, El Alto's $200 price tag still pales in comparison to the thousands of dollars of some Clase Azul expressions. A blend of reposado, añejo, and extra añejo tequilas, El Alto offers a complex, vegetal flavor profile with agave notes supported by rounded vanilla oak flavors.
Maestro Dobel 50 Cristalino Extra Añejo
Matured for three years in a combination of Eastern European and American oak barrels, this release from Maestro Dobel is expressive with a fruity, toasted oak core. Similar to that of a bourbon, the flavor of this cristalino is luscious and sweet, but maintains the gratifying spiced finish of tequilas made with the utmost care for agave.
Roble Fino Partida Reposado Sherry Oak Finish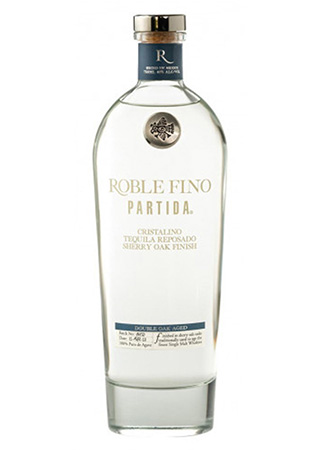 The first-ever reposado cristalino to be finished in ex-single malt, sherry-seasoned casks, this tequila is undeniably complex but absolutely worth sorting through the nuance. Its nose welcomes you with aromas of dried fruits and floral bouquets that translate on the palate along with slight undercurrents of caramelized almonds.