Prosecco's place at the brunch table is undisputed, but notions that Italy's most famous sparkling wine should be confined to "bottomless" deals or diluted Mimosas are wildly misguided.
Produced using the Glera grape in the Veneto and Friuli-Venezia Giulia regions of northeastern Italy, Prosecco wines gain their fizz through the Charmat, or "tank," method. The process sees a base wine fermented for a second time in stainless steel tanks — rather than in-bottle, as is the case for Champagne and Cava. This leads to refreshing, fruit-driven sparkling wines, which, at their best, serve surprising nuance and retail at bargain prices.
Following a tasting of multiple bottlings from more than 20 producers, a VinePair-led group of industry professionals deemed the following wines to offer the best value in the Prosecco category. Each bottle displays all of the above characteristics in abundance and, best of all, retails for less than $20.
Don't miss a drop!
Get the latest in beer, wine, and cocktail culture sent straight to your inbox.
Here are 10 of our favorite Prosecco wines right now, tasted and ranked.
This is a light and refreshing Prosecco with a faintly saccharine finish. Our panel was impressed by its handy screw-cap bottle, which doesn't require drinkers to finish the wine in one sitting (perfect for next-day punch). To test its effervescence, we revisited a half-drunk bottle after leaving it in the fridge overnight: The wine fizzed when poured, though did lack some of the sprite on the palate of a freshly opened bottle. Average price: $13.
Zonin's Cuvée 1821's fresh, salty, "ocean water" notes had tasters calling out for food, with one panelist suggesting "Baja fish tacos" as an ideal accompaniment. The wine's bubbles are playful and light and provide a pleasurable drinking experience. Average price: $13.
Cantine Maschio's Prosecco smells like a strawberry Mimosa and has a crisp and refreshing palate, with concentrated green-fruit flavors. This Prosecco registers on the drier end of the sweetness scale, and begs for small-plate appetizers. Average price: $12.
Aromas of this wine start a little funky ("like cannabis," according to one taster), then give way to pear, white flowers, and peach skins — all of which are classic tasting notes of the Glera grape. On the palate, it's well-balanced and serves lemon zest flavors and a lasting chalky finish. Average price: $13.
Upping the floral ante with an added brioche note, one taster described this wine's aromas as akin to "walking into a florist that's next door to a bakery." Bracingly acidic with a crisp, dry finish, this bottle offers an affordable aperitif that will work well alongside a hearty meat and cheese board. Average price: $14.
With racy acidity and a fine but intense mousse, this is an easy-drinking Prosecco that keeps you coming back for more. "I'd bring this to a dinner party and feel good about it," one taster commented, while the attractive floral design on its label led another to declare it their "new Easter-brunch bottle." Average price: $14.
Nuanced and well-balanced, this sparkling wine (also one of VinePair's favorite Costco wines) is reminiscent of tropical fruit, particularly pineapple. Its flavor profile starts slightly sweet, then leads to a pleasantly bitter finish. All panelists agreed: This Prosecco would shine in a Mimosa, but is more than capable of standing on its own. Average price: $10.
Tasters were stunned by this Proscecco's depth, with aromas that ranged from pears to green apple, honeysuckle, and lemon zest. Its delicate, earthy flavors and mineral-rich texture provide a complex palate, with panelists suggesting salami, lardo, or creamy citrus desserts as pairings. Average price: $18.
Pineapple, mango, and grapes leapt from the nose of this aromatic Prosecco. Tasters described its palate as "grippy" and "really attractive," and enjoyed the wine's "fulfilling mousse." You can find this bottle absolutely everywhere, but its ubiquity belies its high quality and complexity — it's a gem hiding in plain sight. Average price: $13.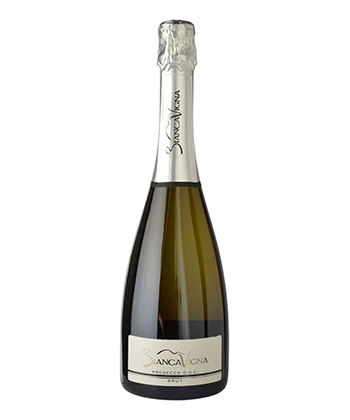 Crisp, dry, and green- and citrus-driven on the nose, this bottle is ideal for those who enjoy the clean character of blanc de blancs Champagne, but are looking for a midweek option (possibly to pair with some seafood). It's a sophisticated sparkling wine, served in a slender, pear-shaped bottle. If you see it on a brunch menu, be sure to tell your server to hold the orange juice! Average price: $16.